The Victoria University building is an exemplary illustration of how architecture can be a transforming mechanism for institutional change and growth. The complex works as an urban ensemble to catalyse and articulate an emerging centre of excellence at the university's Footscray Park Campus.
Consisting of learning and teaching spaces, laboratories, social spaces, offices and a learning commons, the building operates like a sophisticated machine, revealing advanced programs through architectural gestures: distorted windows and openings, pattern and materiality, detail and furniture.
The building adopts a dramatic site strategy, creating a wall-like edge to the campus above the Maribyrnong River flood plain. It draws allusions to the institution as operative city, with buttress walls and robust exterior. Within is a carefully considered "town centre," with entry courtyard sequences that stitch the new spaces back into their campus context through an inhabited bridge.
– Jury citation
The wall – and here the fortified city wall – has long been a source of inspiration for architects. John Wardle has explored the spatial, programmatic and orientating potential of the wall across his entire oeuvre. In John Wardle Architects' residential projects, including Wardle's own house, the City Hill House and the Vineyard Residence, the wall becomes the primary orientating device – a gesture establishing the spatial and programmatic narrative while curating views across the surrounding landscape and back across the architecture itself. In Victoria University's new Learning Commons and Exercise Sports Science Project the idea of the wall is expanded to the scale of the city and forms the dominant architectural parti.
– Anna Johnson
For further coverage see Victoria University ESSP and Learning Commons.
For a full list of awarded projects see 2011 National Architecture Awards – the winners and for more awards discussion see the Rachel Hurst and Rory Hyde's responses to the awards and the jury overview by Karl Fender.
Credits
Architect

John Wardle Architects
Melbourne, Vic, Australia
Project Team

Ben Beaumont, John Wardle, Stefan Mee, Meaghan Dwyer, Andrew Wong, Amanda Moore, Barry Hayes, Chloe Lanser, Rebecca Wilkie, Genevieve Griffiths, Stuart Mann, Paul Bickell, Julian Scanlan, Pang Cheong, Toby Horrocks, Oscar Paolone, Kate McMahon
Consultants

Acoustic consultant Marshall Day Acoustics
Audiovisual Charnwood Communications
Builder Hansen Yuncken Melbourne
Building surveyor PLP Building Surveyors & Consultants
Civil and structural consultant Aurecon
Cost consultant WT Partnership
Electrical, environmental, hydraulic and mechanical consultant Norman Disney Young
Interior designer John Wardle Architects
Landscape consultant Rush\Wright Associates
Lighting Norman Disney Young

Site Details

Location Ballarat Road, Footscray, Melbourne, Vic, Australia
Site type Suburban

Project Details

Status Built
Website http://www.johnwardle.com/projects/default.htm?i_PageNo=1&ProjectId=35&pageNo=1&ProjectCategoryId=0&ProjectKindId=0&Featured=0&Archived=0&AllProjects=0&ViewMode=text
Category Education, Public / commercial

Client

Client Victoria University
Website www.vu.edu.au

Source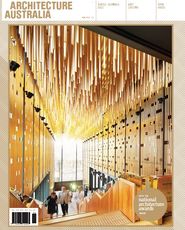 Issue
Architecture Australia, November 2011
Related topics