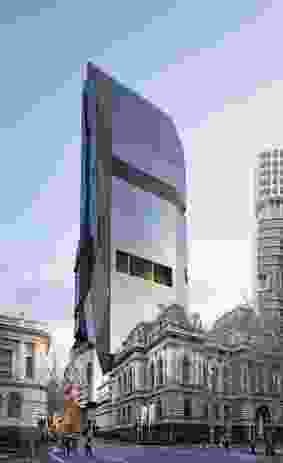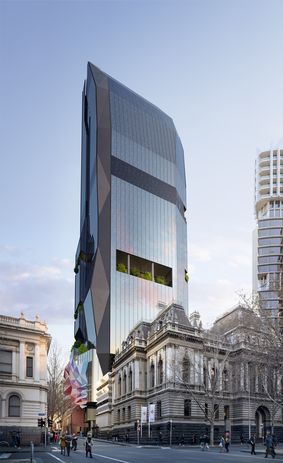 Victoria University's long-planned vertical city campus will soon be built at 364-378 Little Lonsdale Street in the west of Melbourne's CBD, with the industry super-funded company ISPT signing on as developer.
The 32-storey tower, designed by Jackson Architecture, has already gained development approval, with an application submitted back in December 2012. The 24,000-square-metre City West Precinct will provide space for students from Victoria University (VU)'s Polytechnic, as well as its Business School, College of Law and Justice, and College of Health and Biomedicine. It will also house research facilities and the VU College.
Jackson Architecture has described the project as "a modern and evolutionary way of delivering a high density campus on a city site footprint.
"Its sculpted shape will add a new dimension to the precinct, as well as responding and integrating with the immediate surrounding urban massing," a statement from the architect reads.
Under the deal announced on 2 November, ISPT will take ownership of the tower, as well as VU's existing CBD properties, and lease the spaces back to the university for 30 years.
Victoria University vice-chancellor professor Peter Dawkins said that the deal with ISPT would help create a "word-class precinct" for students in the CBD, while also establishing an infrastructure fund for future projects. The state government has given its approval to the deal, on the condition that the university establishes this new infrastructure fund.
"The new City West Precinct will revitalize this iconic part of the city, restoring the historic Land Titles Office, while also improving the local amenity and spawning a reborn urban experience in the western parts of the Melbourne CBD," Dawkins said.
The former Land Titles Office at 283 Queen Street, sold to VU by the Victorian government in 2001, is listed on the Victorian Heritage Register as a building of architectural, technical and historical significance. Designed by the architect of Melbourne's Treasury Building, J. J. Clark, and built in stages from 1874, it features a façade that employs the Doric style in what the heritage register describes as a "quite severe and plain manner." The building will be refurbished as part of the City West Precinct project, with the tower rising above the Land Titles Office's "Strong Room."
Works are expected to begin in 2019, with students to begin studying in the new precinct in the first semester of 2022.