State government auditing is a serious affair: the Victorian Auditor-General's Office (VAGO) is committed to the public, and as such, its orientation is outward. Its focus is not on the spaces in which it works. Fortunately, this concern belongs to Baumgart Clark Architects, the team behind the office's highly responsive fitout, which has embedded the principles of dignity, professionalism and public service into its design. A key aspect to the brief – in addition to a very tight turnaround of seven months – was to communicate the function and ethos of VAGO without corporatizing its space. This is something that public sector workplace design has often failed at. There are no generic white walls, transparent glass meeting rooms and boxy partitions here.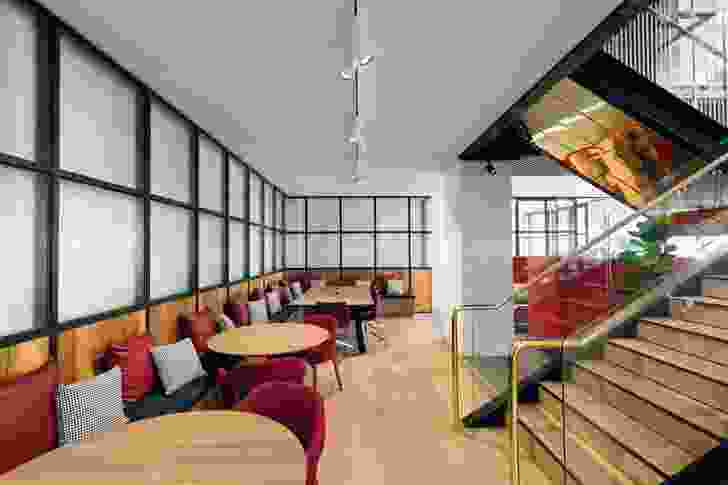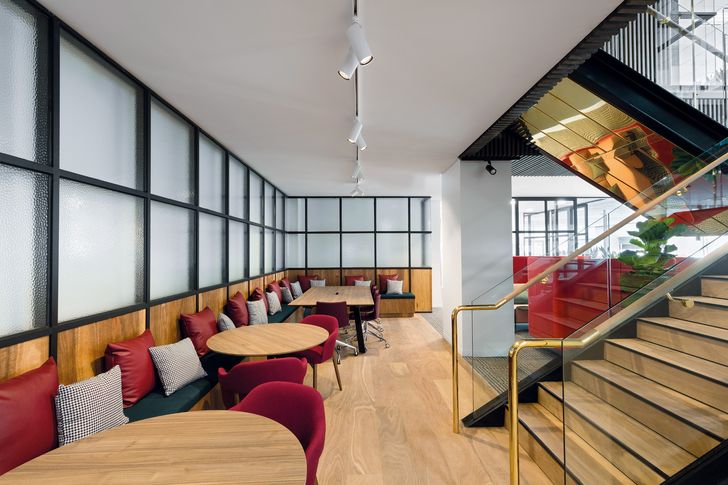 Instead, the very contemporary design references the aesthetics of creative workspaces, both historic and current, creating an interesting meld of materials and tones. Beautiful spotted gum and cedar are used throughout threshold and gathering areas, including a signature circular pattern perforated across standout panels of the gum. Internal windows and glass doors are framed, warehouse-style, with dark powdercoated aluminium, giving a subtly industrial look to the space. The more retro dimensions are picked out in the use of brass railing and decorative panels, against the wood and richly coloured upholstery and soft furnishings. Rarely used cathedral glass, a material much more common in the 1930s and 1940s, is an elegant addition and is deployed in lieu of film to create opacity for privacy and seclusion on key internal windows and panel dividers. Reportedly the glazier was thrilled by the request to source it.
The design is highly attuned to current work culture preferences for activity-based working, work practice-responsive design and flexible spaces that can be easily modified. Different kinds of environments are made available to VAGO staff, from casual breakout areas that are woven throughout the office, to meeting pods, private meeting rooms, private workspaces and integrated workstations. Retractable walls and moveable furniture, including the fabric-covered pods, are instrumental in this flexibility. Importantly, while staff are mobile, often working out of the office at locations across the state, everyone is accounted for in the number of desks or workstations. There is no strict hierarchy of workspaces here. Offices are only allocated where sensitive work is required. Additionally, the brief prioritized a shift from a paper intensive to a near paperless workspace – quite a change for an auditor's office – as well as a move "from wires to wireless." Both have been successfully delivered, with the remaining wires hidden within decorative conduits that run from desk to ceiling.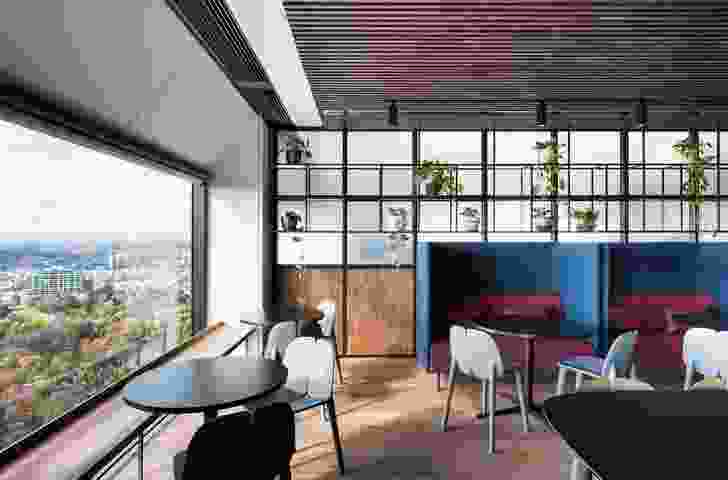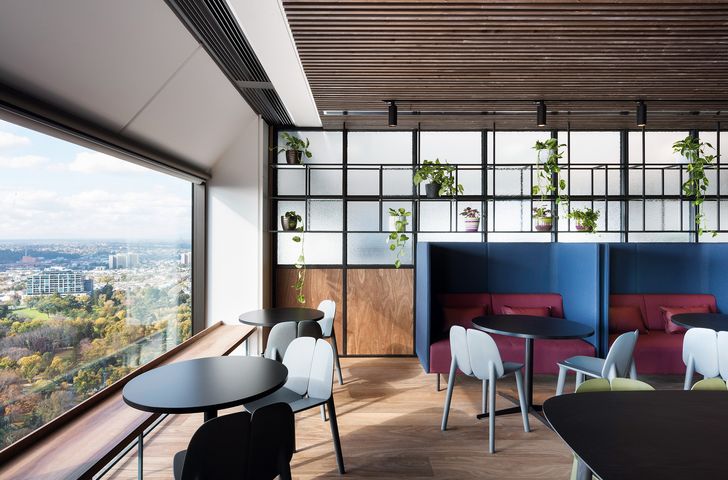 Such accountable and inclusive practices are indicative of the totality of the design, which signals its democratic ethos in small and large ways. Incorporated into the design is a prayer room and a parents' room, the latter complete with a workstation if needed. A sweeping staircase, in spotted gum and polished brass, connects the 1.5 levels that the VAGO occupies, signalling the importance of connection and flow between staff. At the base of the staircase sits the auditor-general's office, its aluminium-framed glass walls indicating the transparency required by the role, but also its centrality to the work of the organization. Because of this, all staff symbolically maintain visual access to the office, and the sense of openness throughout is maintained.
In a similar gesture of inclusion, the main entrance to VAGO's reception area – complete with one of the best views enabled by the floor plan – is open to the public. This befits the nature of the office, as one that is fully accountable to the people of Victoria. The state-based, and diverse, constituency of VAGO figures in other ways, notably in the colour palette deployed across the fitout, which references different regions of Victoria in tones that are drawn from these environments. The Pink Lakes of the Murray-Sunset National Park and the burgundy-reds of the Yarra Valley's vineyards, for instance, register their presence here. But the staff are never rendered second to who they serve beyond the office. And it is for staff that another fabulous view has been reserved in a common area – the kitchen. This is another thoughtfully designed space, capturing northern sun and complemented with customized joinery by Nexus Designs (which contributed customized pieces throughout, as well as selected furniture and colours) and ample on-trend tables and chairs. Large, open and relaxing, complete with a soothing wall of potted plants on one side and a panorama of Melbourne's CBD on another, this kitchen reiterates the open and horizontal nature of this workplace and its resident. This is an office that is for the people, and – to the achievement of Baumgart Clark – it is now made for them, too.
Products and materials
Walls and ceilings

Criterion Platinum 90 glazed wall suite. Austratus cedar ceiling. Armorply spotted gum wall panels from Big River Group. Walls painted in Dulux 'Natural White' and Resene 'Warrior.' EchoPanel acoustic panelling in 'Grey' from WovenImage.
Doors

Entro door hardware. Spotted gum veneer solid-core doors.
Flooring

Armourply spotted gum flooring from Big River Group. Tretford carpet in 'Silver Birch' from Gibbon Group. Woven World Collection in 'Hound Charcoal' and 'Charcoal Loom' from Interface.
Lighting

Anglepoise wall-mounted light from Cult. Oluce Atollo table lamp from Euroluce.
Furniture

Artek 606 side table from Anibou. Billiani Spy armchair from Cafe Culture + Insitu. Gubi Gamfratesi coffee table, Adam Goodrum Fat Tulip armchair from Cult. Mattiazzi Osso dining chair and stool, and Navigate Highback sofa, all from District. Arper Catifa chair, Blade Rectangular meeting table and Arper Dizzie table, all from Stylecraft. Stand-up stool and On office chair from Wilkhahn. Joinery: Timber feature walls from Austratus.
Credits
Design practice

Baumgart Clark Architects
Melbourne, Vic, Australia
Project Team

Baumgart Clark Architects: John A. Clark, Marcus Baumgart, Patrick Hurley, Christine Gouramanis, Nicholas Wilkinson, Amanda Triffon, Nexus Designs: Sonia Simpfendorfer, Karina Harvey, Alexis Andrewartha, Sarah Rowley, Emily Hon, Dianne Roderick
Sub consultant

Nexus Designs
Melbourne, Vic, Australia
Consultants

Builder Harris HMC Construction
ESD Cundall Australia
Graphic design Graphicmill
Lighting Cundall Australia, Ambience Lighting
Mechanical, electrical and fire engineer Cundall Australia
Structural engineer Acor Kersulting

Site Details

Location Melbourne, Vic, Australia
Site type Urban

Project Details

Status Built
Completion date 2017
Design, documentation 3 months
Construction 3 months
Category Interiors
Type Workplace

Source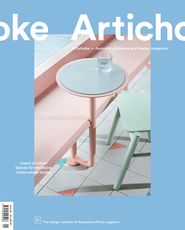 Issue
Artichoke, March 2018