The Latrobe Regional Gallery in southeast Victoria will undergo a $1.1 million refurbishment designed by NAAU Studio.
The project will transform and consolidate the gallery's public spaces and create a refreshed street presence and connection to the commercial and civic precincts of the town of Morwell.
NAAU Studio (Network for Advanced Architecture and Urbanism) won an invited competition to design the refurbishment. "What we did in the competition was we pitched a kit of parts, so a series of operations that could be made to try and address some of the issues," said John Doyle, a director of NAAU Studio, who also considered "what are the architectural moves that we can make, which have an urban role to play?"
The original entry of the building, at the corner of Commercial and Hazelwood Roads, will be reinstated. "We were really interested in pointing the gallery back towards the civic spine of the area – back towards the city offices," Doyle explained. "It directs it along Commercial road back towards the cafes and shops and the exit from the train station. So in trying to give the gallery more of a public presence and more of a civic role in the town, we're opening it up to the public who might not necessarily have been engaged with the program of the gallery before."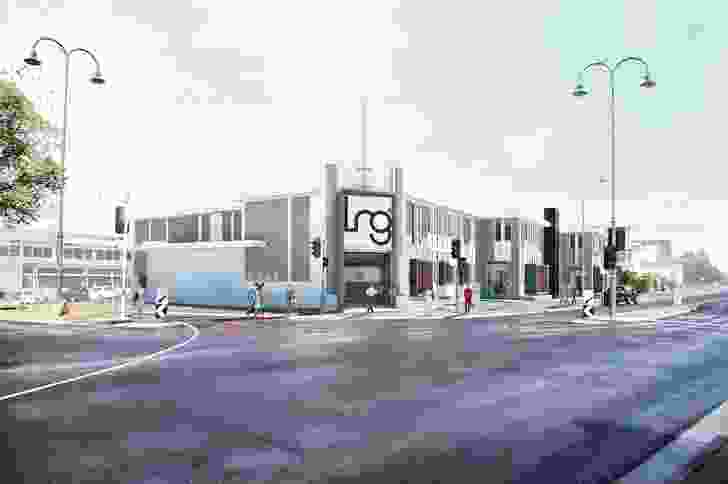 The exterior of the gallery will also be refreshed by the removal of aging bollards and awnings and the insertion of a series of new openings in the north facade, which will connect the interior of the gallery to the main street. Doyle refers to them as "windows on the world" or "artist vitrines."
"Basically the idea is by inserting those windows through into the public spaces, the lobby and the cafe of the gallery, we're opening up the gallery in such a way that you can see what was going on inside, making the art program of the gallery is almost viewable from the outside. You also get a framed series of views through from the café to the lobby area [to the outside]," Doyle said.
The windows will also act as seats, allowing occupants to "activate" the public interface of the gallery.
Internally, the exhibition spaces will be redressed by creating improved sightlines through volume, which includes upstairs exhibition spaces.
A parametrically designed grid-like timber ceiling will be a defining feature of the gallery's interior and it will also have a functional purpose.
"The [existing] gallery has an acoustic problem with the public spaces," Doyle said. "What that ceiling does practically is operate as a way of breaking or minimizing noise reverberation time. We've done acoustic modelling on that and it substantially reduces the amount of noise and the distance that noise travels.
The ceiling will be made from CNC-routed pieces of laminated timber which will interlock together create a network structure.
Related topics