The design of interior spaces can be very complex. A residential project with an existing building means that there are layers of constituent parts from previous owners as well as the presenting client and sometimes several alterations already in place. To add to this mix, what a client requires today may be different from what they require in another five or ten years' time. Architecture (a relatively permanent act) gives way to the development of interior strategies that are able to reflect changing needs and accommodate multiple design styles.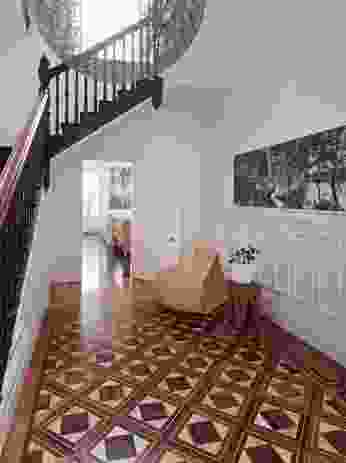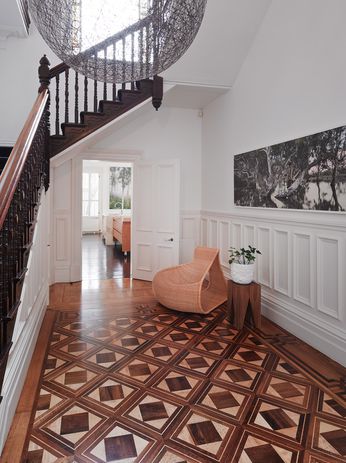 This Melbourne home recently refitted by Susi Leeton Architects relishes the intimate complexity of residential work. The existing building is a graciously proportioned Victorian mansion, generous yet understated. The house had lived a long life prior to occupation by the current owners and its several incarnations had left traces to be reconciled. A well-established garden and outdoor entertaining area meant that Susi's brief focused on the interior spaces.
Susi's approach to the various existing features was to unpack and reconfigure the formality of the house to provide the family with a series of relaxed and flexible spaces. This is achieved through a play on the contrary features: high ceilings play off dramatic contemporary pendant lighting, a stained-glass window is set against modern indigenous art, original parquetry sits alongside quirky fabrics. To find harmony in the juxtapositions, Susi relies on her own well-tested methods: a restrained base palette allows for choreographed moments to flourish, while vaulting proportions gather intimacy with textured materials and accentuated sculptural elements.
The kitchen and dining area is a space of lived simplicity. A relaxed banquette wraps the wall and makes for easy conversations over everyday domestic tasks; the predominantly white joinery conceals a nifty pantry and wet room for more formality when entertaining. Susi's work invests in any opportunity to up-scale critical moments. Here, a large floating bench provides a grounded yet monumental edge – its mass of recycled blackbutt resists the trappings of a familial kitchen and helps create a flexible workspace.
In another way, scale is rethought in Susi's capitalizing on the clients' love of "anything green" with a maxi image of an old-growth forest, which looms large, referencing a kind of trompe l'oeil in its proportion and framing (of both the interior room and the conceptual "room" of the photograph).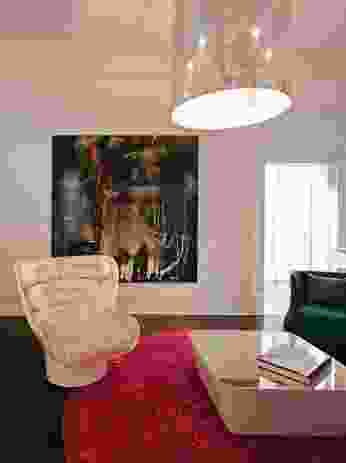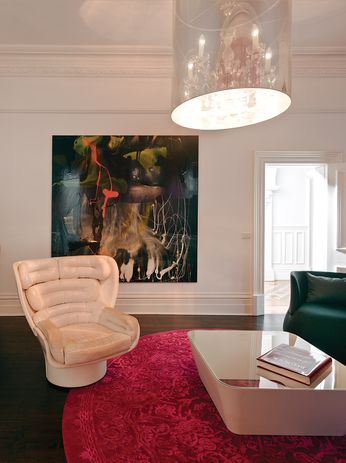 Susi worked with the family on furniture selection and their collaborative effort makes for a vivid domestic experience. The lounge provides a relaxed family zone and works in with pre-existing joinery and conservative shutters. The adjacent children's playroom dreamily balances fantasy with pragmatism via large shelves as well as concealed joinery.
Certain features are repeated throughout, facilitating design legibility: the lounge and the playroom are both counteracted with a grass-green floor rug, another banquette lines the window sill, and white walls in transition spaces conceal an expanse of storage and joinery. These features hold together the accumulative theatrical gestures.
A formal note is struck in the Pink Room: a private bar, tucked neatly behind the sparkling under-stair powder room, is an apparition of a burlesque-cum-New-York cocktail hour. Dramatic furniture characterizes the adult space and serves as a reminder that life goes on after nine o'clock.
An elegant Victorian stair – a celebration of the historic house – leads upwards, where an original decorative window serves as a reminder of the long-standing walls. The detailing continues to reflect Susi's desire to create family-specific environments where each member can bounce around and find their own groove. The soft fall carpet is a literal example of this. The two bedrooms for the children and the master bedroom access the original wrapping terrace and align the rooms with the surrounding leafy trees. The guest room with ensuite provides quiet seclusion for the occasional visitor.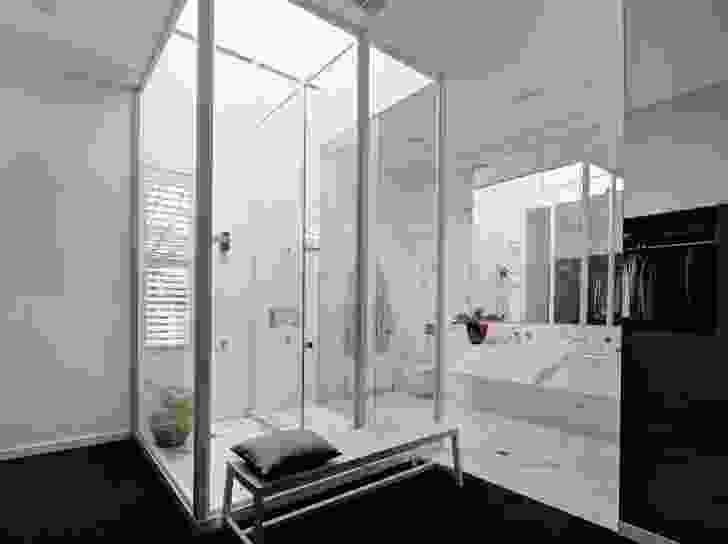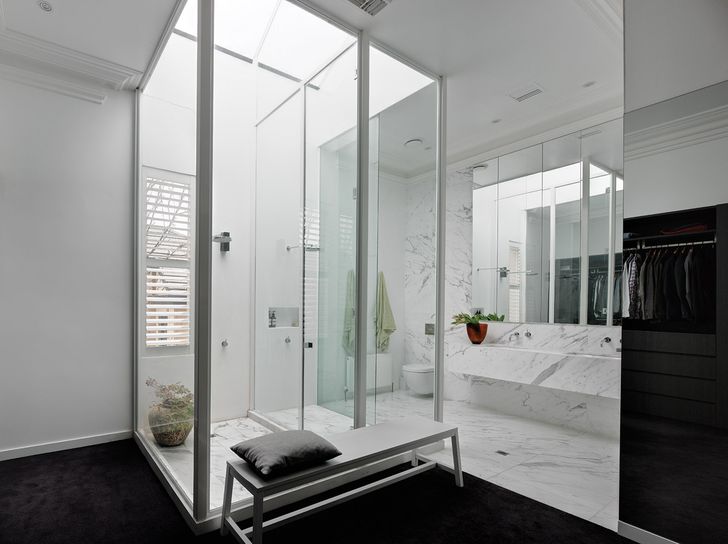 Susi made a large cut in the existing roofline in order to lift the roof over the master bedroom dressing area and bathroom ensuite. These sequential spaces maintain a light-filled transparency through the use of glass and glossy fittings. The open robes are easily accessed and the lush textures make routine ablutions seem extravagant. A tandem shower disguises the fact that one is, actually, completely open to the elements – either a European Spritz or Tropical Scrubdown, depending on Melbourne's changeable ways.
The transformative nature of such a home reflects universal changes in family life. Drawing rooms and dining rooms become elastic spaces, able to bend to and accommodate family needs. In this renovation the elegance of the original house is not vanquished by the march of the contemporary – all aspects are liberated by Susi's simple, sure-footed skill.
Products and materials
Windows and doors

Timber-framed glass slider on Fitzroy door track.
Flooring

Existing.
Lighting

SS uplights; downlights.
Kitchen

Dornbracht tapware; Signorino honed Carrara marble bench; recycled blackbutt kitchen bench; pantry painted with blackboard paint.
Bathroom

Duravit Mary Noall basin; Signorino honed Carrara marble basin.
Heating/cooling

Hydronic heating.
Credits
Architect

Susi Leeton Architects
South Yarra, Melbourne, Vic, Australia
Project Team

Susi Leeton, Ilana Kister, Allison Pye
Furniture

Allison Pye Interiors

Consultants

Builder Hamilton Marino Builders
Engineer Maurice Farrugia and Associates
Interiors Susi Leeton Architects
Lighting Susi Leeton Architects

Site Details

Location Melbourne, Vic, Australia
Site type Suburban
Building area 520 m2
Category Residential
Type New houses

Project Details

Status Built
Design, documentation 6 months
Construction 4 months

Source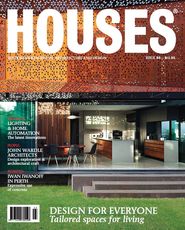 Related topics