REVIEW MIRJANA LOZANOVSKA AND DIANNE PEACOCK
PHOTOGRAPHY JOHN GOLLINGS
STRATHMORE SECONDARY COLLEGE, VICTORIA
Client
Strathmore Secondary College— principal Kenneth Harbottle.

Stages 1,2,3
Architect
Simon and Freda Thornton Architects— project team Simon Thornton, Mary Bugeja, Dianne Peacock, Mirjana Lozanovska, Susan Farrugia, Lisa Brennan (nee Moore), Maya Starr, Sean Cooney, Greg Dickson, Simon Tiller, Kate Harrison, Chris Stanley.
Builders
A. A. and A. Clonan, ABC, JA Dodd, Behmer and Wright, Prior Constructions.

Victorian Space Science Centre
Architect
Gregory Burgess Architects— project team Gregory Burgess, David Tweedie, Christopher Clinton, Thomas Kinloch, André Konarski, Kate Douglas, Katja Nikolajuk, Sydney Pilcer, Chris Rodda, Ben Josef, Claire Humphreys, Wendy Li, Lajla Mostic.
Project directors
Michael Pakakis, Phillip Spencer (Strathmore Secondary College).
Builder
ADCO Constructions.
Acoustic consultant
Marshall Day Acoustics.
Building surveyor
Gardner Group.
Civil and structural consultant
PJ Yttrup and Associates.
Landscape
Taylor Cullity Lethlean—project team Kate Cullity, Nick Loschiavo, Andrew Blight, Ann Marie Pisani.
Geotechnical consultant
Hardrock Geotechnical.
Structural consultant
Design Action.
Electrical, mechanical and hydraulic consultants
MacCormack Associates Consultants.
Quantity surveyor
Rodney Vapp and Associates.
Cost consultant
Slattery Australia.
Services consultant
Bibbey Rusden Thomson.
Mars surface
Associate Prof Lachlan Thompson.
Inflatable structure
Bluebottle 3, Inflatable Image Technologies.
AV consultant
Integrated Media Systems.
Labs consultant
Associate Prof Jack Antonas.
VR consultant
Dr Christopher Fluke.
Mars landing pod fabrication
Benjamin Gilbert.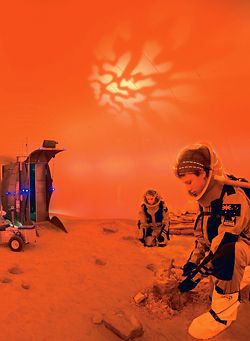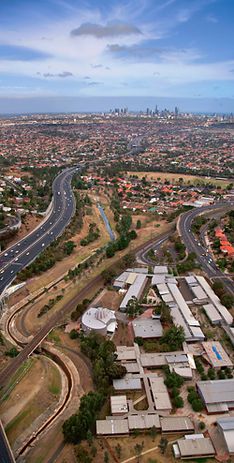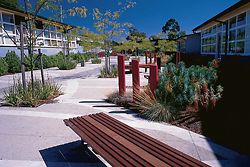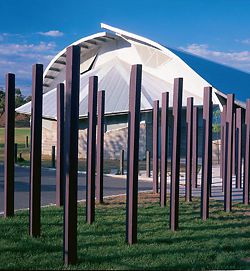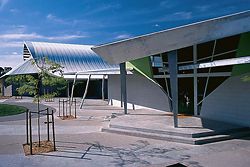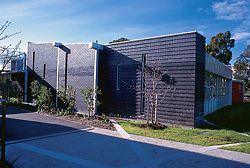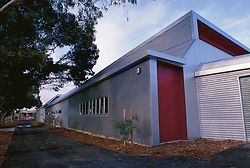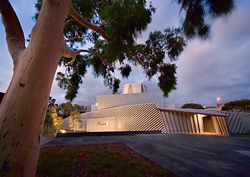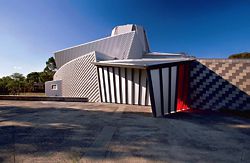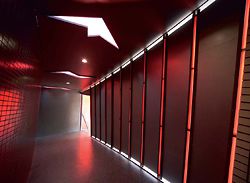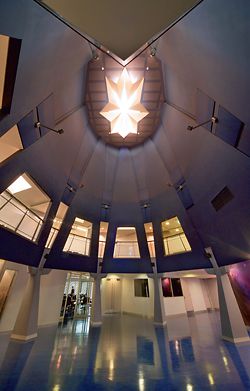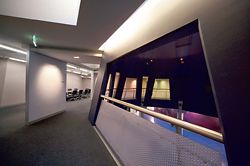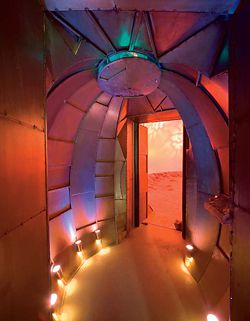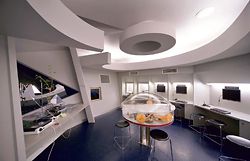 The grounds of Strathmore Secondary College (SSC) are presently the site of a dynamic architectural environment. New buildings (sports hall, cafeteria, science and technology wing, theatrette and arts buildings); interiors (staff offices, meeting rooms, classrooms); small insertions (entry canopies, swimming pool windows, new toilets, visiting psychologist's office) and renovations and alterations to all existing buildings by Simon and Freda Thornton Architects, plus landscaped spaces (pear tree square, entrance forecourts, courtyard, plaza and settings for specific buildings) by Taylor Cullity Lethlean together provide a model of how architecture and landscape can transform an ageing educational environment. The latest contribution to the site is the Victorian Space Science Centre by Gregory Burgess Architects.
This transformation started 15 years ago, at a time when state schools began to engage their own architects, and prior to the current dynamism between architecture and renewed approaches to education and pedagogy. The existing buildings, constructed quickly and efficiently to accommodate the children of the baby boom, have proved resilient and flexible in accommodating change. At Strathmore there is a greater investment in architectural expression than in developing new spatial models of education. The architecture and landscape exert a strong visual presence. And some buildings resemble things that are not buildings – for example, the renovated drama hall looks like a fantastic insect.
The story goes that in 1993, school principal Ken Harbottle contacted Simon Thornton of Simon and Freda Thornton Architects, on the recommendation of a friend. From their first meeting it was evident to Thornton that the client valued and actively sought architectural ideas. Thornton is adamant that this is the key to Strathmore's success as an architectural environment. Harbottle suggests that he depended on the architects to solve very complex problems and that architects see opportunities and solutions that other people cannot. But he has been intrinsically involved in every stage and detail of the architectural project, and has a very clear sense about what risks were taken, what has worked and what needs alteration. He is evidently very interested in the arts and design, but when probed about his own disciplinary background in mathematics and physics, themes about abstraction and an imaginative field emerge.
Harbottle maintains that the students are very visually attuned to the look and feel of the buildings, their colour and shape. Colour was a priority when work began at the school. Another was the creation of spaces where students could socialize in small groups. Thornton introduced landscape architects Taylor Cullity Lethlean to the school and transformation of the bitumen and gravel landscape began. Education Department budgets are notoriously deficient in providing for landscaping and the school raises funds specifically for this work.
Collaboration has been an important part of the process, and the citation for the 2001 RAIA Victorian Chapter Award to Thornton Architects for SSC Stage One specifically notes the collaborative work between the three designers – Simon Thornton, Dianne Peacock, Mirjana Lozanovska – and between the architects and the landscape architects, Taylor Cullity Lethlean. Being part of that design team has given us particular insight into this collaborative process. Thornton suggested that each designer work on a particular part of the brief. For him this was low-risk – it was a good way to offset the inevitable homogeneity of a large project that needed to be completed in a very short time – and he believed that while the designers worked differently, their approach was compatible with his own. At all stages, from Mary Bugeja's curvaceous staff facilities renovation (1996) to Lisa Brennan's satellite imagery colour scheme for Chris Stanley's indestructible industrial brutalist toilet block (2003), the collaborating designers were encouraged to bring their own preoccupations to the project, with genuine diversity in the buildings as a result.
Collaborative work does not mean there is no tension – at its best it is about proceeding through tension. One point of tension was the concept of how the buildings are held together – and at what stage the project should be approached as urban design, if at all. Simon Thornton's references are literary analogies that result in fantastical objects, relying on the landscape to integrate the whole. But for Mirjana Lozanovska, Strathmore became initially an urban design project. Unhappy with the pavilion style of proposed building layout, she fiddled with the master plan at the south end of the school (where she was to design the theatrette and arts building), altering the matter/ space configuration so that it was not about objects surrounded by space, but space driving its way through matter. This was inspired by experiences in Cairo and Aleppo – congested, possessive, protective cities with a gravitational solidity that contrasts with the emptiness in the Australian built landscape. After all, even pavilions are a form of urbanity – whether lined up like objects on a shelf or scattered in the form of the picturesque movement, they produce a constructed environment that delineates social use and historical reference.
In fact, micro-urban design decisions were made by the designers at every stage. But with the exception of the theatrette/arts precinct, this did not generate a result that would be considered urban in character. Rather, buildings and spaces knit together to form a complex of spaces that are variously intimate and open.
The building of the new cafeteria deliberately shifted the social centre of the school. Designed as a large cafe where students and staff can sit separately or together, its culture has inspired a new way of making food (now managed by the school). Both the cafeteria and the space centre were built on the former Moonee Ponds Creek, displaced by the construction of the Tullamarine Freeway. In order to erect such structures, matter has to be overcome (with forests of ten-metre-deep piles). Concrete formed in irregularly tilted blocks suggests that excavated rubble forms the base of the cafeteria's north wall. The building is assembled upon its concrete base; it is constructed and tidied up, rather than finished off. Dramatically visible green polyester insulation is seen stuffed between timber stud framing.
Thornton's approach to designing the technology wing began with the idea that technology is in crisis. His particular critique comes from an ethical concern about the environment. He sketched a series of imaginary buildings – crashed rocket buildings. The final building was developed as a rocket that failed to launch and toppled over – its capsule missing, as though it ejected and landed in another suburb. The imagery conjures a child's fantasy of rockets and the unresolved state of present technologies.
These buildings have now been joined by the Victorian Space Science Centre by Gregory Burgess Architects. Science classes from around the state visit the centre and take part in immersive scenario and laboratory programmes. Mission to Mars is one such hands-on space science experience devised for Years 9 and 10 students. There is also a Planetary Surface Simulation Room. "The rim is lined with Martian rocks for specimen collection, and the whole crater is encased in an inflatable dome backlit with pre-programmed special effects to heighten the dramatic narrative of the Mission to Mars." (VSSEC Information Brochure.) It is very exciting compared to a classroom and is a beautifully realized initiative to tackle the crisis of student interest in science education.
Greg Burgess's space centre differs from other buildings at the school in that it wraps itself in curved protective walls. The space centre finds a form that responds to the forces of movement around it – including the freeway and its flyovers. The exterior has a sense of movement: a sweeping brick pattern, angled walls, a swirling plan derived from a spiral galaxy. At the same time it is local in its robust, Department-of-Education-budget way – Zincalume, not titanium, and one section of the roof looks like a regular shed distorted by cosmic forces. The interior, by contrast, is deliberately calm. The gaze is directed upward to the apex of a deep indigo octagonal form that resolves geometrically to an egg-shaped ceiling containing a star-shaped opening. This opening is beautifully poised, as if it might open further or close right down, in the folding, overlapping motion of graceful science fiction airlocks and space docks.
The original layout of the school was the result of a standardized plan placed where it fitted on the site. Natural changes in level created awkward links between buildings, while peripheral areas such as the space centre site were isolated. With the addition of a series of linked timber decks, TCL created a zone of transition between the school and the space centre, contributing to a sense of journey as students cross its bridge-like threshold. The landscape design extends the spiralling plan form of the building and was also inspired by a galaxy. However, on the ground, around the back, a very strange thing happens. Three lines of pavers approach, like a driveway, what appears to be a large roller door. The three lines, rather than two, suggest it could only be a driveway for a special space vehicle which we never see.
The space centre supports a journey that is both real and of the imagination. Burgess worked with the framework of a sequence devised by the centre's diverse science, education and industry collaborators. Theatre was part of this approach. Dressed in spacesuits complete with boots, helmets and insignia (the Australian flag and "Victoria – the Place to Be"), the student astronauts' vital signs are monitored by their colleagues in the mission control room. As in theatre, total simulation is not attempted, nor is the activity virtual. The airlock door to the Martian surface room appears pre-modern in character, recalling the mise-en-scène detailing of Georges Méliès's film Voyage to the Moon (1902). In this project, architecture is a catalyst for engagement; it supports an imaginary journey, a sense of wonder and enchantment. It uses but does not fetishize the latest technology. While the project has productive links with NASA and other space programmes, the interests of the space industry do not define outer space as a field of enquiry. We are reminded by Paddy Japaljarri Sims' Milky Way Dreaming (2004), hanging in the foyer, of a human connection with the stars that goes back 40,000 years.
It would be easy to construct an opposition between Thornton's and Burgess's approaches to their respective buildings, perceiving the former as critical, metaphorically "beating swords into ploughshares", and the latter as positivistic. While sharing serious reservations about the agendas and effects of nationalist space programmes, they readily and enthusiastically engage with broader imaginative realms. Certainly they differ in their use of geometry and the process of form making. Burgess's use of unifying geometries can be sensed in the central space of the building. That space is uplifting and exciting and one is transported to its apex of star-like geometric points. Significantly, these points do not meet – and the gap is where the light enters the interior.
Meanwhile, Thornton develops a colour scheme from a 1950s Eagle Magazine "Dan Dare: Pilot of the Future" colour plate, for some new work on the library.

Dianne Peacock is an architect who engages in art practice and a member of Antarctica. She designed the cafeteria, main entry canopies and several other small works at SSC.
Dr Mirjana Lozanovska is a senior lecturer in architecture at Deakin University. She designed Strathmore's theatrette and arts buildings.