On one hand, Vikki's Place is a delightful and humble residence, full of light and air, and remarkably flexible. On the other, it is a prototype, an exemplar of the resilience that more architecture will have to take on in the era of climate change. Located on flood-prone-land in the coastal city of Newcastle, this house can withstand a 1.6-metre inundation. This project answers to a brief much larger than the client's.
Recently, I heard Curious Practice's Warren Haasnoot and Greg Lee talk about their growing body of work. They showed a raft of careful, intelligent and elegant projects; not only is their practice young, it is prolific. But one project made me sit up in my chair for a number of reasons – and that was Vikki's Place.
A few observations about this house lingered: its openness, its frank materiality and its floodable ground floor. Later, visiting the house with Warren, I felt a sense of mutual respect between architects, client and builder. The suitability of Vikki's brief to Curious Practice's interests made for a great collaboration – Warren and Greg were clearly engaged by Vikki's need for spaces catering to a unique and dynamic family structure. With children and grandchildren coming and going, she required a "main house" and a studio together, balancing privacy with supervision, and aspiration with affordability.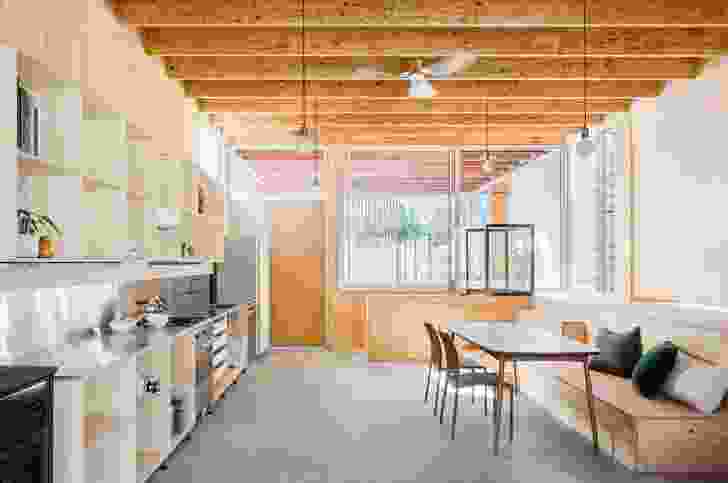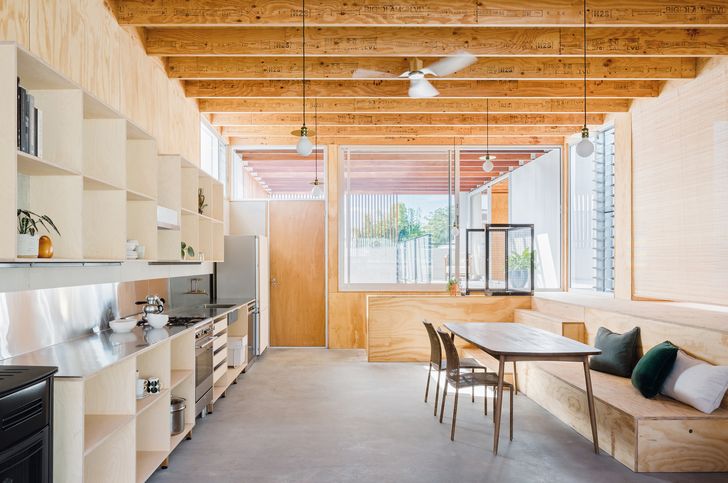 The house is, it seems, an extension of Vikki's personality. When describing her home she says it's, "earthy and grounded. I like to feel the earth and I like things to be real. What you see is what you get. It's not covering anything up, is it? Everything is exposed." Vikki called for transparency, which is present through light and pervasive views. On the upper level, a timber skin traces the perimeter of the building envelope, defining a room that is open to the sky. Part terrace, part stair, part courtyard, it gives the house, which fronts it with operable glazing, a wonderful airiness. It creates privacy and sun protection while also giving a sense of height.
This transparency exists also in the directness of the architecture. The house is composed of nothing but the most ready materials, carefully applied and left unfinished. The lower level is made of concrete block and houses the entry court, a car port and a laundry. With floors made of slabs and pavers, and gardens at each end, these floodable rooms can happily act as workshops or social space. The upper levels are lightweight, clad externally in corrugated sheeting and internally in plywood. These workaday materials are used in a considered manner and details in their application bring rhythm into the composition of the rooms. The blockwork walls have alternating courses, turned headers and a flourish of staggered units over the entry gate. The plywood panels inside are arranged vertically, establishing a dado height that connects with glazing lintels in a horizontal datum. Fibre cement sheets are substituted for ply to provide variation and utility or framing is left unclad to create niches for artwork. Door tracks are exposed and lengths of plumbing copper make their way plainly between standard brass garden taps, with cunning wall fixings designed to disappear. There are no doors on the kitchen cabinets and the bathrooms have wall-hung basins with minimal cabinetwork. Many details were sketched on site, with the builder and tradespeople closely engaged.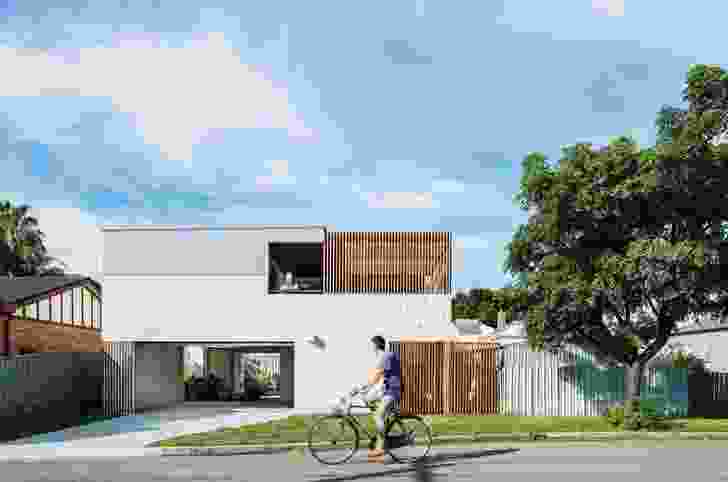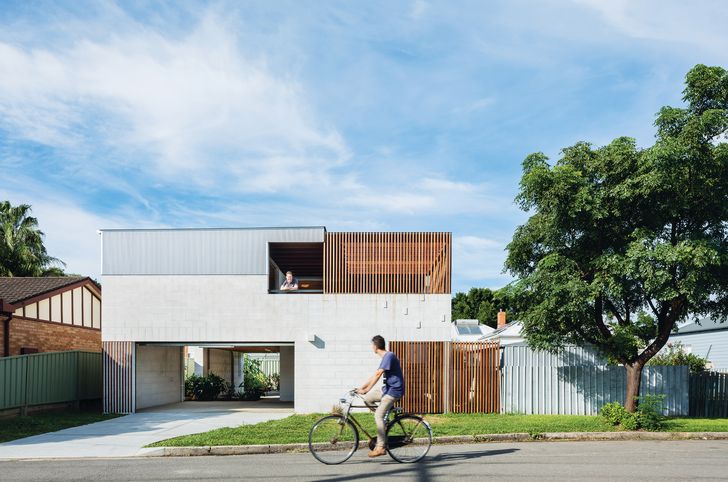 The layout is equally unfussy. Vikki has travelled extensively throughout South and South-East Asia and admires the way families there live together. Curious Practice responded with a layout that is fluid and adaptable, that provides separable private space for respite and work, and a living space with tiers that can accommodate an additional bed for visitors or act as a dining banquette. The bedrooms in the main house open directly onto the living space. They are offset by a level change, creating platforms that have a bunk-like quality. There is some resonance with a holiday house in these features and in the breeziness of the layout. Architectural games lay in wait for the little ones – blocks pulled out here and there to clamber up, beams extended overlength beyond the entry stair to climb.
The architects reflect that the same council requirement that threatened the house with a total separation from the ground plane resulted in much of its intrigue: its airy undercroft, its sectional resolution into terraces and elevated sleeping platforms, and a material change between ground and upper levels that echoes the grain of the street and gives it a sense of belonging.
After the architects' talk, I was haunted by their drawing of the house's upper floor depicted as an island above floodwater; of the neighbouring house, only its eaves protrude. In this era of sea-level rise and extreme weather events, such situations will likely be the reality. Until other new builds begin to contribute to an archipelago, Vikki's Place appears as a refuge.
It has struck me since that this house is not just environmentally resilient; its physical flexibility means it can be adapted in numerous ways, over generations. Further, creating a buildable project in direct economic competition with the status quo demonstrates a professional resilience on the part of the architect. In this way, the house constitutes something of a future survival guide – a design handbook for the suburbs.
Products and materials
Roofing

Lysaght Klip-lok in Zincalume
External walls

Austral Masonry GB Smooth in 'Porcelain'; Lysaght Mini Orb in Zincalume
Internal walls

Carter Holt Harvey Ecoply; CSR compressed fibre cement sheeting Windows: AWS Vantage anodized aluminium windows
Doors

Custom timber door frames by builder; Madinoz doorhandles
Flooring

Carter Holt Harvey
Ecoply

Lysaght Bondek suspended decking and suspended concrete slab
Lighting

About Space Stay Drop Pendant lights
Kitchen

Smeg oven; Fisher and Paykel fridge; custom brass and copper tapware by Maxcore Plumbing
Bathroom

Caroma Luna semi-recessed basin; Caroma Urbane bath; Brodware shower rose; custom brass and copper tapware by Maxcore Plumbing
Heating

Pacific Energy Mirage freestanding gas stove
External elements

Spotted gum timber screens
Other

Custom joinery by Built by Eli
Credits
Architect

Curious Practice

Site Details

Location Newcastle, NSW, Australia
Site type Suburban
Site area 245 m2
Building area 105 m2

Project Details

Status Built
Design, documentation 6 months
Construction 6 months
Category Residential
Type New houses

Source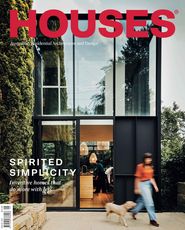 Issue
Houses, October 2019