From the idiosyncratic diagram of each project to the precision of its construction, the influence of contemporary Japanese architecture is unmistakable in the work of Vo Trong Nghia Architects. Founder Vo Trong Nghia studied in Japan – as did his partners Takashi Niwa, Masaaki Iwamoto and Kosuke Nishijima – before setting up practice in Vietnam. Returning from Tokyo it was apparent that work could not be built in Vietnam as it is in Japan, where timber is an abundant resource and highly technological building materials are either locally manufactured or easily imported. So the studio quickly set about researching what materials were abundant – bamboo, stone and earth – and what could be made with them. After years of unbuilt projects, unable to find contractors either willing or able to build their designs, Nghia established a construction company. In the years since, the practice has produced ten projects per year, a figure that is now growing, with around twenty anticipated for completion in 2014. Over the last three years the studio has grown from a team of ten staff to one of fifty architects, ten engineers and one hundred workers.
Apart from obvious aspects of design approach, the main lessons for Nghia from Japan are about the systematization of construction. With construction and engineering now in-house, impediments to realizing their visions are quickly evaporating. "For example the House for Trees project," says Nghia. "It is almost impossible in the Vietnam situation to make something like that, but we have the construction company and we can realize it." There are a few downsides, he acknowledges, such as the additional responsibility and the potential for suspicion about conflicted interests – for instance, that design changes might be motivated by cost cutting. Ultimately, though, the vehicle of the construction company provides more than the means of production: it provides a level of control over process that is unknown to most architects. Experimentation and one-to-one prototyping allow the practice to develop new construction details while also building the in-house skill sets required to realize its designs. This research into new construction logics can occur outside the time frame of individual projects, feeding back into design when they are confident it's ready. For instance, the team is currently developing an earth wall system for buildings up to ten storeys. Nghia is careful to point out their brief for this system: it needs to be not only very strong, but also very low maintenance to be viable in Vietnamese cities.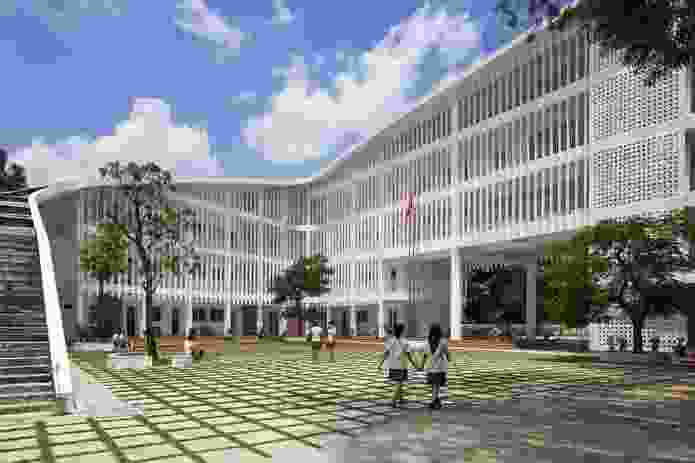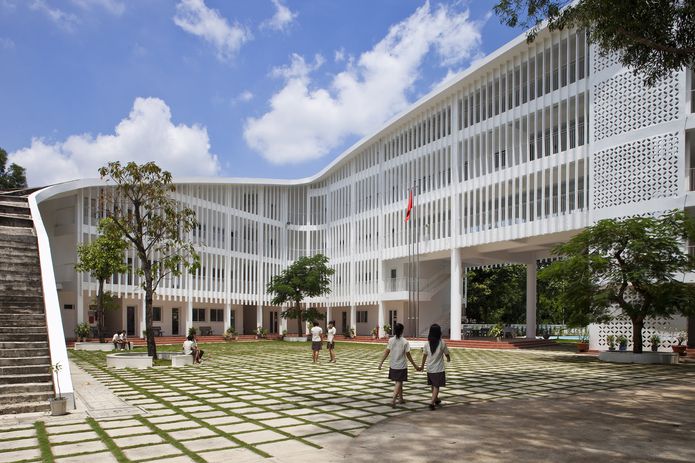 This last observation hints at how an ability to realize unique architectural outcomes of quality does not override a keen sensibility for what is needed in the city. At Making, Nghia's presentation began with an overview of the pressures facing Vietnam: growing population density, floods, droughts, deforestation, soil salinity, the loss of farmland to urbanization and rampant tourism construction at the beaches. "It is beautiful and peaceful already so why destroy it all for the houses? And the beach, the entire beach is beautiful already but because a lot of people are demanding that they build resorts and hotels, they have destroyed it already." These conditions set up what are put forward by Nghia as a few simple urban goals: limit the landscape and vegetation lost to urbanization and replace it where unavoidable; reduce the need for cars; be aware of the embedded energy and material in what you build; and protect the estuarine areas and beaches from inappropriate development and pollution. Speaking about the Mekong Delta he says: "Don't show me how beautiful this building is, that is not enough. We are like [the Ganges-Brahmaputra Delta in] Bangaldesh – people living with the water, and then [these communities] disappear." He stresses the urgency for providing durable, safe and affordable housing for low-income families in the Mekong Delta.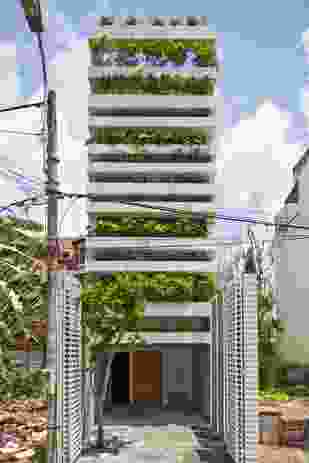 In discussion after his presentation it quickly became clear that it's important to Nghia that the projects speak for themselves – his attitude seems to border on contempt for the effort wasted in so much talking among ourselves. "I think the most significant mentality of architects is to try to explain everything, which is not necessary: if you see something reasonable and you see something beautiful, why do you need to explain that? You can explain something too much. We need to live in the city and just convince them by our projects: show them the Binh Duong School, show them the Stacking Green and then we can convince even the developer to make huge projects of 3000 houses all like the greenhouse. That is a big impact. Then we can continue to explain to the government. Of course, people complain that the government is hard to convince, but that is everywhere, because it has a responsibility to its citizens. So you have to explain to government that we can easily realize that." Does he find developers are following suit? "One hundred percent, because it is quite easy to sell that in Ho Chi Minh City. Imagine that in one small city with ten million people – half the population of Australia – you don't have green, right? That is why it is very easy to convince them to make green space on top of your house and on the facade of your house. They always say OK. If you [deliver a project] without green space, it is harder to sell."
It would be easy to be cynical about these ambitions to go beyond beautiful architectural objects, particularly when glossy photographs of the studio's finely detailed and finished works flash across the internet's architecture dailies. This sort of architectural project is not often associated with a deep ecological agenda. Yet surely many would agree that architecture should be ambitious enough to aim to produce inspiring architectural spaces that meet aesthetic design objectives, yet are also completely consistent with a desire for much-needed and large-scale urban change? While building numerous prototypes, Nghia has been actively advocating with local government in Ho Chi Minh City for a mandatory 50 percent green roof requirement for new development applications and working on a large-scale urban masterplan. He is unapologetic in giving voice to an often inconvenient truth of contemporary architecture. "Architects always want to spread their thoughts by architecture, but they forget that they are trying to destroy nature and that is the problem. What I mean is that [as architects] we are working, we are building – that means we use energy already and we destroy that nature already. So how do we pay that back to nature?"
Vo Trong Nghia Architects is a practice with a grand vision for the future of Vietnam's cities and a force behind the work that is almost tangible. Yet this is no polemical vision: through experimentation and prolific building, the practice is actively collating the knowledge and technology to deliver it. In the process it is demonstrating to developers, residents and local officials that such change is actually possible. In this, the practice also provokes architecture to be more ambitious in how the profession can contribute to the cities of the future.
Related topics