An architectural pavilion designed by prominent Vietnamese architect Vo Trong Nghia, of Vo Trong Nghia Architects, has been installed in Sydney's Barangaroo.
Green Ladder was previously installed in Brisbane in 2016 as part of the Asia Pacific Architecture Forum, commissioned by the Sherman Contemporary Art Foundation (SCAF) for its Fugitive Structures series.
The pavilion's Barangaroo appearance is a collaboration between the Barangaroo Delivery Authority and SCAF's successor, the Sherman Centre for Culture and Ideas (SCCI).
Made from bamboo, the pavilion comprises a scaffold-like grid structure interspersed with greenery and topped with a transparent booth.
In a review for Architecture Australia, Sandra Kaji-O'Grady said the pavilion "more closely resembles a fragment of bamboo scaffolding than it does a building."
"Carefully spaced posts of bamboo bundles set up a field condition that never resolves into a room or shelter. The pavilion does not establish enclosure at its side or overhead, with the consequence that the visitor does not inhabit the pavilion so much as pass through it."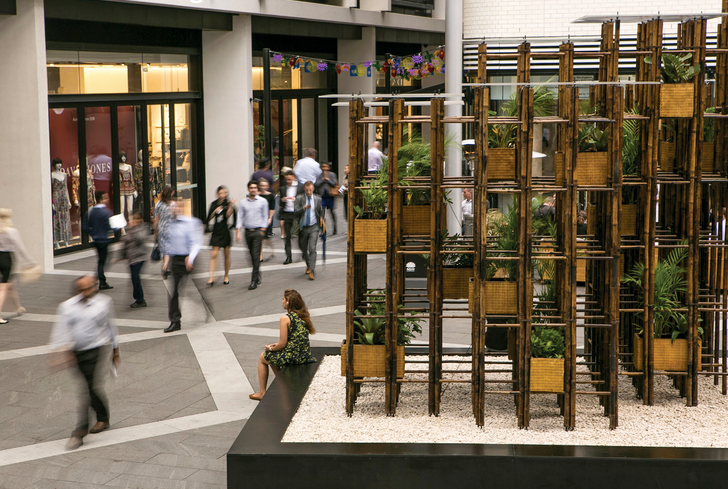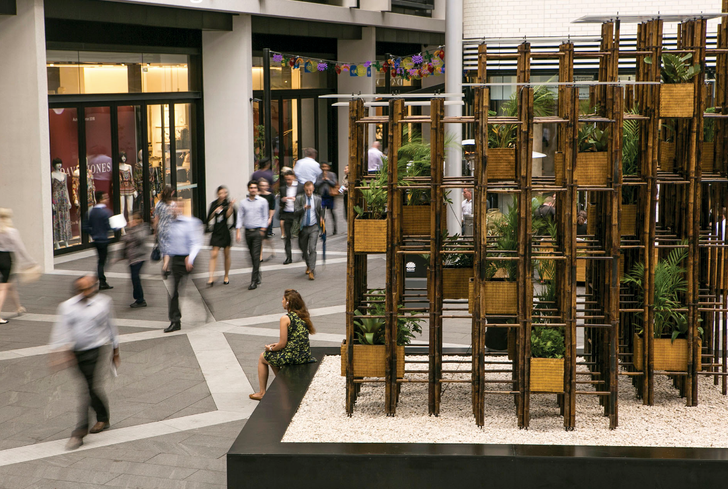 "I want to bring nature back to the city," Vo said in 2016. "In Ho Chi Minh City, the population has reached nearly 10 million with only 5.35 square kilometres of green space – only 0.25 percent of the entire city. Vietnam's unrestricted economic development has devastated the natural environment across the country. This is the problem architects need to solve."
Green Ladders is the start of a three-year program of architectural pavilion commissioning by the Delivery Authority and SCCI, dubbed "Barangaroo Structures."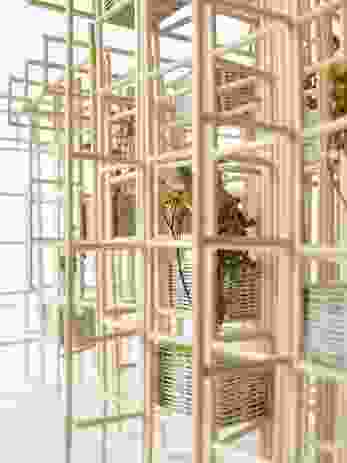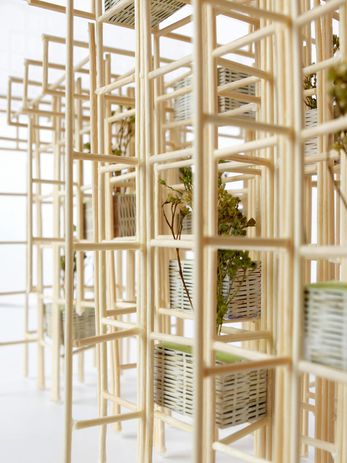 Sandra Bender, the Deliver Authority's executive director of activation and precinct management, said, "Our partnership with SCCI in the delivery of Barangaroo Structures will provide an opportunity for our visitors to explore emerging architectural ideas with innovative sustainable materials while enjoying this spectacular new foreshore location."
While Green Ladders is a loan from SCCI, the architect behind the first specially commissioned project will be announced in October 2018.
Vo Trong Nghia Architects is well known for its work with bamboo and for its residential work, which often involves bringing greenery into buildings situated in cities with a paucity of open space. The practice has won seven World Architecture Festival Awards, including three in 2017.
Nghia's pavilion follows the long-term installation of a 1,500-square metre mural by artist Reko Rennie at the base of International Towers Sydney by Rogers Stirk Harbour and Partners.
Green Ladder can be found at Exchange Place, Barangaroo, until 2 May.
Related topics