Volume 100 has a pretty good ring to it, a rotund sense of achievement on the part of the profession, and the magazine. It indicates an enormous mass of material, with each volume containing between four and twelve issues. Bound and housed on the shelves of libraries here and elsewhere, these one hundred volumes provide a remarkable resource on and for architecture in this country.
In 2004 we celebrated the centenary of the string of journals that became the current magazine – The Journal of the Institute of Architects of New South Wales, Art and Architecture, Salon, Architecture, Architecture in Australia and, finally, Architecture Australia. But, because the numbering system began afresh twice in the early years, when the centenary of the magazine occurred we were only at volume 91. Over that year we published a suite of essays by eminent scholars reflecting on the history of the magazine, the effects it had on architecture in this country, and the role of the magazine in the development of Australian architectural culture.
To celebrate volume 100 we are taking a different approach. This time we want to hear from you, the readers and users of the magazine. We are interested to know about the magazine "in the wild." Where and how do you use it? Which are your favourite issues? Which have delighted you, challenged you, aggravated you? Email us at aa@archmedia.com.au with photographs of your favourite issues "in the wild," or tell us in 100 words or less about the issue that has meant most to you.
Source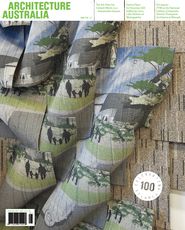 Issue
Architecture Australia, January 2011