Architects Without Frontiers has issued a call for architects to volunteer for The Anganwadi Project (TAP), its annual preschool-building project in India.
An anganwadi is a government-funded, predominately rural service that blends the function of a preschool and healthcare facility for mothers and young children. The centers, which issue immunizations and rudimentary healthcare, were designed to act as an intermediate health service in areas where access to institutional healthcare is limited.
The anganwadis built by TAP are operated by local partner charity Manav Sadhna, which supplements the services offered at the centres with a free meal daily.
Placements for the 2018/2019 season are four to six months long in Ahmedabad, the largest city in the Indian state of Gujarat. Applicants should have at least two to three years graduate experience.
TAP, which has built 16 of the centres with the help of more than 30 architects and designers from Australia, was founded in 2007 by Jane Rothschild (co-founder of Dickson Rothschild and a former director of Architects Without Frontiers) and designer Jodie Fried (Armadillo&Co) who had a long association with the local charity Manav Sadhna. Architects Without Frontiers provides skilled volunteers to support the project.
In an interview with ArchitectureAU in March, architect and former TAP participant Kali Marnane, who worked on the design and delivery of an anganwadi, said that the experience was challenging, but that "depending on your perspective [these challenges] can be thought of more like important learning opportunities to understand the context we were working in."
"There would be times when the community would be without water, and experiencing that first hand really opened my eyes to the challenges that some people face – how do you keep hydrated? Cook? Clean? Bathe? One of the most important lessons was that building relationships was the key to getting things done in a meaningful way."
"After all, what's the point of a building without the people in it?
For more information on TAP, go here.
Source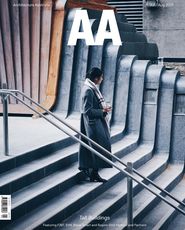 Issue
Architecture Australia, July 2017