Vue de Monde is, and has been for at least five years, Melbourne's "It" restaurant. Its trophy cabinet is filled with restaurant of the year awards, its brand has expanded to include a CBD bistro and a raft of cafe outposts at key cultural locations, and owner Shannon Bennett has emerged as a one of Australia's most well-known and revered chefs. Publicly, Vue de Monde has nothing to prove. And yet, when a party of diners crosses the cavernous corporate atrium of the Rialto Towers en route to the restaurant's new premises, their sense of anticipation and expectation is so palpable, so real, you feel you could grab it, sear it quickly on both sides and plate it up with some chestnuts, wild garlic and cherries. They booked months ago. They're prepared to pay upwards of $500 per head for a degustation with matched wines. These people are excited. And so, on this personal level – the level that really matters – Vue de Monde has everything to prove.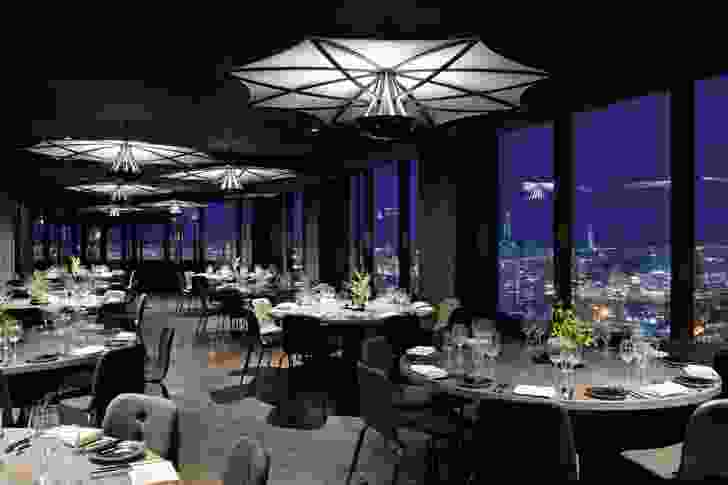 Of course, this sense of anticipation and expectation is largely about the food, but people come to Vue de Monde for a singular "experience." The environment in which they eat and talk and drink is fundamental to this. The restaurant's new location, in the former observation deck of Melbourne's second tallest building, speaks directly to this desire for something out of the ordinary – diners are shot up and out of their everyday world in a dedicated express lift to level fifty-five. The dramatically vertical journey immediately dislocates Vue de Monde from the rest of the city's restaurants, which famously huddle behind unmarked doors, lurk down obscure laneways or, for a bold few, leer out over the Yarra from a large casino. And yet the fitout, which was designed by architects from Elenberg Fraser in close collaboration with Bennett, and includes a large function space and rather opulent bar, is arguably the most deliberately, thoughtfully Melburnian hospitality interior of all.
For starters, it's black! Inky black! And combined with a sparse, elemental treatment of fittings and furniture, this serves to bring attention to the panoramic view of the city. Where most Melbourne restaurants rely on the occasional rattle of a passing tram to provide context, Vue de Monde takes an approach more akin to Google Maps. With the bay, Docklands and other parts of the city in clear view, there's no question where you are.
But the link to Melbourne also plays out in ways much more intrinsic to the design. The conceptual leaping-off point for the fitout was the Yarra River flood plain, imagined as it would have been before European settlement: an estuarine idyll shrouded in reeds and populated by waterfowl and fish; a food bowl and meeting place for the Wurundjeri people; cool, tranquil and anathema to modern, masculine cliches of Australianness. This has been translated in both the broad ambience of Vue de Monde and in specific, more literal details. Honed bluestone floor tiles recreate the glossy black stillness of the water's surface; reed-like motifs appear in the lift and restaurant lobby; and at night, the sparkling lights of the city twinkle like the Milky Way would have before it was polluted by, well, all those sparkling lights.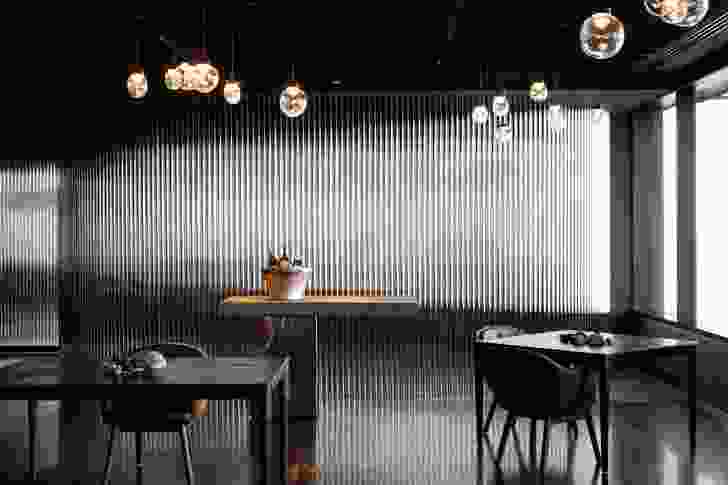 In the dining room, irregular clusters of pendant lights by Melbourne glass artist Emma Lashmar hover above each table like fireflies, washing each small group of diners in a warm glow that amplifies the quiet intimacy of the space. The tables and chairs, designed in collaboration with another Melburnian, Ross Didier, are clad in kangaroo leather, in many cases still with bullet holes, scratches and seams in evidence. Some of the chairs are also backed with kangaroo fur. It's the kind of furniture you want to touch.
This sensual gravity of the table is heightened by settings crafted from rocks (hand-sculpted by artist Tom Samek, and storing salt and pepper) and wood (blackened Grange vines from Penfolds vineyards). Staff rearrange them during the meal and diners stack and play with them. The effect of the leather, fur, stone and wood is of a tactile authenticity a million miles away from the starched linen tablecloths of the posh restaurant archetype. The materials and forms are literally evocative of the natural world, of the billabong and the bush, and they undoubtedly help to transform "meal" into "experience."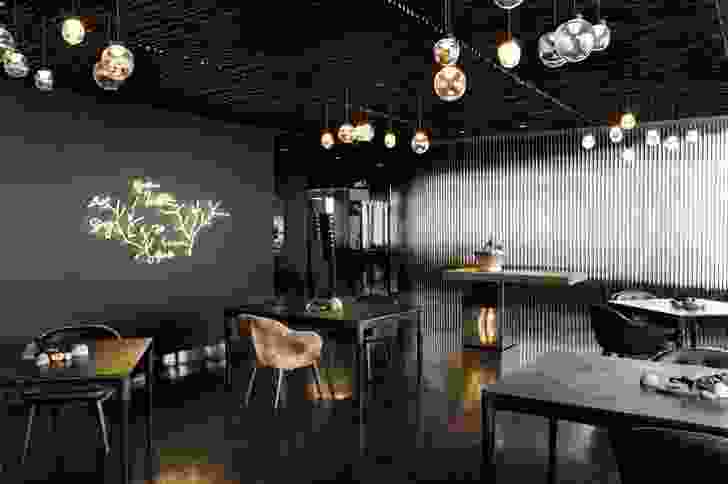 Not far away, chefs can be seen hard at work in the open kitchen. There are no flames to evoke a campfire – induction cooktops are preferred for reasons of sustainability – but there's certainly something timeless about the quiet, hard graft on display. It also sets up a neat juxtaposition: in one direction, the view takes in the limitlessness of the universe; in another, we see, close up, the admirable workings of humankind.
The only deliberately exuberant element in the dining room is a large white neon artwork, An Interpretation of This Title: Nietzsche, Darwin and the Paradox of Content by American conceptual artist Joseph Kosuth. It's an interesting choice and, regardless of any intended thematic link between its philosophical underpinnings and the Vue de Monde fitout, the artwork tempers the "literally natural" character of the space just enough. Its presence, on the wall and reflected in the windows, comes as a welcome admission of context. "It's okay. We know it's the twenty-first century and we're in a really exclusive restaurant. Enjoy yourself. It's an experience."
Products and materials
Walls

Metal finishes from Rimex Metals. Glazing by Viridian Glass. Timbers are local or sustainable. Marble and bluestone from Apex Stone. Tiles from Russel Cook metz, Classic Ceramics and Artedomus.
Ceiling

Acoustic wall panel from Woven Image.
Flooring

Carpets from Whitecliffe Imports.
Lighting

Dining room pendant lights by Emma Lashmar and Dean Phillips. Function room Frilled Neck Lizard Lights by Design Sense. Valenti Terra Sphere floor lamp. Architectural lighting from Concord Sylvania, Dean Phillips, ECC Lighting, JSB Lighting, Licht Design, Lighting Group, Lightmoves, Major Graphic Signs, Xenian, Zumtobel.
Furniture

Tables and chairs by Ross Didier. Kangaroo skins over dining room tables by Captain of Industry – James Roberts and Theo Hassett. Lounge Furniture by Anthony Camm, from Camm Upholstery. Other fabrics from Laine Furnishings, Unique Fabrics and Textile Mania. Champagne and cheese trolleys by Arteveneta.
Joinery

Ross White from Simsite.
Bathroom

Amenity hand wash basins, make up station, mirrors and the pissor by Joseph Licciardi. Basins by Caroma. Tapware from Streamline Products and Rogerseller.
Tableware

Chef's tables gold rush pebbles by Mark Douglass. Cutlery by Christofle.
Artwork

The Cloud installation above bar is by artist Mikala Dwyer. Neon text artwork to dining room and wine cellar by artist Joseph Kosuth. Commissions by Anna Schwartz Gallery.
Credits
Design practice

Elenberg Fraser
Melbourne, Vic, Australia
Project Team

Callum Fraser, Adrian Coleiro, Kayoko Kubo, Aivars Kristens, Katherine Wheib, Linda Valentic, Suki Lam
Consultants

Audiovisual Custom Sound
Builder Liquid Lines
Building surveyor MBAV (Master Builder Association of Victoria)
Electrical engineer O'Donnell Griffin (ODG)
Graphic design Designworks Melbourne
Kitchen consultant FCA (Foodservice Consultants Australia)
Kitchen contractor Atherton
Kitchen ventilated ceiling Phoeniks: Catering equipment
Landscaping Joost
Lighting Electrolight
Mechanical engineer A.G. Coombs
Project management Equiset
Vision and IT Spectrum IT

Site Details

Location Level 55, Rialto, 525 Collins Street , Melbourne, Vic, Australia
Site type Urban

Project Details

Status Built
Design, documentation 12 months
Construction 6 months
Category Hospitality, Interiors

Client

Client name Vue de Monde
Website vuedemonde.com.au

Source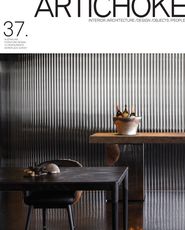 Issue
Artichoke, December 2011
Related topics