Not since the 1992 Olympics has Barcelona seen so many Australians lined up on the starting blocks at "the pool," but this time it was in the interiors category for the World Architecture Festival of 2010. Six of the nine shortlisted projects were on Australian soil, with Turkey, Japan and the UK facing up to this invasion of upstart antipodeans.
Much of the Australian team had landed in Barcelona and settled into their preparation with plenty of mojitos, sangria and excessive serves of Iberian jamon. We were liquored up, limber and ready to follow through on our apparent dominance in this category!
The gun fired at 10 am on day three for a gruelling three-hour marathon, with each of the nine competitors having ten minutes to prove their worth and ten minutes for interrogation from the international jury (Lorenzo Apicella from London, Kersti Urvois from Spain and Richard Hassell from Singapore). A mixed US/Australian team – John Meacham from Los Angeles for Clive Wilkinson Architects /Woods Bagot – dived in and told us story of the Macquarie Group's One Shelley Street, Sydney, a story of pushing the boundaries of activity-based working through varied inspirational settings and designing a vertical commons precinct via an atrium that referred to shipping containers being lifted and zooming along tracks to attach to the edges of the workspace.
Koleksiyon from Istanbul put in a good effort, presenting the firm's showroom as workspace, before I bellyflopped into the pool and launched into Hassell's ANZ Centre in Melbourne's Docklands. Unravelling the complexity and scale in the ANZ behemoth through a story of permeability, diversity and sustainability proved tough, but the Australian projects were clearly making their mark.
Next into the water was the ubiquitous Nik Karalis for Woods Bagot / NH Architecture, immersing us in a new event experience, attending a stimulating convention centre right through to escaping to the warmth of the hotel room, solo or otherwise and crashing out. The Hilton South Wharf in Melbourne, integrally connected to the award-winning new plenary, shows how a banal hotel chain can be unique, tailored to its site and local culture through a considered conceptual idea, collaboration with artists and a confident integration of interior architecture right through to deftly handled decoration. Rarely do you see a hotel/convention facility perform through the whole continuum of design practice so brilliantly.
Nikken Sekkei from Japan showed a minimally crafted Italian restaurant, Mode di Ponte Vecchio in Osaka, before dRMM surprised all with a modest but strategically intelligent and transformative yet simply detailed gallery space, the Yard in Oxford. It was becoming suspicious and murmurs were afoot that the Australians had to be "using/abusing" something to produce these enormous and complex development projects that loomed over the rest of the field, until Ninotschka Titchkosky splashed in from BVN and shook up the race. Titchkosky launched the NAB Academy on the unsuspecting jury, proving the Aussies could handle a smaller scale. Through the integration of immersive soundscapes, virtual parallel forests and a totally unconventional approach to spatial composition, all to satisfy the different natures of learning, this surely is a new benchmark for this typology, conceived with depth and skill.
After lunch Titchkosky's identical twin sister emerged. A clone, some whispered – but, in fact, she was somehow swimming in two lanes, switching tactics and explaining the clever adaptive reuse of a dramatic heritage rail shed, again in Melbourne's Docklands. The Goods Shed interiors for VicUrban and the Building Commission, again by BVN, showed further that Australians weren't just about building big new stuff. The respectful and even bold insertion of new workspaces, maximizing the volume and historic character of the sheds, showed how it's done, when old buildings can be carefully and sustainably brought back to life arguably for decades to come.
Last but not least, another twist in the Australians' assault saw Jeff Morehen from FJMT presenting the jewel that is the Surry Hills Library in Sydney. The thorough and exquisite attention to detail from the exterior through every interior element (including a Robert Owen ceiling installation) was intimidating to say the least. It seemed fair to wonder how Surry Hills was so lucky to get such a wonderful and high-quality community facility; in any case, let's hope it's the start of something more frequently seen all over the world in the future.
It was a touch-and-go race with many speculations about how the judges would compare and contrast a number of projects that were clearly so different and another few that seemed related to each other somehow – for example, the three Australian banks. Some of us from the Aussie contingent feared we may be spurned by a win for the dRMM gem that sat so smartly apart from the rest. Thankfully we didn't leave Barcelona empty-handed: the ANZ Centre by Hassell snuck past and, by a fraction of a second, or perhaps a fingernail's length, I hit the end of the pool first to snatch the purple resin trophy!
So what's going on with interior architecture and design in Australia that saw us dominate and win this category on an international stage?
Not to be boorishly self-deprecating on behalf of the Australian finalists, but it seemed the field from the rest of the world in the category was missing a raft of players that we see regularly published with great work. Or perhaps it just says something about the increased effort, passion and care that Australian architectural and interior design firms, with our clients, have been placing on the importance of our internal built environment. Whether through the practice of well-rounded architecture or from nurturing interior design practice (which in turn is impacting and contributing to the practice of architecture) in a broader interdisciplinary way, the interior is clearly valued by us in Australia more than ever before.
Richard Hassell from WOHA, one of the judges, observed that there is clearly some sort of constructive, perhaps competitive discourse occurring between the practices represented here that is incredibly healthy in continually raising the bar for the quality of interior architecture and design in Australia. I think this is true and extends well beyond the four Australian practices involved this time. I actually came away seriously proud of what we, as a profession, are doing and grateful I have finally been to Barcelona, especially with a good bunch of compatriots who know how to have fun even when competing.
Note: I owe Nik Karalis credit for the swimming analogy, although his live commentary version was much funnier.
Source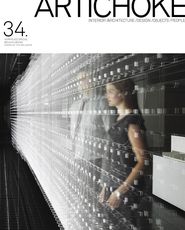 Issue
Artichoke, March 2011
Related topics