SOUTHERN CROSS STATION
GRIMSHAW JACKSON JV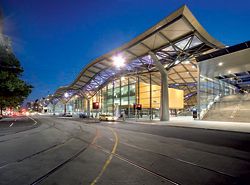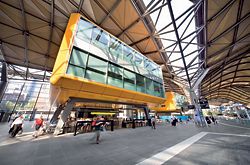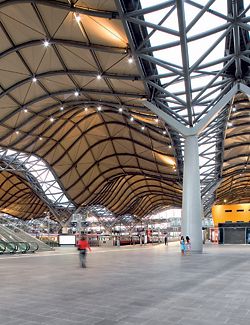 JURY CITATION
The new Southern Cross Station in central Melbourne shows how successful urban design can contribute significantly to the public and civic realm of a city.
The project had to respond to the functional, operational and logistic needs of the station, but it was also critical to linking Melbourne's central city grid with the rapidly expanding Docklands precinct.
The station is more like a vast roof canopy than a building – the space within is both literally and perceptually "open". It creates a distinctive sense of accessibility and permeability, allowing the public to enter the building as a destination (to the trains) or to pass through it to Docklands. The footpaths simply flow into the station space, or rise up to mediate the dramatic level changes across the site through a series of seamless thresholds. This strategy is opposite to the secure and hermetic spaces that increasingly occupy our cities.
Crowds and trains ebb and flow under the station's singular and monumental roof. From within, the city appears to bound the station space itself, reinforcing the integration of the building with the urban fabric.
It is easy to characterize the station as an update of the great nineteenth-century railway stations; however, by creating a great open public room out of the prosaic needs of city infrastructure, the project also presents a contemporary model of the civic.
The undulating exterior roof terrain reinforces the grand scale of the interior and takes on a visual prominence within the city from various approaches, adding to the sequence of approach, arrival and departure.
Southern Cross Station
Architect
Grimshaw Jackson JV—project director Keith Brewis; JV partner Daryl Jackson; station project leader Neil Stonell; design architects Mark Middleton, Michael Turco, Alex Matovic, Jason Embley, Andrew Milward-Bason, Peter Stevens; West End Plaza project leader Brian Richards.
Structural engineer
Winward Structures.
Services engineer
Lincolne Scott.
Environmental consultant
Advanced Environmental Concepts.
Rail engineer
Maunsell Australia.
Signalling
GHD.
Security and IT
Honeywell.
Pedestrian modelling
Scott Wilson.
Shop detailing
Precision Design.
Building surveyor
Philip Chun and Associates.
Quantity surveyor
Donald Cant Watts Corke.
Builder
Leighton Contractors.
Developer
Civic Nexus in partnership with the Southern Cross Station Authority.
Financier
ABN Amro.
Retail concessionaire
Delaware North.
Photographer
John Gollings.

For further coverage see Architecture Australia vol 96 no 1, January/February 2007.