MELBOURNE CENTRAL by ASHTON RAGGATT MCDOUGALL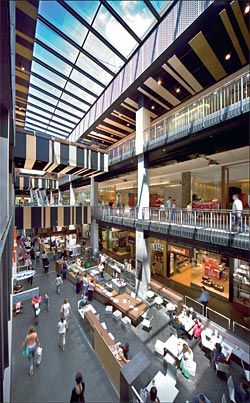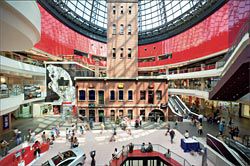 Jury Citation
Melbourne Central confirms the potential of the new public realm residing within large-scale commercial developments. This complex, extended over a full city block, with a mix of retail, food and beverage and entertainment outlets, is formed through the skilled redesign of an existing commercial complex. It offers a microcosm of the city, with new laneways and multi-level streets slicing through, following older patterns of movement across the site, and allowing a legible network of movement both into the site and back into the city. The absence of airconditioning from these pathways contributes to the sense of their being part of the public spaces of the city rather than the private spaces of a hermetically sealed shopping mall.
The underground railway station, with its major point of access radically diverted from the fringes to the centre of the complex, puts population and intensity into what is the major public space. The volume containing this space is formed from a stage set of urban fragments, evidence of the distant and recent past, and flanked by galleries, allowing both movement and observation of the urban theatre below. A series of new public spaces has been created through astute re-positioning of existing facilities.
The form and finish of the project are comprised of the most modest means, of materials easily at hand, of direct unfussed details – a type of urban povera, allowing the easy possibility of a makeover, of a giant new fitout.
While clearly a successful commercial development, Melbourne Central has been acknowledged with this award as a thoroughly considered and resolved work of urban design, making creative use of an existing facility, and adding to the richness of the Melbourne urban experience.
For further coverage see Architecture Australia vol 95 no 1 January February 2006.
Related topics