JURY CITATION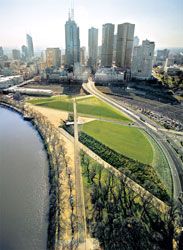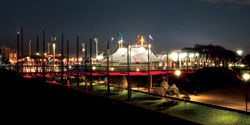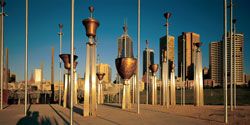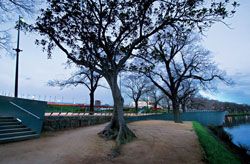 Over several years the Victorian Government and City of Melbourne have worked to reconnect Melbourne to the Yarra. Birrarung Marr, Melbourne's new "festival" park, is the final piece that connects a network of parks and gardens encircling the city centre. The park successfully combines references to the site's natural and cultural history, including its riverine geology and the railways, which represent important elements of Melbourne's civic imagery. It creates a dramatic, meaningful and confident connection between the Yarra and the city.
Unlike Melbourne's other parklands and open spaces, which are primarily for passive recreation, Birrarung Marr has been designed with city events and entertainment in mind.
The design comprises a number of simple but monumental gestures, which include a long single flight of stairs, a serpentine water's edge, the Field of Bells, a grassed embankment, a 300-metre-long bridge linking the city to the park's eastern end, and axial pathways, which all reference the immediate built and natural environment. These gestures define a series of generous spaces of varied qualities to accommodate a range of activities.
This park represents a significant moment in the Grids and Greenery philosophy developed by the City of Melbourne Urban Design Department some twenty years ago.
As a component of the overall plan, this park is a tangible icon that reinforces a strong and continuous connection between the city-park qualities of Melbourne.
The jury is concerned about proposals to remove significant elements of the park without due consideration of the city's future pedestrian needs or appropriate input from the authors.
Project Credits
BIRRARUNG MARR
Project architect City of Melbourne, Swaney Draper, Taylor Cullity Lethlean—project team City of Melbourne: Rob Adams, Joanne Bourke, Ian Dryden, Ed Jardine, Ronald Jones, John Knaggs, Helena Piha, Shane Power.
Taylor Cullity Lethlean: Perry Lethlean, Scott Adams, Nick Loschiavo, Kevin Taylor, Paul Thompson. Swaney Draper: Sally Draper, Shahab Kasmai.
Project manager City Projects Division, City of Melbourne.
Landscape consultant Taylor Cullity Lethlean, Paul Thompson.
Lighting consultant Vision Design, The Flaming Beacon.
Civil consultant Connell Wagner. Structural consultant Connell Mott MacDonald.
Services consultant AHW Consulting Engineers.
Quantity consultant Donald Cant Watts Corke.
Programming consultant LMA Partnership.
Photographer John Gollings.