JURY CITATION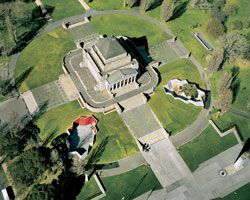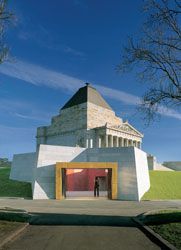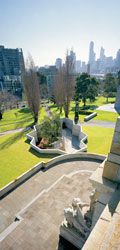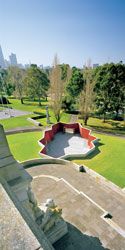 The Shrine of Remembrance, on the axis of St Kilda Road, is Melbourne's most visible and poignant war memorial. Designed by Hudson and Wardrop in Grecian Classical style and completed in 1933, the Shrine dominates the southward vista from the city, maintaining a powerful visual and symbolic presence.
The skilful contemporary intervention by Ashton Raggatt McDougall creates education spaces for the Shrine's changing role as an interpreter of war's sacrifices for new generations. The new building resolves the dilemma of visual conflict by carving the new into the plinth of the old.
Entry portals, clad in Tynong granite, flank quadrants of the Shrine's rigorous symmetrical composition to create a significant urban presence while retaining modesty and respect.
The relationship between new and old is both subtle and powerful, and speaks of the emerging role of the Shrine from custodian of memory to that of teaching and shaping values of new generations.
The Shrine's optical perfection, achieved by Hudson and Wardrop in the classical Greek tradition of subtle inclines and curvatures, is cleverly complemented by the inclined planes of the new sunken enclosures. Emotive red walls highlight the serrated incision into the earth and are reminiscent of the temporary timber shuttering of wartime trenches.
The new planning strategies devised for the Shrine masterfully extend the functions of the complex and the cultural role of the site.
Project Credits
SHRINE OF REMEMBRANCE, UNDERCROFT DEVELOPMENT
Architect Ashton Raggatt McDougall—design architect Ian McDougall; project architects Ken Boole, Tim Wright; project team Howard Raggatt, Steve Ashton, Andrew Lilleyman, Neil Masterton, Daniella Casamento, Jesse Judd, Mike Nowson, Antony McPhee.
Landscape consultant Rush/Wright Associates.
Structural and civil consultant Connell Mott McDonald.
Electrical and mechanical consultant Scott Wilson Irwin Johnson. Irrigation design Landscape and Irrigation Services. Exhibition design Cunningham Martyn Design.
Lighting consultant Stephen Hennessy Design.
Quantity consultant Rider Hunt Melbourne.
Builder L. U. Simon.
Photographer John Gollings.