JURY CITATION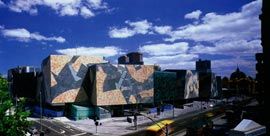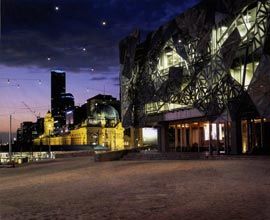 The covering over of Melbourne's Jolimont railway yards for an entire city block between Swanston and Russell Streets, alongside the Yarra River, was the subject of a two-stage RAIA-endorsed international competition, launched in December 1996 by the City of Melbourne and the Victorian Government. The preliminary design brief called for "a year-round people place where landscaped indoor and outdoors spaces support festivals, concerts and art exhibitions as well as showcasing the city's screen industry capacity".
A powerful urban design response was required to deliver the city's new focal point for civic, festive and tourist activity. The competition sought a stimulating response which looked to the future. This was to be a memorable and iconic project which would house a number of cultural uses and introduce a new civic square celebrating Victoria's role in Federation, while providing pedestrian linkages, an atrium and courtyard spaces.
Lab architecture studio and Bates Smart have produced a major urban enhancement to the city. The building scale maintains the integrity of the CBD edge along Flinders Street and its permeability resolves the multiple street frontages with connections, courtyards, ramps, plinths and entry points. The solution allows flexibility and choice for pedestrian movement relative to Flinders and Swanston Streets and the Yarra River environs. While this draws people into the development, layers of experience enable the visitor to investigate and discover components of the development, which are not immediately apparent.
Credits
Architect

Lab Architecture Studio
Melbourne, Vic, Australia
Project Team

Peter Davidson, Donald Bates, Tim Hill, Dylan Ingleton, Fulvio Facci, Derek Hawher, Peter Stevens, Peter Bickle, Greg Bray, Roger Chapman, Stephen Davies, Doug Dickson, Mat Foley, Andrew Francis, Nichole Hardman, Stephen Jarvens, Olda Kurdiovsky, Libby Langlands, John McNabb, James Murray, David Shultis, Bill Tucker, Paul van Chrismar, Casamir Zdanius, Sophia Anapolitis, Ashley Lane
Architect

Bates Smart Melbourne
Melbourne, Vic, Australia
Consultants

Acoustic consultant Marshall Day Acoustics
Builder Multiplex Constructions
Developer Victorian State Government, Melbourne City Council
Environmental consultant Atelier Ten
Graphics Tomato
Interior design Lab architecture studio in association with Bates Smart, Melbourne
Landscape architect Karres en Brands
Lighting consultant Lighting Design Partnership
Mechanical, electrical and hydraulic consultant Waterman AHW Consulting Engineers (Vic)
Piling and substructure Aurecon
Programming consultant Tracey Brunstrom and Hammond
Project manager Office of Major Projects (base building 1997-2000), CCS (base building 2000-2002)
Services consultant Atelier Ten, Waterman AHW Consulting Engineers (Vic)
Structural consultant Hyder Consulting, Atelier One, Bonacci Winward

Site Details

Location Melbourne, Vic, Australia

Project Details

Status Built
Category Landscape / urban, Public / commercial

Client

Client Victorian State Government, Melbourne City Council

Related topics