Jury Verdict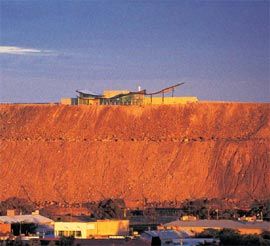 The Line of Lode is the ore body which bisects Broken Hill – the raison d'etre of the town's creation. This project is composed of a memorial and a visitors centre commemorating the many hundreds of miners, some just boys, who have died at work in this quintessential Australian mining town since 1883. Beside the names listed along the walls of steel shard are the ways these people died, and the words are chilling: "suffocated", "burned in ore", "caught in machinery", "crushed", "drowned", "entombed"….
The Line of Lode project is a demonstration of the potential power of urban design, considered in its widest, richest sense. From a vast, barren and wind-swept slagheap, the designers have wrought a powerful new place, ripe with meaning and a pervasive sense of genius loci. An extraordinary, metaphysical relationship between it and the town/people seems tangibly in the air. It has established a relationship with the town akin to that of Sydney with its Opera House.
This project is a testament to the courage and will of a client, realised through the medium of architecture.
That the memorial was designed by students is even more remarkable.
Project Credits
Line of Lode Miner's Memorial and Visitors Centre, Broken Hill
Project Architect University of South Australia, Chris Landorf and David Manfredi. Visitors Centre Design Architect Chris Landorf. Miner's Memorial Design Angus Barron, Steve Kelly and Dario Palumbo. Miner's Memorial Documentation Angus Barron and Chris Landorf. Structural Consultant, Civil Consultant, Electrical Consultant, Lighting Consultant TMK Consulting Engineers (Visitors Centre), Connell Mott MacDonald (Miner's Memorial). Quantity Surveyor Lees Cadman.
Builder De Franceschi and Sons. Photographer Sam Noonan.