Rouse Hill Town Centre
Rice Daubney, Allen Jack + Cottier, Group GSA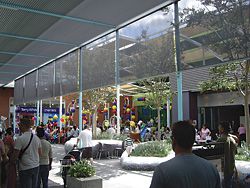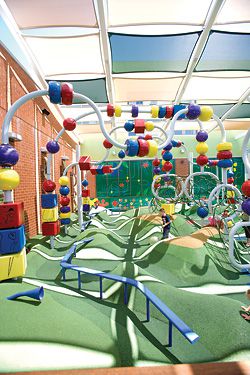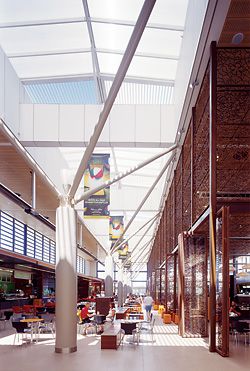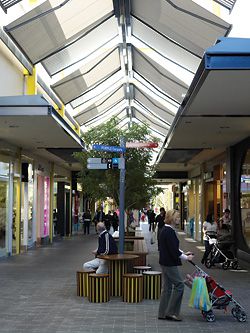 Jury Citation
Located in the outer western suburbs of Sydney, the Rouse Hill Town Centre is a major new residential and mixed-use development on a large greenfield site. While the bulk of the residential development is still to come, the first stage of predominantly retail and community facilities is already a vibrant drawcard to the surrounding suburbs.
The great success of this project is founded in its clear and robust urban design strategy. Rouse Hill breaks away from the "big box" model of internal retail centres and creates a network of open and semi-open streets, lanes, squares and public spaces more closely aligned with the values of the traditional small town. The consortium of architects, planners and developers has worked hard to create a relaxed environment of human scale, pedestrian amenity and material quality. Key features include numerous sustainability initiatives, underground car parking, a bus interchange and public spaces with a mix of shade and shelter.
Urban design projects of this complexity involve a multitude of conflicting parameters and commercial pressures. At Rouse Hill these have been resolved through an exemplary urban design strategy, which establishes a fresh new model for town centre developments in the suburban environment.

Architect Rice Daubney, Allen Jack+Cottier, Group GSA in association with Civitas Urban Design and Planning Inc—design directors Keith Cottier, Susanne Pini, Stephen Pearse; town council John Daubney, Michael Mandl, Bernard Rowe; client manager Joan Lees.
Environmental consultant Cundall Australia.
Landscape consultant Oculus.
Structural consultant Hughes Trueman, SCP.
Acoustic consultant Renzo Tonin Group.
Mechanical consultant Bassett Consulting.
Electrical consultant Connell Wagner.
Civil consultant Hyder Consulting.
Interior designer Idiom Design Practice.
Access Morris Goding Accessibility.
Developer The GPT Group.
Project manager, construction manager and builder Bovis Lend Lease.
Photographer Brett Boardman.

For full coverage see Architecture Australia vol 97 no 4, July/August 2008 and Landscape Architecture Australia 119, August 2008.