Wang Shu and André Aranha Corrêa do Lago join Pritzker jury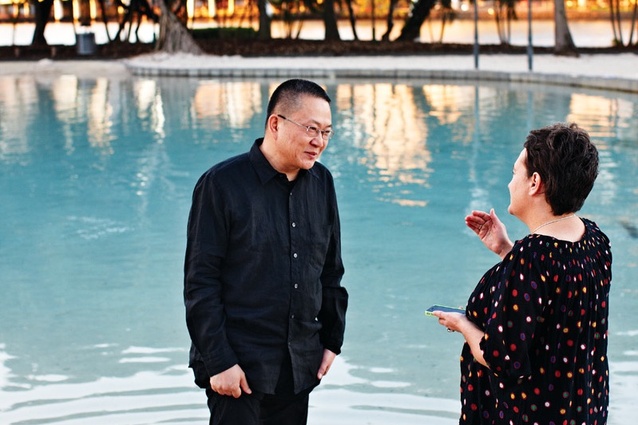 Chinese architect Wang Shu and Brazilian diplomat and architectural critic André Aranha Corrêa do Lago have been named as the newest jurors for the Pritzker Architecture Prize.
The pair will join a distinguished panel chaired by Australia's only Pritzker Prize laureate, Glen Murcutt, for what will be the 40th edition of the most prestigious accolade in the world of architecture in 2018.
"As we approach the 40th anniversary of the Pritzker Prize, the addition of André Corrêa do Lago and Wang Shu continues to embody the international range reflected by both present and past laureates and the jury," said Tom Pritzker, son of founders Jay and Cindy Pritzker and chairman of the prizes' sponsor, the Hyatt Foundation. "The contributions of both individuals to the field of architecture, from different vantage points, makes them ideal members of the jury."
Born in Ürümqi, China, and based in Hangzhou, Wang Shu was awarded the Pritzker Prize in 2012, becoming the first Chinese architect to collect the honour.
Wang is co-founder of the Amateur Architecture Studio, which he established with his partner and wife, Lu Wenyu, in 1997, and dean of the school of architecture at China Academy of Art, Hangzhou. He is known for his work that incorporates cultural traditions, craft skills and spontaneous elements throughout.
The 2012 Pritzker Prize Jury described his work "exemplary in its strong sense of cultural continuity and reinvigorated tradition."
Notable works include Five Scatted Houses (2005), which uses sustainable building methods to reinterpret traditional building culture; Ningbo Museum (2008), which features a facade constructed entirely of recycled bricks, shaped to resemble the nearby mountains; and the towering Fuyang Cultural Complex, completed in 2017.
"It is a great responsibility to serve on the jury," said Wang. "I also hope to share my knowledge of China and the Asian context with them."
André Corrêa do Lago has a long history as both a diplomat and an architectural critic.
Currently the Brazilian ambassador to Japan, he was the curator of the Brazilian pavilion at the Venice Biennale of Architecture in 2014, which celebrated his country's close relationship with modernism.
He was also curator of the exhibition "Brazilian architecture seen by great photographers," at the Tomie Ohtake Institute, São Paulo (2013), which was subsequently published as a book in 2014.
He has written extensively on Brazilian architecture and in particular on Oscar Niemeyer, a key figure of modernism.
"To form part of this prestigious and diverse committee is an honour and I am truly looking forward to working with all the jurors," said Corrêa do Lago.
Also on the jury is Stephen Breyer, US Supreme Court justice; Lord Peter Palumbo, architectural patron (UK); Richard Rogers, architect and 2007 Pritzker Laureate (UK); Benedetta Tagliabue, architect and director of EMBT Miralles Tagliabue (Spain); and Ratan N. Tata, chairman emeritus of Tata Sons (India).
Architect and educator Yung Ho Chang, and architecture curator, writer and editor Kristin Feireiss served on the Pritzker Prize Jury for seven and six years respectively and have stepped down from their roles.
With Feireiss's departure, Benedetta Tagliabue stands as the only woman on the jury, continuing a long line of male-dominated juries for a prize that has often been criticized for its lack of gender parity.
In 1991, the Pritzker jury attracted fierce criticism for awarding the prize to Robert Venturi without including his wife and partner, Denise Scott Brown. Similar criticism was levelled at the jury in 2012, when Lu Wenyu, wife of Wang Shu and co-founder of Amateur Architecture Studio was also not recognized.
The late Zaha Hadid became the first woman to win the Pritzker in 2004. She remains the only woman to win the prize as an individual, but in 2012 Kazuyo Sejima of SANAA was awarded the prize along with her practice partner Ryue Nishizawa and in 2016 Spanish architect Carme Pigemof RCR Aquitectes was awarded the prize along with her practice partners Rafael Aranda and Ramon Vilalta.
Martha Thorne, the executive director of the Pritzker Prize, and also dean of IE School of Architecture and Design, manages the open nominations process, which accepts suggestions from architects from all over the world.
The 2018 laureate will be announced in March.