A proposed office tower development in Melbourne's Collingwood designed by John Wardle Architects will provide assistance to the local homeless.
The development, dubbed Northumberland, will occupy the site of the existing Collingwood Telephone Exchange on Wellington Street – a red brick building which is to be retained. A 13-storey office tower and a 5-storey retail building with a cafe on the ground floor is proposed around and above the existing building.
The design will take cues from the local industrial past, street patterns and material expression. The southern facade of the smaller retail building will be characterized by a sawtooth window facing Northumberland Street.
The office tower will be set back from main street, Wellington Street, as well as the existing building, which will create a new laneway and general new public space. The design of the office building will target a 6-star Green Star rating.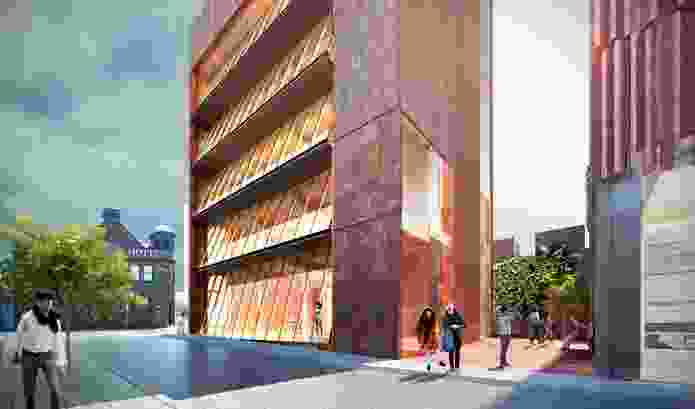 The development will share its end of trip facilities with the homeless. The shower and change room facilities are designed with assistance from Launch Housing, a provider of housing and homeless support service. During hours of minimal use by office workers, showers and change room facilities in the office complex will be managed by the organization to provide clean and safe change facilities in support of local homeless people while sorting out their housing crisis.
Northumberland will also be one of the first commercial buildings to contribute to the Homes for Homes initiative, a sustainable funding source for affordable housing established by The Big Issue in 2013. Developer Grocon will contribute 0.1 percent annual office rent received to the fund. The proceeds will be used to refurbish and manage social housing for low-income and homeless people in Australia.
Grocon has submitted the design for planning approval. If approved, construction will commence in early 2017.
The development will be located across the road from a proposed 13-storey apartment tower, also designed by John Wardle Architects and developed by Cbus. The proposal is currently being assessed by the Victorian Civil and Administrative Tribunal (VCAT). The matter was heard on 11 and 12 April but was adjourned until 14-15 July to allow for amendments to the plans.
Related topics