The City of Melbourne has backed an application for two residential towers designed by Warren and Mahoney for Collins Wharf, the $1.2 billion development precinct by the Yarra River at the west end of Collins Street.
The towers, known as Collins Wharf 2 and 3, will together house 659 apartments and reach 28 and 29 storeys respectively. The Future Melbourne Committee resolved to endorse the proposal on 5 March, praising the towers' contemporary design that it said would provide "visual interest from both land and water."
The committee objected to some aspects of the proposal, however, including the increase in gross floor area and building height from the approved masterplan and the inclusion of private gangways, which it found would be an "encumbrance of public space."
The development application is the first to be submitted by Lendlease for its five-tower Collins Wharf project since the Victoria Harbour Collins Wharf Development Plan (prepared by Jackson Clements Burrows, Aspect and Oculus) was endorsed by planning minister Richard Wynne in 2017. The City of Melbourne at that time advised the minister to reject the proposal.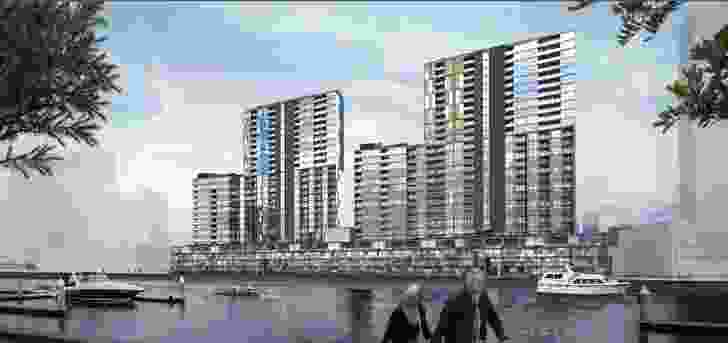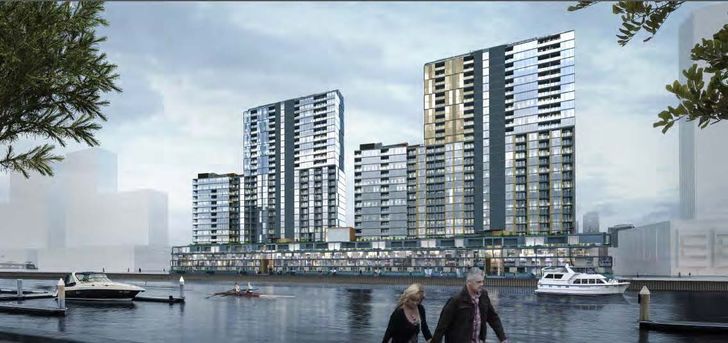 On 5 March, the Future Melbourne Committee registered concern about variations to the approved masterplan. "There are a number of sites in this precinct which are identified in the Development Plan for development in the near future," notes the endorsed report from management. "There is a concern that if this variation is to be supported, further departures from the Development Plan will be sought in the future."
Aside from the variations to the development plan, the committee noted that the design complied with the built form requirements such as podium heights and setbacks, and responded positively to the "typological diversity" proposed for Collins Wharf.
A design statement from Warren and Mahoney reads, "The podium is broken into smaller geometrical forms providing a more human grain at the street level. Materials are more heavy in appearance providing a stable base to the tower.
"Mid-rise draws on the verticality of the CBD. The high rise takes inspiration from the maritime heritage with the plan and facade inflection detailing transforming from a static to a dynamic facade. The material selection is light in colour and perception whilst the mid-rise is a combination of the podium and high rise acting as a transition between the two."
The planning minister is now responsible for the application's approval.
Melbourne mayor Sally Capp declared an indirect conflict of interest related to the application due to election campaign donations made to her by the developer and land owner. She sat out for discussions.