Waterloo Street demonstrates a number of responses to its site that go beyond the usual massing and programmatic concerns. The project is located in Surry Hills, an inner-city neighbourhood well-known for its mix of uses and home to Sydney's fashion trade and other creative industries. Waterloo Street references this overall vibe while carrying on a specific dialogue with its immediate neighbour, the Reader's Digest Building.
Within Waterloo Street, a variety of apartment sizes and layouts have been fitted into the L-shaped plan on the rectangular site. The mix is quite appropriate to the location, catering to the broad cross-section of residents who call Surry Hills home.
Access to the apartments is generally along open-air corridors, allowing residents to have "front doors" within the building. In the northern wing, the length of the access corridor is broken by the introduction of a horizontal atrium that allows light and air to circulate through the block. Both wings provide street wall profiles to the Surry Hills grid and free up space in the rear of the site for a courtyard. This move naturally benefits the residents of Waterloo Street, but also provides amenity for the rest of this crowded neighbourhood.
Some of the expressionist features of the Reader's Digest Building find their counterparts in the entrance slot and the blades of the corner treatment of Waterloo Street. While the palette for the project is deliberately limited and disciplined, a rich spatial and architectural experience has been created. Heavy timber screens, smooth concrete and straightforward brickwork all come from the honest materiality of the semi-industrial nature of this part of Sydney.
The building itself steps back slightly at the corner in a counter-intuitive gesture that actually emphasizes the public domain. It is fitting that a restaurant has taken the corner space and colonized this outdoor plaza. Additional restaurants and small bars appear to be on the way, as Waterloo Street settles into its Surry Hills life.
– Jury citation
In 1999, just 421 apartments sold for seven-figure sums across Sydney. Fast forward to last year, when 2087 apartments sold for more than $1 million, a massive increase of 495 per cent … Sydney's apartments total 26.5 per cent of dwelling stock – the highest proportion of any capital city in the country. Melbourne is next with 17 per cent.
– Kate Farrelly, "Magic Millions," The Sydney Morning Herald, 31 May 2010.
For a full list of awarded projects see 2011 National Architecture Awards – the winners and for more awards discussion see the Rachel Hurst and Rory Hyde's responses to the awards and the jury overview by Karl Fender.
Credits
Architect

Candalepas Associates
Sydney, NSW, Australia
Project Team

Angelo Candalepas, Evan Pearson, Andrew Scott, Martin Urakawa, Pui-Yu Lee, Kris Rosen, Martin Christensen
Consultants

Acoustic consultant Acoustic Logic
Builder Buildform Constructions
Developer Haralambis Group
Hydraulic consultant ACOR
Landscape consultant ASPECT Studios
Mechanical and electrical consultant Engineering Partners
Project manager Haralambis Group
Structural consultant Jones Nicholson

Site Details

Location Surry Hills, Sydney, NSW, Australia

Project Details

Status Built
Website http://www.candalepas.com.au/index.php/residential/waterloo-street
Category Residential
Type New houses

Source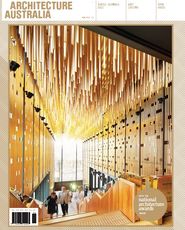 Issue
Architecture Australia, November 2011
Related topics