A Portuguese architecture practice has won a design ideas competition for a replacement jetty in Melbourne with a design inspired by the geometry of a wave.
Brookes Jetty at St Kilda Beach, near Luna Park and the Palais Theatre, was originally a 1.2-metre-wide slender timber structure at the end of a concrete storm water drain. The jetty was popular and culturally significant to local residents.
The timber jetty was demolished by Parks Victoria in 2015, leaving only the concrete drain remaining. In May 2019, Melbourne Water covered the structure with a large metal cage, which also drew ire from some local residents and comparisons to a "prison camp."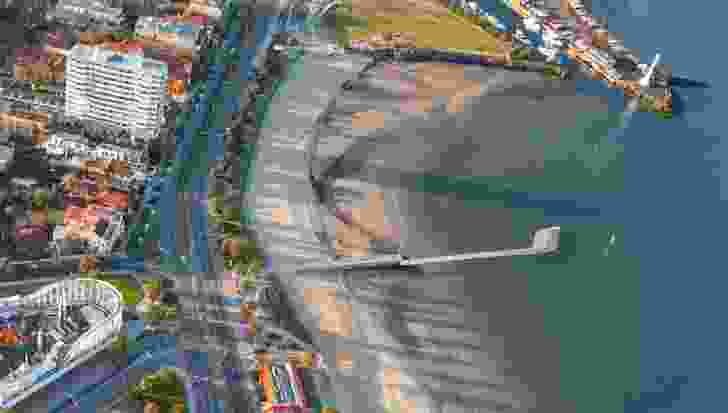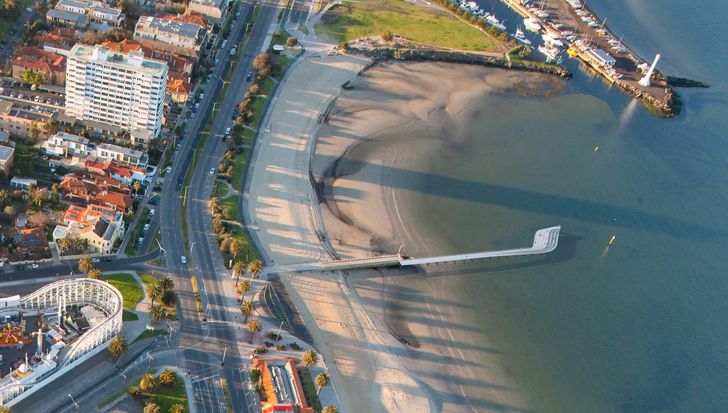 The competition was first proposed by architectural photographer John Gollings and organized by architect James Brearley and the Bring Back Brookes Jetty group.
Joao Sousa of JJs Architectura, a Porto-based practice, won with a design titled "The Wave." Inspired by the "fluid geometries of the coast," the proposal calls for a thin walkway that opens out into an "aquatic plaza" that "reactivates the jetty's civic function."
The plaza would interface with the water with two terraced "amphitheatres" facing the beach and the sea.
Sousa received a $5,000 prize donated by the Leighton family for the winning entry.


Jury chair Dimity Reed said the 106 entries the competition received represented "an international trend towards inventive reinterpretations of seaside structures. With many coming from local architecture students, this bodes well for the future of design in Australia."
The other jurors were restaurateur Frank Van Haandel, senior lecturer in architecture at RMIT University Christine Phillips and councillor and architect David Brand.
The entries are on show at the offices of Brearley Architects and Urbanists until 13 March.
Related topics