While the name Mac-Interactive conjures up a certain brand associated with computing, architect Andy Macdonald applied it to his practice to emphasize his focus on design that springs from the process of interaction.
To Andy, each project is defined first by the architect-client rapport and the constraints of the site, which often extends into an architect-neighbour-council relationship. Encouraging a dialogue across these interdependencies has become a calling card of Mac-Interactive's practice, where minimizing friction, and thereby reducing objections, is key. Through a process of invitation, involvement and feedback between all parties it becomes possible to maximize the living potential of small sites and to yield more contemporary results that come stamped with council approval.
Mac-Interactive had recently completed the Redfern residence known as The Ark (reviewed in Houses 74) when friends of recent clients contacted Andy about renovating their Waverley home. While they appreciated the distinctive form cut by The Ark's reinvented terrace, the new clients preferred to take a more understated approach to their Waverley home, with a focus on a calm tonality and a material palette of timbers and masonry.
The freestanding single-level 1920s house had a main bedroom facing the street, a second bedroom, a small living room, tiny bathroom with a linen cupboard vestibule and an outdated kitchen, all joined by a long corridor that culminated in the lean-to 1970s sunroom. A steep, narrow set of steps descended to the pocket-size yard below, completely separating the house from the garden. It was obvious to Andy that any alteration should first address the abrupt separation and create a better connection between the interior and exterior spaces.
From the street, the first hints of an architectural intervention are noticed in the new cedar-framed window casings, front door and battened side gate. Minimal interventions to the front third of the house included slicing the windows along the narrow side passage into French door openings and enlarging the front bedroom window to give the previously dark bedrooms more natural light and an outdoor connection. Sanding back and re-staining the original Huon pine floorboards has toned them closely to the new blackbutt flooring that is used in the extension. Andy also cleverly chose to build out the front fence into concealed storage hutches for waste and recycling, in order to leave the side access clear for new decking and allow it to be an uninterrupted enclosure.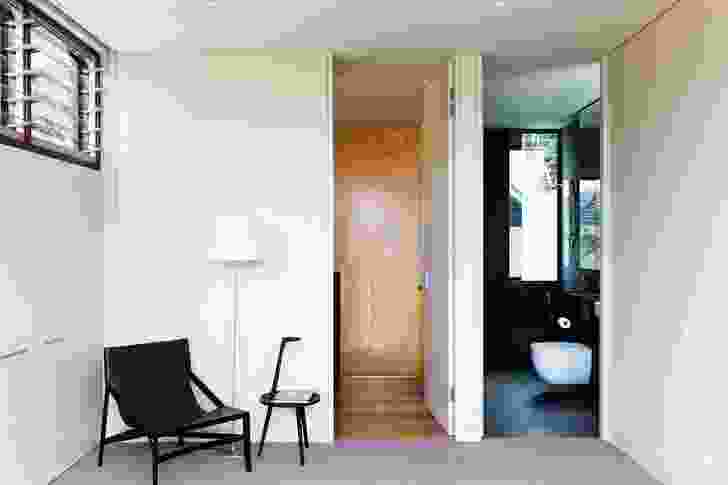 Demolishing the sunroom, levelling the rear yard and excavating the undercroft were the most extensive and expensive works necessary in the new program, which comprises a two-storey extension with a kitchen and informal living spaces that flow to a timber-decked courtyard topped by a bedroom and study retreat. Despite its bulk, all massing is kept relatively low and to the north, courteously avoiding impinging on sunlight to the adjacent property. Numerous other advantages ensue.
Internally, Andy's approach yields a generous expanse that is graced with four-metre ceilings for the new living zone. A heated concrete slab provides good thermal mass for this north-facing space, while rainwater tanks located behind the kitchen funnel water into the laundry and bathrooms. The living zone opens completely to the walled garden via enormous cedar bifold doors, bringing in the outdoors, light and breezes. Taking the boundary wall to an impressive height has edited out adjacent properties so that all of the indoor/outdoor area remains secluded and private. Even when entering from the corridor there is a delight in discovering the magnitude of the living space, as angled timber slats only allow the eye to glimpse the new area before a small flight of steps provides the full reveal.
Andy's selection of materials and colour is deliberately restrained, yet strong. Blonde timber veneer panels clearly demarcate the new section from the original and lead upstairs to the study enclave and bedroom retreat. In the kitchen, Caesarstone benchtops and white joinery elements find their counterpoint in ink-blue upper cupboards and a gunmetal splashback forged from five-millimetre steel road plate. Concealed LED lighting brings out the texture of this surface and ties it to the slimline lighting fixture over the island bench and the deep grey colour of the exterior paint. This juxtaposition creates a distinctively tailored look that is perfectly suited to executive style and sensibilities. Such appointments continue in the upstairs bathroom, which is lined in dark stone surfaces. Subtle lighting and a louvred vertical strip window that opens to an enormous Moreton Bay fig tree add a theatrical aspect to this space, particularly by night.
Wherever possible, Andy has amplified the connections to nature. Louvred clerestory windows in the upstairs bedroom borrow the canopy from neighbouring trees and simultaneously retain the privacy of the retreat. Planter beds that line the upstairs balcony add a further screening device when filled with potted greenery.
"While this may not seem revolutionary, I think in its own understated way, it is. And the overall success of the form comes down to the interaction with the client rather than the grand architectural gesture," explains Andy. "The clients wanted something different without being outlandish. Simply they wanted a solution that would bring clarity out of a confused hotchpotch."
Mac-Interactive has more than met its client's brief for a bigger, open-plan space and has delivered a contemporary synthesis of old and new that is both stylish and sophisticated, while being considerate of neighbours and environmental concerns.
Products and materials
Roofing

Lysaght Klip-lok, Colorbond 'Dune'; recycled terracotta tiles from existing.
External walls

Existing brickwork, painted; Carter Holt Harvey Ecoply, shadowclad and painted.
Internal walls

CSR Gyprock, painted; maple veneer wall panelling.
Windows

Joinery timber frames, stained and sealed; Viridian Low E ComfortPlus glass; Centor window hardware in satin; Simple Studio window dressings including blackout blinds.
Doors

Nicco Joinery timber frames, stained and sealed; Lockwood door hardware.
Flooring

Boral concrete, polished and sealed; blackbutt timber, sanded and sealed; Cavalier Bremworth Velluto carpet.
Kitchen

Blanco oven, gas cooktop and dishwasher; natural white matt 2-pac joinery; black steel splashback sealed in Porter's Paints Clearcote; Caesarstone 'Snow' benchtops and island bench.
Bathroom

Studio Bagno basins; Mizu deep soaker bath; Astra Walker chrome-plated tapware; Ideal Standard Acacia toilet; Classic Ceramics ceramic 'Ghisa Natural', basalt 'Apollo' and granite 'Porfido' tiles; STS Enterprises limestone 'Eldorado' tiles.
External elements

Blackbutt timber decking.
Credits
Architect

MI Architects
Sydney, NSW, Australia
Project Team

Andy Macdonald, Joseph Lombardo, Rohan Little
Consultants

Builder GPM Building
Engineer O'Hearn Consulting
Furniture Blank Role :: Waverley House
Lighting Filament Architectural Lighting

Site Details

Location Sydney, NSW, Australia
Site type Suburban
Building area 133 m2

Project Details

Status Built
Design, documentation 6 months
Construction 8 months
Category Residential
Type New houses

Source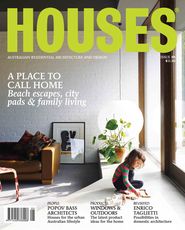 Issue
Houses, October 2012
Related topics