More and more of our clients want a house that is sustainable. To do this we employ four strategies that work in tandem. Firstly, a house needs to maintain its temperature; secondly, it should capture and reuse water; thirdly, it needs to be built from materials and fitted with equipment that doesn't cost the earth; and finally, systems to moderate internal air temperature and to provide electrical generation need to be considered efficiently.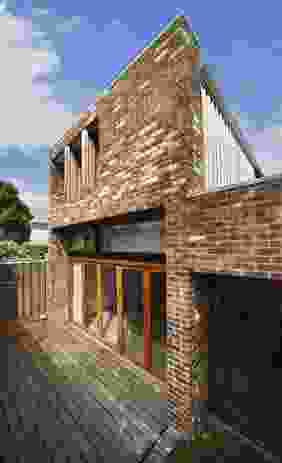 To maintain the temperature we insulated the building beyond what is required by the building codes, we installed double glazing throughout and we gave mass to the building by having a concrete floor.
Capturing and reusing water was also straightforward. We used a 5000-litre grease trap to collect rainwater. This has provided for all the laundry, irrigation and toilet flushing the house needs. There is a potential in larger houses to recycle greywater and blackwater but the needs of this house could, in large part, be met by rainwater.
Using building materials, equipment and fittings that don't cost the earth is harder to achieve. This is because it is complicated understanding all the parameters that make something sustainable. One good strategy is to recycle building material where possible. In this house the demolished bricks were retained, cleaned and reused. Also, the floors, some walls, some ceilings and joinery were built from recycled floorboards from a demolished school nearby. In addition to being sustainable there is a worn quality about these materials that is appealing to many; they have history and soul.
Fittings and appliances are now all rated and websites describe ratings and how they work. In addition to choosing the right products it is possible to use products better. In this house there is no airconditioning, all the light fittings are on dimmers and the appliances are modest; for example, there is a dishwashing drawer rather than a full dishwasher.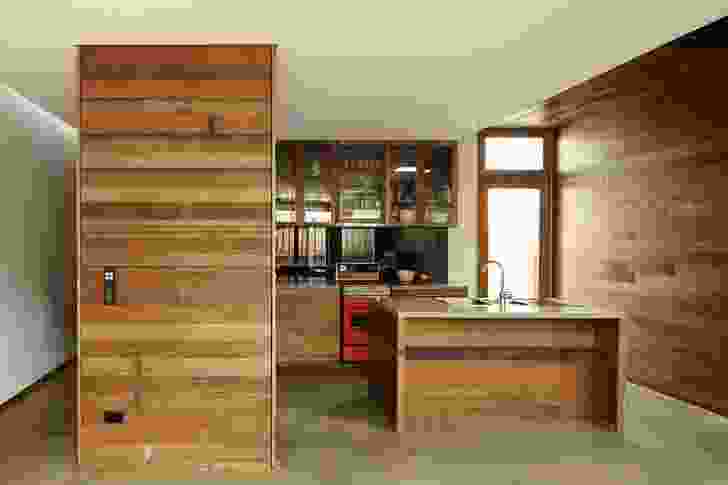 More complicated are the systems that moderate air quality and temperature and the systems that provide power. Air quality and temperature control can be achieved in two ways: passively and actively. Passive systems include solar orientation, shading and natural ventilation. Active systems are mechanical or hydraulic: systems such as airconditioning and hot water. In this house we have used solar, gas-boosted, hydronic heating. The solar collector on the roof sends heated water to a storage tank, where it normally reaches the required temperature. When the sun can't heat the water adequately a gas booster is used to raise the water temperature. This water is then used in the hydronic system, which works through radiators and through the slab in the living area. The hot water, via a different booster, is also used for domestic hot water in showers and taps. This system is very effective, often not requiring any off-site energy to keep the house warm. Another system in use is the bank of photovoltaic cells to provide electrical power. An average house this size in Australia uses about 17kWh, but because of the insulation levels and the fittings that have been used, this figure is much lower. This means that the 1.7kW solar panel system, which has a daily output of around 6.5kWh, provides for most of the power needed in this house. Occasional over-generation is credited to the account.
The end result is a house that is healthier to be in and that is healthier for the environment.
Products and materials
Roofing

Stramit Longspan 'Dune'.
External walls

Plantation rough-sawn hardwood; recycled brick from site.
Internal walls

Boral plasterboard, painted; recycled hardwood flooring.
Windows and doors

Marshall Joinery recycled jarrah frames; Jones Joinery bifold hardwood doors; Victorian sashless glass.
Flooring

Burnished concrete floor; recycled hardwood flooring; Any Tile glazed porcelain tiles.
Kitchen

Fisher & Paykel fridge and dishwasher; Blanco rangehood and sink; Marmolia tapware; Amalgamated Stone benchtops; recycled hardwood cabinets.
Bathroom

Marmolia tapware; Caroma basin and WC; Beautyware bath.
Heating/cooling

Western Rotary vents; Apricus solar system.
External

Recycled brick paving; recycled ironbark decking.
Credits
Architect

Chiverton Architects
St Kilda, Melbourne, Vic, Australia
Project Team

Barnaby Chiverton, Jo Koh
Consultants

Builder Palmer Construction
Engineer DM Landy and Associates
Interiors Chiverton Architects
Landscaping Chiverton Architects, Palmer Construction
Lighting Chiverton Architects, TBM Electrical

Site Details

Location St Kilda, Melbourne, Vic, Australia
Site type Urban
Building area 150 m2

Project Details

Status Built
Design, documentation 6 months
Construction 10 months
Category Residential
Type New houses

Source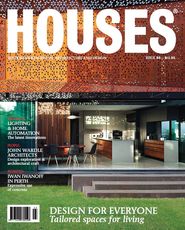 Related topics