The Victorian government has unveiled the design for the $5.5 billion West Gate Tunnel Project by Wood Marsh and Tract Consultants.
The architectural and urban design of the tunnel will reference the Indigenous heritage and maritime history of Melbourne's west.
"The design of the tunnel portals and ventilation structures draws from cargo nets, ropes, weaving, baskets and canoes," Armin Voelske, associate director of Wood Marsh told ArchitectureAU. "It acknowledges the life-giving qualities of rivers and waterways as well as the Indigenous, colonial and current use of rivers as modes of transport and as a food source. We have also incorporated these forms into various other design elements across the project, including portal frames, bridge treatments, piers and parapet barriers."

The design also includes "references to Melbourne's western plains and the surf coast. The undulating granite ridges of the You Yangs above Werribee and the crashing waves of the surf coast are referenced in design elements such as interchange sculptural features as well as noise and road safety barriers," Voelske said.
The noise barriers will be made from textured concrete and pale blue and green acrylic panels. Designed in consultation with residents, the noise walls will be light penetratare and screened with planting where space permits.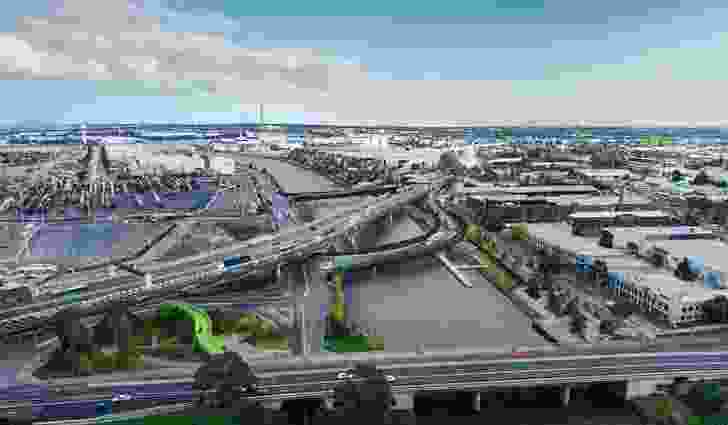 The tunnel will run from the West Gate Freeway, just west of a western suburbs railway line, underneath Spotswood and Yarraville to the Port of Melbourne, west of the Maribyrnong River. The tunnel will then connect with a new elevated freeway above the existing Footscray Road, and a new bridge over the Maribyrnong River. The project is intended to become an alternative to the existing West Gate Bridge and reduce travel times from the western suburbs and regional areas such as Geelong and Ballarat.
The tunnel project will also include a 2.5-kilometre-long elevated "veloway" above Footscray Road, which will be part of a total of 14 kilometres of new and upgraded cycling and walking paths.
In addition, nine hectares of parks and wetlands will be created along the roadway, which will be rehabilitated from former industrial land.
"These new open spaces and creek and river crossings also allow us to celebrate the cultural values of the area – Indigenous, colonial and maritime – which will be integrated with the rest points, wayfinding, interpretative signage and integrated artwork," said Deiter Lim, managing director of Tract Consultants.
Wood Marsh and Tract Consultants are part of the consortium, headed by John Holland and CPB Contractors, that was selected to design and build the West Gate Tunnel Project following a competitive process.
Construction is set to begin in early 2018 and the project is expected to be completed by 2022.
Related topics