Dr Elizabeth Grant, University of Adelaide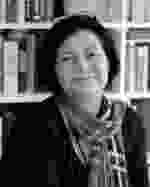 Walking through the recently opened West Kimberley Regional Prison created by TAG Architects in association with Iredale Pedersen Hook Architects (IPH), one is struck by the sensitivity and thoughtfulness applied to every facet of the planning and design. This is not a typical prison, in any sense of the word. Absent are the visible security elements, high walls, bars and heavy building materials that so commonly dominate prison architecture. Instead, the West Kimberley Regional Prison has a sense of openness. The lightweight, domestic-scale buildings reflect the rugged Kimberley landscape. This is a prison that is designed, as much as is possible, to be welcoming for the prisoner and visitor alike.
The project evolved to address the specific needs of a marginalized Aboriginal prison population. Until recently, the Kimberley region was serviced by only one prison. The prison population was 95 percent Indigenous and the prison itself substandard. As well as being housed in poor and overcrowded conditions, Aboriginal prisoners were often forced to serve sentences outside their own country, which decreased the amount of contact they had with their family and community, causing great emotional and spiritual distress. A new prison was conceived to keep Kimberley Aboriginal people on their country and to meet cultural and environmental needs.
Two factors were critical to the project's success. The first was the implementation of a community consultation and feedback model, which, while time-consuming, provided all stakeholders with up-to-date information and increased the sense of "ownership" of the completed project. The willingness of the two architectural firms to collaborate was also vital to the project's success. TAG Architects had expertise in designing correctional facilities, while Iredale Pedersen Hook Architects specializes in Indigenous projects. The readiness of the firms to collaborate, share and find new solutions has resulted in a world-class facility.
The architects recognized early on in the design process that the potential users of the facility would come from diverse backgrounds. The Kimberley is an area of over 421,000 square kilometres of dramatic landscapes and is home to Aboriginal people belonging to twenty-seven traditional language groups. Each language group has distinct and diverse cultural practices and spiritual connections to country. Many people in the region continue to live traditional lifestyles in small remote communities. Conceiving a "best practice" indigenous prison involved envisioning ways to meet diverse cultural and physical needs and allow various groups to live harmoniously within a confined site.
The application of evidence-based research and experience led to a highly innovative design. The $122 million prison is located on a twenty-five-hectare greenfield site outside the town of Derby and is designed to hold up to 150 prisoners. The design is founded on the knowledge that prison accommodation needs to be flexible, culturally appropriate, promote human interaction and enable Indigenous prisoners to remain connected to their kin, land and community.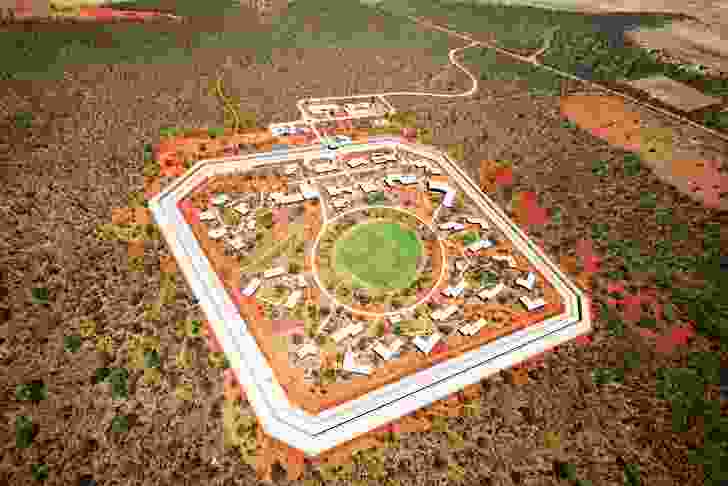 Masterplanning
The West Kimberley Regional Prison consists of forty-two buildings, including twenty-two self-care accommodation units laid out within a campus masterplan. Shared facilities include a gatehouse, vocational and educational buildings, cultural meeting areas, elders program areas, a kitchen and laundry building, prisoner service areas, a family visiting area, a medical centre and a courtroom.
Access for all visitors, staff and prisoners is through one gatehouse. Its angular lightweight form makes it the antithesis of a typical prison gatehouse. It is domestic in scale and designed to feel welcoming; while security elements are present, they are not immediately visible. Through the extensive glass panels of the gatehouse one views the service and housing buildings inside the prison, sited around an Australian Rules oval. The oval is placed centrally to encourage life aspirations among the prisoners. It creates a focus for recreational activities and provides a space where family and community can participate in prison life.
The masterplanning for the project took into account cultural connections to the surrounding landscape. Buildings were sited to minimize the removal of trees; a number of iconic boab trees have been preserved. The architects fought to reduce the number of solid barriers to allow views of the landscape within and beyond the perimeter. The colours of the landscape informed the buildings' exterior colour palette, which reflects the seasonal changes of the subtropics, increasing prisoners' sense of connection to country. The shared facilities, such as the administration block, medical centre, visiting areas, and vocational and educational buildings are located near the gatehouse to minimize the distances visitors and personnel have to travel and to maximize the experience of living in a normalized setting that uses the principles of campus planning.
Women represent only 5 percent of the Kimberley prison population, but a critical component of the brief was to provide them with appropriate amenities, activities and support programs. Thus, female prisoners have access to their own shop, educational programs and recreational areas. The women's section of the prison is separated visually and physically by a densely planted earth berm and the medical centre. Special consideration had to be given to access routes to shared facilities to eliminate any contact between female and male prisoners while still giving all users access to the facilities.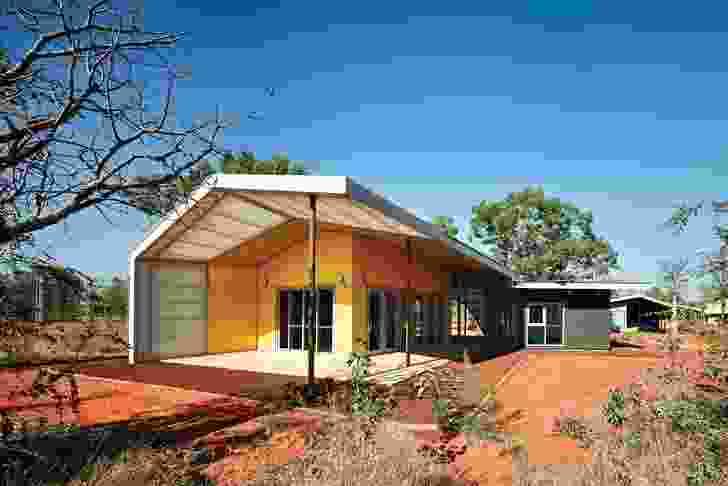 Housing units
There were many considerations with respect to the type of accommodation to be used for the prison. Housing needed to be as "normalized" as possible and allow prisoners to live with each other. IPH's extensive design experience in Aboriginal housing was vital in developing a model that would work with the various user groups. The housing units are designed to sleep six to eight prisoners. Each is planned around a communal living space with individual rooms, bathroom, kitchen and dining, and living areas. The "self care" accommodation was cost-effective – this also enhances prisoners' capacity to develop the living, communication and negotiation skills required on release.
Experience has shown that Aboriginal people generally prefer to live with their countrymen, and the housing is grouped in small clusters to allow prisoners to live with others from their own country. Each housing cluster aligns to traditional lands. The cluster approach to planning reduces potential conflict between different groups and opportunities for payback.
Living in housing units allows prisoners greater control over their immediate environment (especially with regard to airflow, temperature, illumination and privacy), which has been shown to reduce the stress on the prisoner. The buildings differ according to security ratings. Minimum-security units have secure verandahs. While the buildings are locked overnight, prisoners may access amenities and the secured verandah. In contrast, the maximum-security units have facilities for ablutions in each cell, and prisoners are locked down to their cells at night.
Sleeping arrangements in minimum-security housing units are very flexible. Each housing unit contains shared and single rooms, and given that many of the prisoners continue to pursue externally orientated lifestyles in their communities, outdoor sleep-outs are permitted. Officers have continuous contact with prisoners during the day through an interactive model of management and the housing is designed to allow officers to externally supervise the units at night.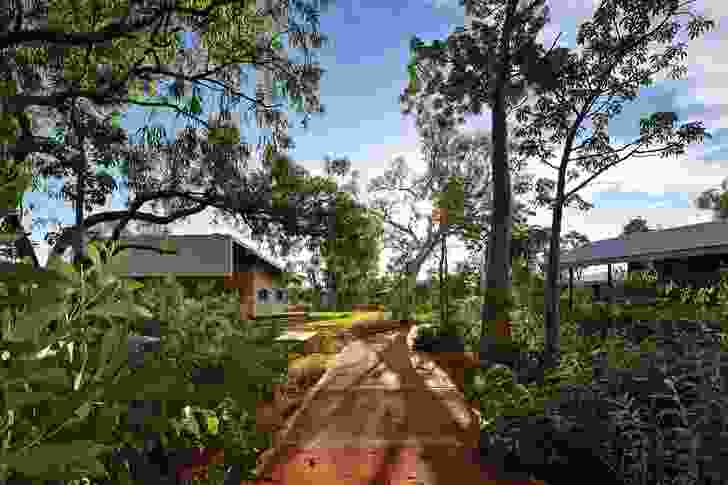 Environmental sustainability
Australian prison construction projects are required to observe the principles of sustainable development. Benchmarks for new prison developments generally include elements such as encouraging biodiversity, conserving and protecting water quality and quantity, minimizing the use of energy from fossil fuels, minimizing soil loss, reducing waste and encouraging recycling, and selecting appropriate building materials to minimize the impact of the development on the environment.
In this case, careful planning allowed the retention of vegetation to reduce erosion across the site and other initiatives were implemented to reduce the impact of the development on the environment. The use of lightweight building materials decreased transport costs and offered opportunities for enhanced environmental performance. The building design and materials were subject to a number of computer simulations to ensure they could perform in extreme temperatures. All buildings are orientated to minimize solar radiation and to maximize natural cross-ventilation, and are highly shaded to reduce heat loads. Other environmental measures included the installation of solar panels for water heating, the installation of a photovoltaic cogeneration power system to provide power to the gatehouse, and the treatment and recycling of sewage on site for irrigation.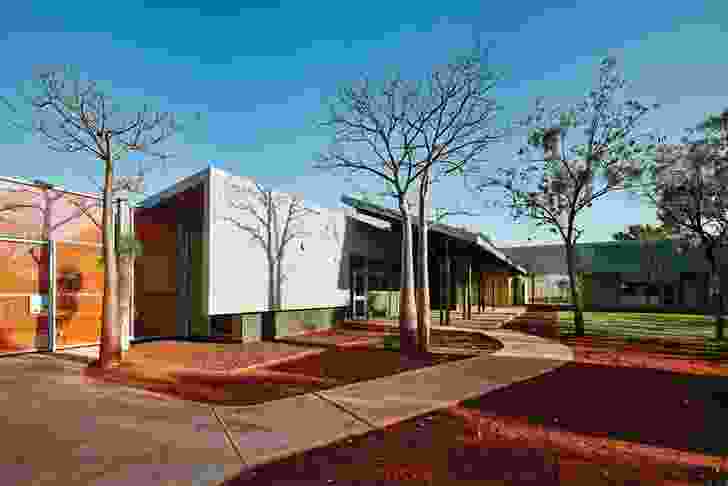 Addressing the health needs of Indigenous prisoners
Prisons provide an opportunity for the Indigenous population to access health care, something they often do not do in the general community. The health needs of Aboriginal prisoners were carefully considered in the planning and design of the West Kimberley Regional Prison and the complex includes services not typically seen in other Australian prisons. Another point of difference is the provision of air-conditioning. Although Western Australia has extremes of temperature, mechanical cooling in the state's prisons is rare. At the West Kimberley Regional Prison air-conditioning allows prisoners (especially those with complex health issues) to be safely and humanely housed.
The design of the West Kimberley Regional Prison presented a unique opportunity to address the often-neglected needs of Indigenous prisoners. The architects have seized the chance to move beyond "warehousing" Aboriginal prisoners and have boldly designed a custodial environment that allows the prisoner to stay connected to country, to maintain relationships with family and kin, and to live within a specified social group in an environment that provides privacy and meets their health and safety needs.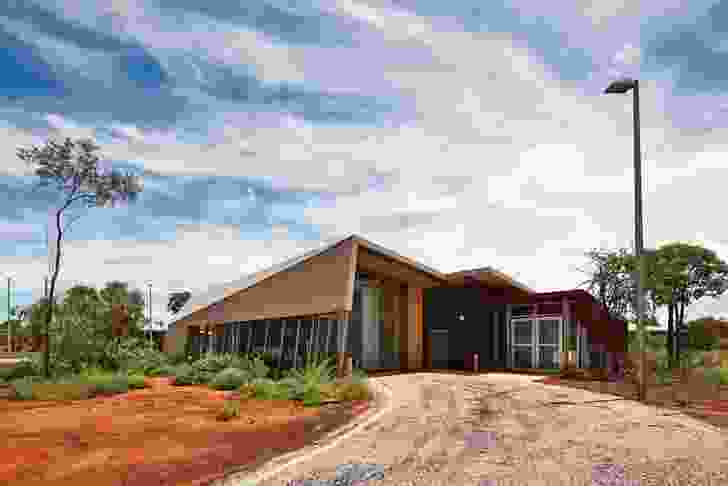 Peter Hobbs, architect and urban designer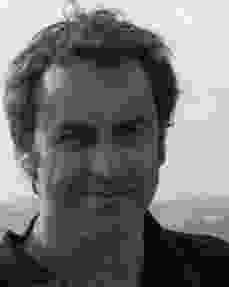 In this neo-mannerist period of extravagant form-making and exotic materiality, one could be excused for believing that architects are relegating themselves to the position of decorator-writ-large. However, ours is a wonderfully diverse profession. The eco-architect is alive and has never been stronger, while Ebenezer Howard's social engineering through the positive integration of land use and landscape is seen in modern town planning and innovative, affordable housing.
So when one is privileged enough to visit a building like TAG Architects and Iredale Pedersen Hook Architects' (IPH) West Kimberley Regional Prison which, through the integration of these three streams, has taken on the enormous challenge of indigenous incarceration and which has interrogated the social and cultural sensitivities of this issue and then delivered an outcome that undoubtedly represents worldwide best practice, one can only be reminded of the Australian Institute of Architects' vision – "to make the world a better place through design."
The brief for the prison was created in 2008, with the ambitious aim of finding a utopian solution to the problematic issue of indigenous incarceration. Aboriginals represent 4 percent of the Australian population but 40 percent of the adult prison population. Many of the crimes represented in prison are often related to lack of education, opportunity and life skills, as well as substance abuse. The brief for the West Kimberley Regional Prison asked for creation of appropriate space for the facilitation of culturally specific education and training programs and instruction in domestic skills. Its location meant it would also allow prisoners to stay close to clan and country.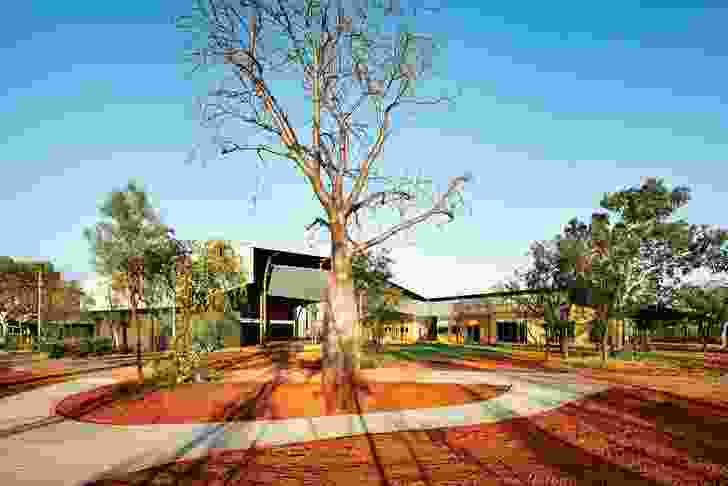 The architects commissioned were chosen for their extensive experience in related fields – IPH has an unparalleled track record in remote Aboriginal housing in Western Australia, while TAG has delivered many innovative institutional buildings including educational facilities, courthouses and prisons. Bringing these practices together for this project has proved a masterstroke.
The first task was to identify the site. The team chose a twenty-five-hectare site in the dense pindan, six kilometres from the town of Derby.
The prison perimeter is one of the few traditional prison features – a double fence, 5.5 metres high and bristling with hi-tech surveillance. It resembles one of Austerlitz's fortresses – from the air it creates a savage scar on this magnificent landscape, and up close it reminds us of what this place actually is. From a distance, though, the galvanized treatment of this barrier almost disappears in the shimmering Kimberley light, while carefully arranged close views and planting hide this fence from many vistas. It makes one wonder whether the fence is really keeping people in, or protecting the prisoners and giving them respite from the troubling influences of the outside world.
Within this fence, TAG/IPH has painstakingly plotted all significant vegetation – in particular, the emblematic boabs, jigal trees and white gums – and woven the forty-three buildings that comprise the complex through the existing landscape, creating a variety of intimate courtyards, gardens and pathways. The sensitivity of the landscape design is one of the great achievements of the project – seeds have been harvested for regrowth around building pads and laydowns, gentle swales have been carved to deal with the monsoonal rains that come in the wet season, and in some places, berms have been built to provide culturally important sight-line barriers between sexes and skin groups.
The masterplan sequence starts at the gatehouse, which seems more airport security check than Old Bailey. The security, while high, is for the most part hidden and comes in the form of big electronic locks, cyclone glass and meshes that would be considered fashionable in another context. From the gatehouse, a simple street presents an array of service buildings – administration, classrooms, a mini courthouse, the prison kitchen and a laundry.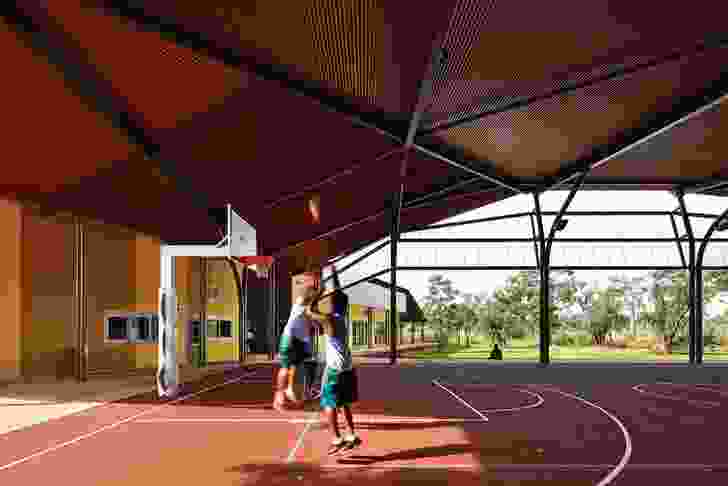 Beyond this are the activity and living spaces; these are arranged around a road/path that surrounds a central football oval. The activity spaces vary in scale and form, from 8.5-metre-high outdoor recreation spaces to single-storey dwellings. These buildings are connected with a ribbon-like roof that "ducks and weaves," providing continuous shelter and shade. This roof is probably the quality most recognizable from IPH's previous work; it displays the firm's interest in the way simple roof forms can wrap and morph to create beautiful sections, while still keeping out water and sun. There is a "builder-ly" quality to the robust and simple detailing, while canted and curved columns soften the walkways and give them an organic feel.
The accommodation zone is a series of some seventeen men's and five women's houses, each with self-contained kitchens and living rooms. Each house has four to six small bedrooms, and prisoners are responsible for their own cleaning and laundry. There are seven main house types that are classified as minimum-, medium- or maximum- security. The houses are of lightweight steel, Colorbond and compressed sheet, with colours taken from super-pixelated photos of the surrounding bush. The organic interstitial spaces between buildings and the courtyards – some with lawn, some left natural, and connected with fine-grained paths – provide prisoners with views, space and privacy. It is the antithesis of what one would expect in a prison.
Woven mesh stainless-steel screens create sleepouts, provide continuous ventilation and deal with super-sized mosquitoes, but allow each house to be locked down if and when required. Again, the signature roof forms rigorously and playfully keep out the sun and rain, and create a decidedly un-institutional feel.
This raises another great achievement of this project: the skill with which these buildings have been normalized and the prison security, so oppressive to the soul, has been made invisible. Beneath the ground is a maze of cabling linking each building back to a centralized control room – each room can be locked remotely, while cameras keep an eye on things without intruding.
The task of servicing such a remote place is complex. Water and power has been brought from the nearby town, while a comprehensive blackwater system diverts water back onto the oval and lawns via a sub-soil irrigation system. Solar PV cells power the gatehouse.
Prisoners and prison officers walk the grounds together, prisoners work and maintain the grounds, vegetable gardens are springing up in corners and the strains of acoustic guitars can be heard, but it is probably too soon to know whether the social experiment that is West Kimberley Regional Prison is a success. This will depend on how it is managed and resourced. However, TAG/IPH's thoroughness, passion and dedication to the prosecution of its brief has given the facility every possible chance.

Credits
Architect

TAG Architects
Perth, WA, Australia
Project Team

Jurg Hunziker, Michael Spight, Johnathan Alach, Melanie Burnett, Daniel Bubnich, Hayley Brigatti, Daniela Casadio, Alicia Hitchcock, Julie-Anne McGuinness, Cynthia Teng, Finn Pedersen, Adrian Iredale, Martyn Hook, Rebecca Angus, Shiva Amir-Ansari, Vincci Chow, Caroline di Costa, Jemma van Dongen, Cherie Kaptein, Khairani Khalifah, Kylene Tan
Architect

Iredale Pedersen Hook Architects
Australia
Consultants

Acoustic consultant Cottee Constructions
Acoustics AECOM Perth
Builder Cooper & Oxley Builders, Pindan
Code consultant John Massey Group
ESD Cottee Constructions, AECOM Perth
Electrical engineer Sinclair Knight Merz
Flora species selection specialist Tim Willing
Geotechnical engineer Douglas Partners
Hydraulic consultant Norman Disney Young
Landscape architects Clouston Associates
Local architect NBC Aboriginal Corporation, Tim Willing
Mechanical and fire services AECOM Perth
Project manager Coffey Projects
Quantity surveyor WT Partnership
Security consultant Sinclair Knight Merz
Security engineers Boffa Miskell - Wellington
Structural and civil engineer Pritchard Francis
Surveyor MAKJaP
Time planner DW Kolagow and Associates, JCA Project Planning (formerly James Clark & Associates)

Site Details

Site type Rural

Project Details

Status Built
Category Public / cultural

Source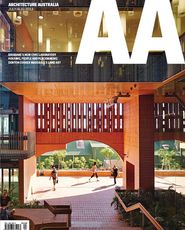 Issue
Architecture Australia, July 2013
Related topics