A new draft urban and landscape plan by Hassell for areas of Sydney's south-west and inner-west to accompany the new M5 section of the WestConnex project has been released for public viewing and feedback.
Hassell previously produced urban and landscape design plans for the northern M4 branch of the WestConnex project.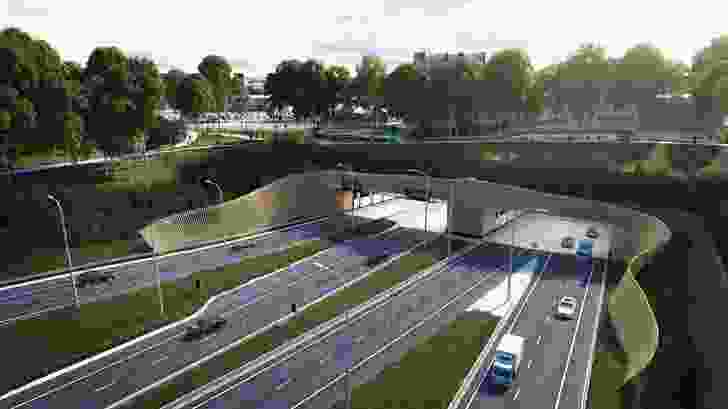 The comprehensive plan lays out urban design and landscape architecture principles and specifications for the Western and St Peters interchanges, tunnel interiors and entrances, pedestrian paths, parks, bridges, tunnel ventilation stacks, noise barriers, lights, operations complexes and fire control facilities.
The draft plan also lays out a series of design objectives, with an emphasis on reducing the impact WestConnex will have on local residents and the character of neighbourhoods. To achieve this, the plan includes the provision of increased tree and plant cover, the use of indigenous plants and improvements to the experience of pedestrians and cyclists by widening footpaths, increasing air quality and ensuring that the motorway is easily traversable on foot or by bike.
One of the largest developments included in the draft plan is for the area around the planned St Peters interchange. Hassell's plan for the significant infrastructure project linking the new M5 with the M4-M5 Link and local roads aims to "soften the scale" of the St Peters development, which will be located on the Alexandria Landfill site adjacent to Sydney Park. The plan proposes to develop open public space at the peripheries of the site, including a full-size soccer field and an "urban forest" of tall trees around and within the roads. A new bridge will create a path from the new spaces on the landfill side of the Alexandria Canal to Sydney Park.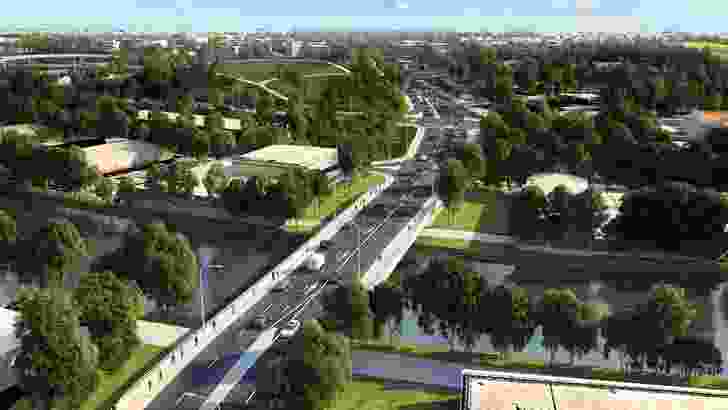 An arboricultural report released by WestConnex in January found that 527 trees on Euston Road, which runs along the eastern edge of Sydney park, would need to be removed to prepare the street to connect with the St Peters interchange. A spokesperson for WestConnex said, "Every effort has been made to minimise the number of trees impacted by the local road upgrades, as part of the New M5. In accordance with our conditions of approval, the project will deliver a net increase in replacement tree plantings."
WestConnex new M5 project director Ken Reynolds said, "The draft plan reflects feedback received after extensive consultation with the community and local councils and local residents now have another opportunity to help shape urban outcomes for their local area."
The WestConnex project is six years from completion and has been the subject of some controversy. Originally proposed as a $10 billion project in 2012, the cost has has risen officially to $16.8 billion, with a recent estimate by the City of Sydney putting the total cost at over $46 billion, although this figure includes the cost of separate infrastructure projects that are not part of WestConnex.
The draft is being publicly exhibited until 30 April here.
Related topics