Western Sydney University's Ngara Ngara campus opens in Liverpool
Western Sydney University has opened a new high-rise campus, the Ngara Ngara building in Liverpool, designed by local Liverpool practice Mosca Pserras Architects with interiors by Woods Bagot.
The 10-storey building, which will be used by around 5,000 students, houses the university's programs in nursing, midwifery, social sciences, and psychology. Nursing students are already attending classes in the building and the campus will open to all students in July.
The building's design is characterized by strong geometric forms, while the bright and open interiors feature an industrial-looking palette of concrete, plywood and tiles, along with exposed ceilings.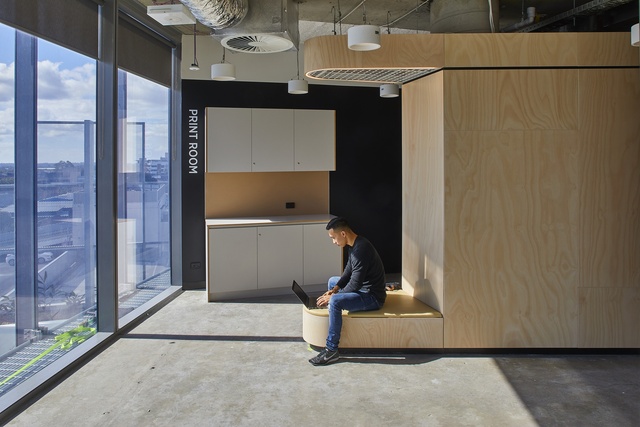 Along with facilities for students, the campus houses the Launch Pad startup incubator, which provides resources to local technology-based businesses.
The university's vice-chancellor and president Professor Barney Glover said the "high-tech" campus would deepen the university's relationship with the region.
"With this technologically enhanced vertical campus, we are ensuring that Liverpool can take the lead in capitalizing on the opportunities that digital transformation brings," he said.
"The campus will also intensify the university's pivotal role in driving innovation, knowledge, job generation, and industry attraction ahead of the coming airport and aerotropolis."
The campus is Wifi-enabled, and features what the university says is one of Australia's most high-tech nursing laboratories, along with sleeping pods and Zoom video conferencing capabilities within classrooms.
Liverpool mayor Wendy Waller said the campus would make a positive contribution to the city.
"We welcome the new Western Sydney University campus into the heart of our vibrant city and are excited about all the opportunities it offers the community and local industry," she said.
Ngara Ngurasits on the land of the Cabrogal Clan of the Darug Nation. Its name loosely translates to "exchange knowledge by listening, by hearing and by thinking."
The western suburbs of Sydney are home to the largest urban population of Aboriginal and Torres Strait Islander peoples in Australia. "We continue to value the generations of knowledge Aboriginal and Torres Strait Islander Peoples embed within our University," a statement from the university noted.
The opening of the Liverpool campus follows the opening of the university's 14-storey Parramatta campus in May 2017, which was designed by Architectus with interiors also by Woods Bagot.