Gesturing at the book in front of him, and then at the immense cathedral behind, the villainous archdeacon in Victor Hugo's novel Notre-Dame de Paris famously prophesizses that "This will kill that. The book will kill the edifice." 536 years since these imaginary words were uttered, publishing has yet to kill architecture, exhibitions have failed to kill publishing, and the internet has failed to kill exhibitions; which is why in this internet age we still have a Venice Architecture Biennale. Staged approximately every two years and now in its 16th edition, the Biennale is a prosecco-fuelled, three-day-long celebration of architecture, publishing and exhibitions, followed by a six-month long hangover witnessed almost solely by interns, pigeons and the occasional befuddled tourist.
However, because we have the internet, you are likely already familiar with most of the work on display within Freespace, this year's main Biennale exhibition, curated by Grafton Architects directors Yvonne Farrell and Shelley McNamara. Featuring classic hits such as Sigurd Lewerentz's chapels, Luigi Caccia Dominioni's apartment buildings, Peter Zumthor's seminal design models, Rafael Moneo's 1998 Murcia Town Hall and David Chipperfield's 2009 Neues Museum, Freespace was less a reflection of current trends and developments in the architectural world, and more a well-worn compendium of the curators' favourite projects and practitioners.
Also, because we have the internet, quite a few other Freespace reviews are already out there, including an Alessandro Bava article for e-flux which likens the experience to a trade show, Philip Denny's insightful Metropolis critique of the Biennale's prevailing and anachronistic power structures, and a thoughtful conversation between Assemble Papers editor Jana Perković, a Biennale veteran, and Amelyn Ng, attending for her first time. We don't mind at all if you want to click on those links now. Go on, open up a couple more tabs. Just please come back when you're done.
What follows is not as considered and complete a review as those efforts by Bava, Denny, Perković and Ng, but rather an entirely partial and subjective ranking of our favourite exhibits.
1. Best body of work: Netherlands Pavilion: Work, Body, Leisure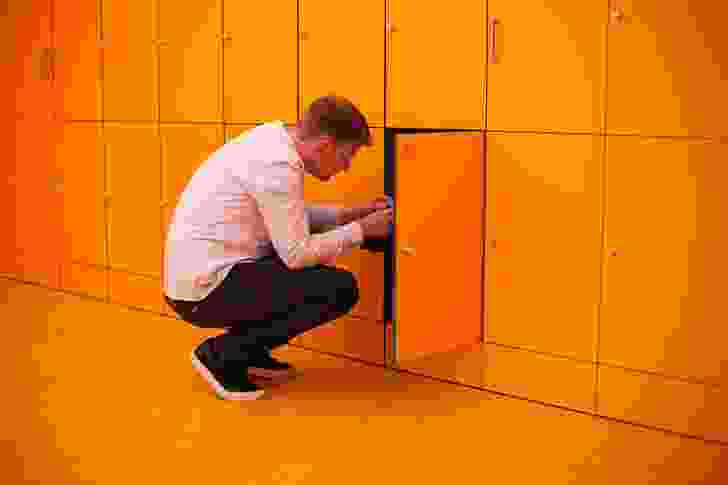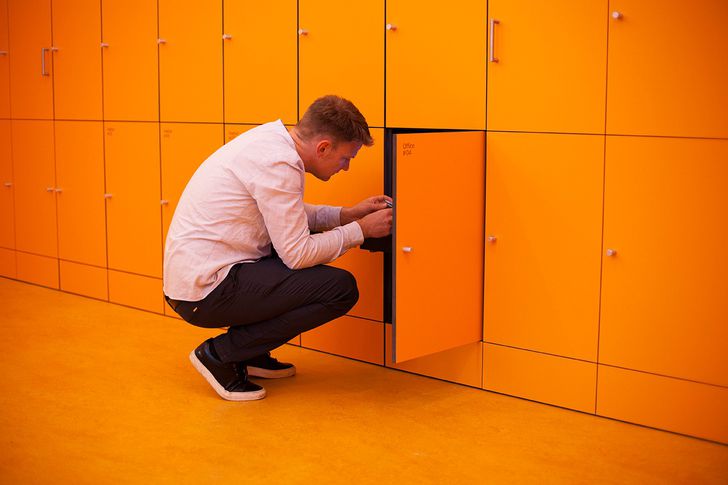 In contrast to all the peaceful, refined and generous architecture on show in the main exhibition (insert sleeping emoji), this year's Dutch pavilion offers a stimulating jolt of reality (wide eyes emoji). Curated by Marina Otero Verzier, Work, Body, Leisure chronicles the pursuit of "free time" in Western society, from the colonial era to the present day. From the sinister "Door of No Return," which simultaneously transported Africans into slavery and gave rise to the European middle class, to a banal office space occupied only by computer monitors displaying the automated protocols that run today's fulfilment centres, dairy farms and container ports, visitors encounter a series of tableaus that explore the true costs of separating work and leisure. Staged within a lurid orange locker room, the exhibition coherently assembles a large body of research and inquiry into the spatial and architectural implications of today's sharing economy, global disparities and technological acceleration. While this might all sound like an academic slogfest to some readers, we found this year's most entertaining Biennale exhibitions to be propositional rather than celebratory.
2. Best tightrope walk: Israeli Pavilion: In Statu Quo: Structures of Negotiation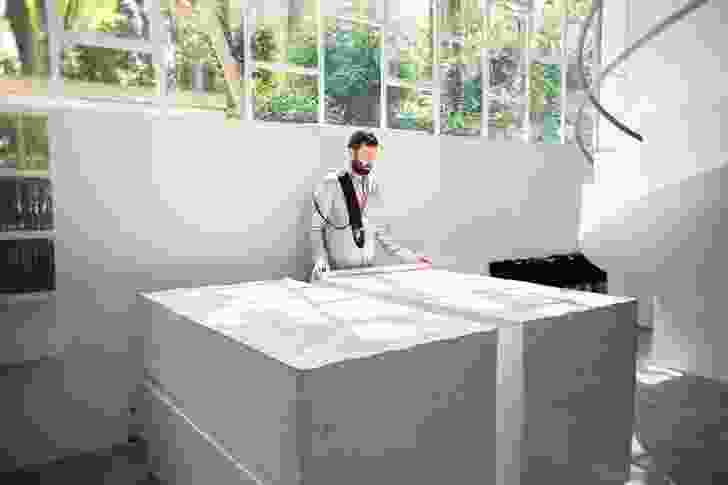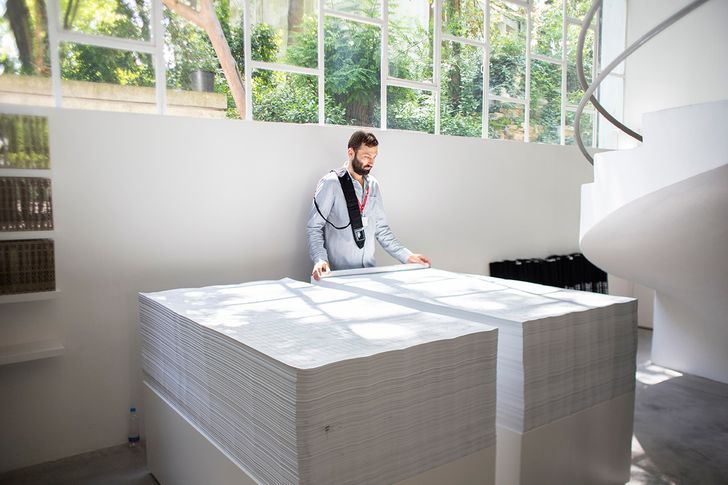 Try as they might, Israel's representatives cannot avoid contention due to the conspicuous absence of any Palestinian participation in Venice. In past years, Israeli exhibitions have only fuelled this contention by steadfastly ignoring the elephant in the room. Curated by Ifat Finkelman, Deborah Pinto Fdeda, Oren Sagiv and Tania Coen-Uzzielli, this year's effort is a welcome admission of the country's political complexities. Focusing on five holy sites in and around Jerusalem that are claimed by multiple religions, the exhibition examines the fraught and makeshift mechanisms that enable groups of worshippers access to these contested spaces. The pavilion's centrepiece is an extraordinary dual-screen video by Nira Pereg, which captures the rapid transformation of Cave of the Patriarchs/Ibrahimi Mosque into a temporary place of worship for alternating groups of Muslims and Jews, afforded just 24 hours access each. Another eye-opening exhibit assembles historical proposals by a variety of famous names – including Isamu Noguchi, Moshe Safdie and Superstudio - for the transformation of Jerusalem's contested Western Wall Plaza. All of these equally ambitious and naive proposals are presented as identically scaled white models, with each designer's' signature styles the most noticeable variants. In all, the Israeli pavilion makes plain the limitations of brand name architecture and demonstrates that effective "structures of negotiation" are by necessity spatial and evolving rather than fixed and formal.
3. Best interruption: Bahrain Pavilion: Friday Sermon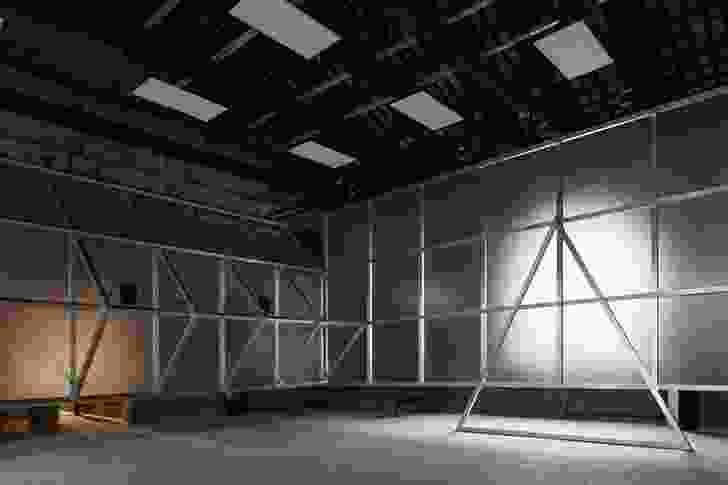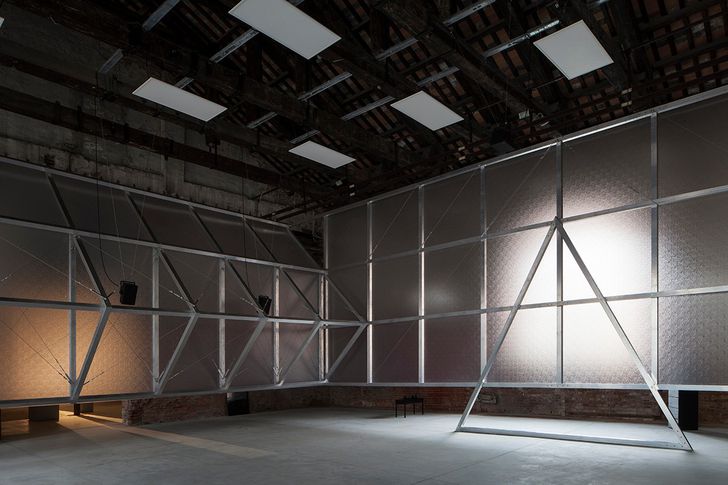 A hundreds-of-metres-long former rope-stretching factory, Venice's monumental Corderie can be something of a rat run for Biennale visitors. This year Farrell and McNamara have unblocked the windows and left the central aisle free, which made the space more pleasant, but also more vanilla. Like a well-lit sculpture court stocked with rows of near-identical replicas, there is little to slow your stroll. Bahrain's exhibition cleverly creates an obstacle to this procession by walling off an area of empty space, forcing visitors to either enter or go around. The momentary containment afforded by London-based architects Apparata's minimal space-frame allows time and space to reflect on the exhibition's subject matter. The "Friday Sermon" of the exhibition's title refers to the improvisational part of the imam's weekly routine that operates as a kind of community service announcement, itself an opening within the regularized rituals of worship. Opportunities for such sermons are restricted in Italy, where Islam is not recognized as an official religion and mosques are generally prohibited. Curated by Nora Akawi and Noura Al Sayeh, Bahrain's exhibition makes plain that communal space is never truly "free"; it is always subject to political influence and must be carved out, fought for and continually reinvented.
4. Overall achievement award: Flores and Prats – Liquid Light (presented in the main curator's exhibition) and The Morning Chapel (exhibited within the Pavilion of the Holy See).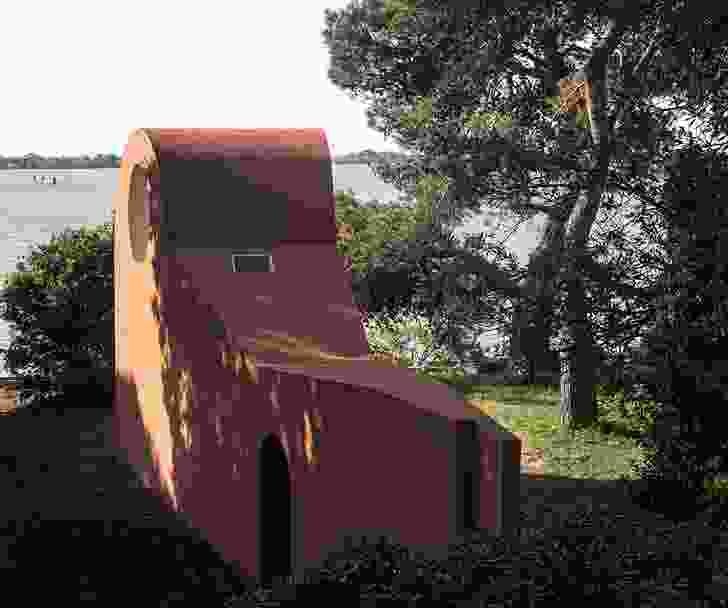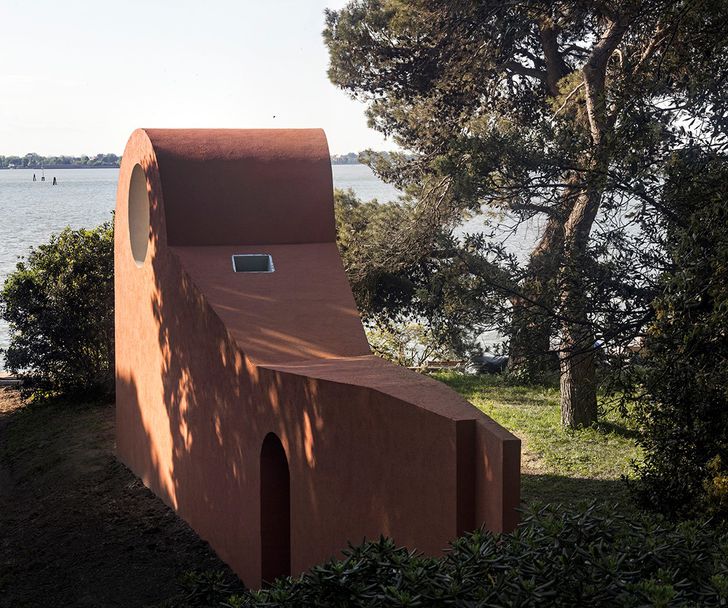 What a year for Barcelona architects Ricardo Flores and Eva Prats. Invited to exhibit alongside the world's architectural elite in the main curators' exhibition and as one of a select group of eleven international architects commissioned to build chapels for the Vatican's Biennale debut, Flores and Prats shine brightest. Both of the projects showcase the practice's extreme sensitivity in shaping light and respecting existing conditions. A cabinet of curiosities contained within a 1:1 fragment of the restored Sala Beckett theatre, Liquid Light is an exhibition unto itself stocked with drawings, details and scale models. In a field of sombre and enclosed chapels designed by singular male architects, The Morning Chapel is a delightful and colourful folly that is permeable and open to the surrounding garden. Someone get these guys a Gold Lion.
5. Best rebranding: Central Office for Architecture and Urbanism – Europa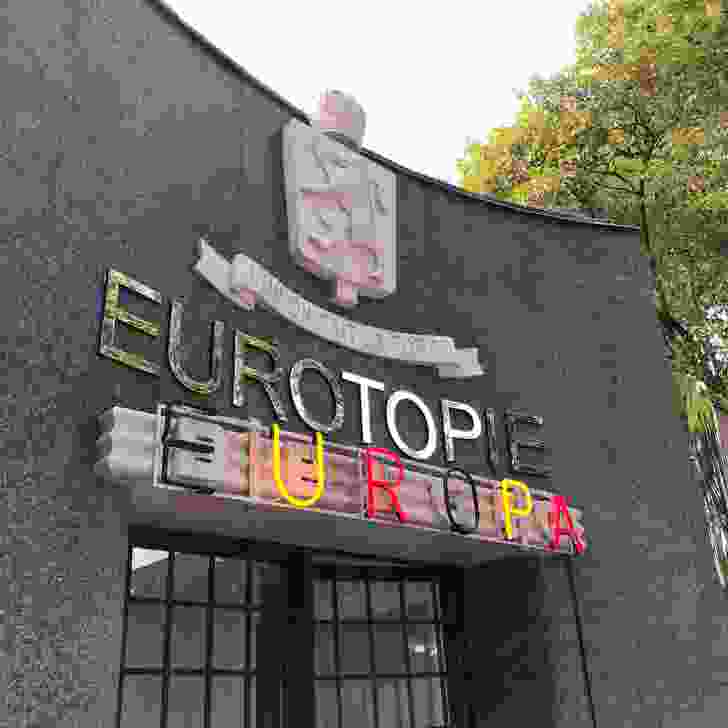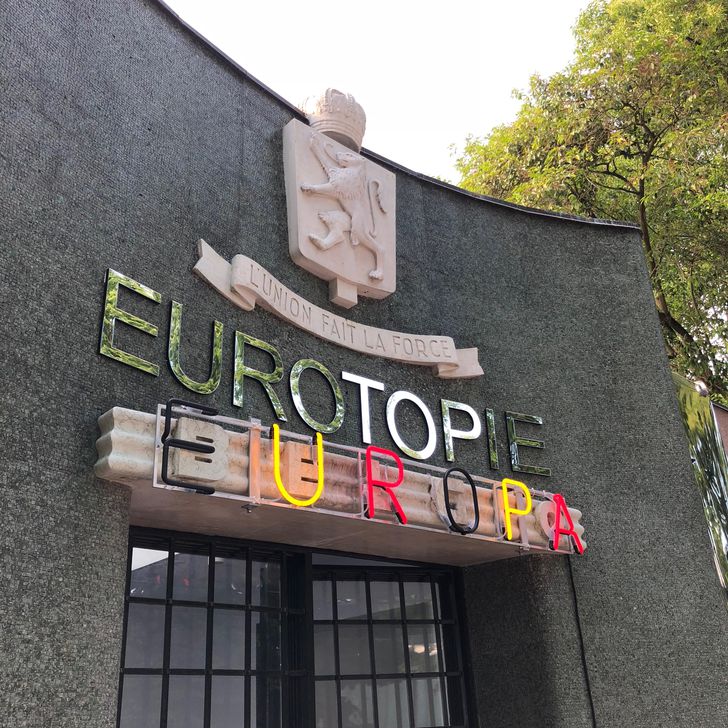 One of our favourite works from this year's Biennale almost went unnoticed. It was only in the closing moments of the Vernissage's last day, as the loud speakers blared out instructions to leave the gardens, that we noticed a series of neon letters affixed to the facades of the Spanish, Belgian and Dutch pavilions. These letters overwrite each country's insignia with the word 'Europa.' Winner of an open call held jointly by the three nations, this subtle and economical intervention by young, Brussels-based studio Central Office blurs nationalistic boundaries and signifies a shared space of transnational exchange. Coming at a time of increasingly isolationist global politics, and in contrast with a mostly passive and disconnected Biennale, Europa is an optimistic gesture that reminds us of the genuine "freespace" that can be opened up across borders through cultural endeavours, political cooperation, unimpeded movement, economic agreements and common values.
6. Most likely to succeed: Adam Caruso (co-curator of Island, Great Britain Pavilion and Caruso St John Architect's The Facade is the Window to the Soul of Architecture, exhibited in the Central Pavilion)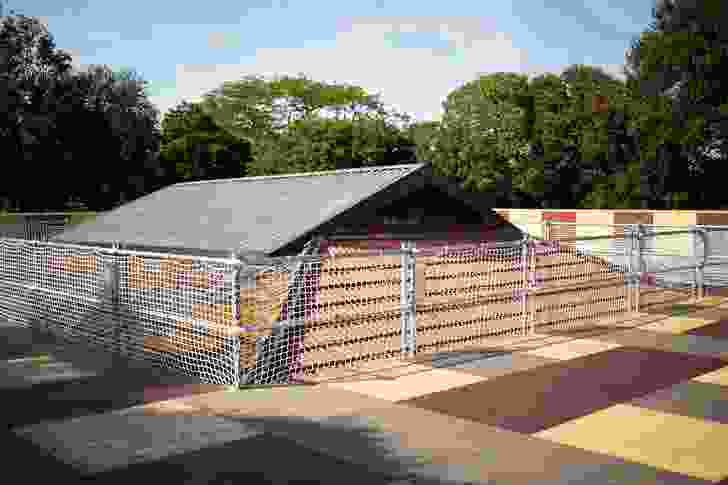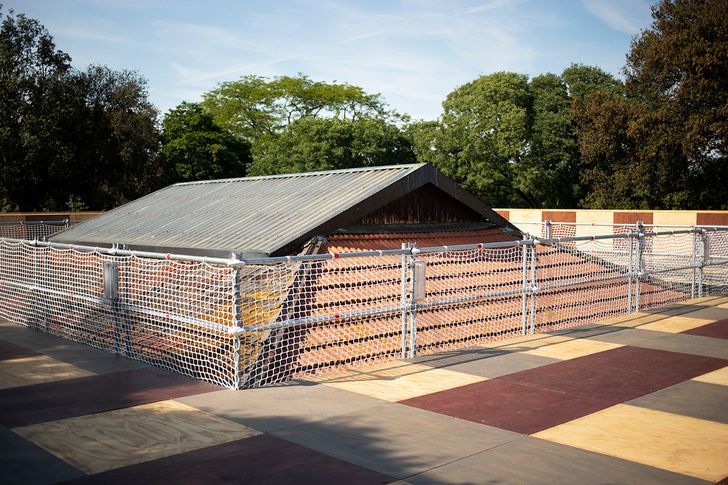 With his dual presence at the Biennale, Adam Caruso shows why he's a strong future candidate for overall Biennale curator by delivering spectacle and sincerity in equal measure,
Curated by Caruso and artist Marcus Taylor, Island is a literal "empty gesture" that transforms Great Britain's exhibition into a floating platform perched high above the unoccupied pavilion. Quintessential British customs persist despite this isolated vantage, with tea served daily at 4 pm in an absurdist simulacrum of life under Brexit. Far down below, in the Central Pavilion, Caruso's eponymous architectural practice exhibits a series of meticulous elevational studies of ordinary buildings interspersed with drawings of their own projects. The Facade is the Window… argues that such buildings, whether generic or authored, form important backdrops to daily life.
7. Best of the pint-sized buildings: Redefining the Rural – Rural Urban Frameworks (exhibited as part of China Pavilion, Building a Future Countryside)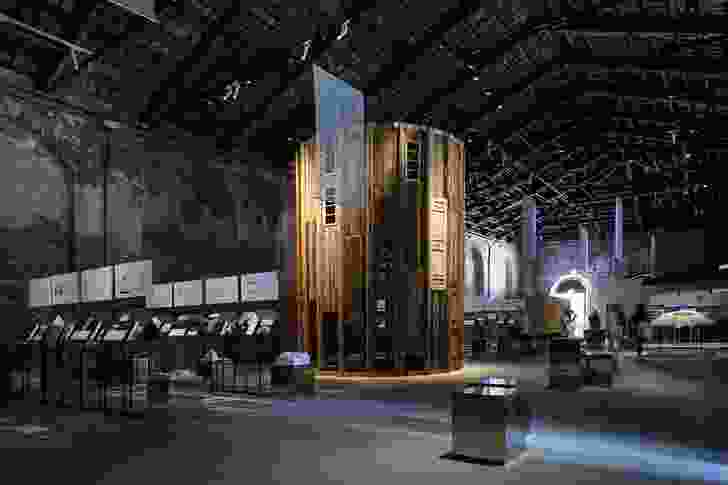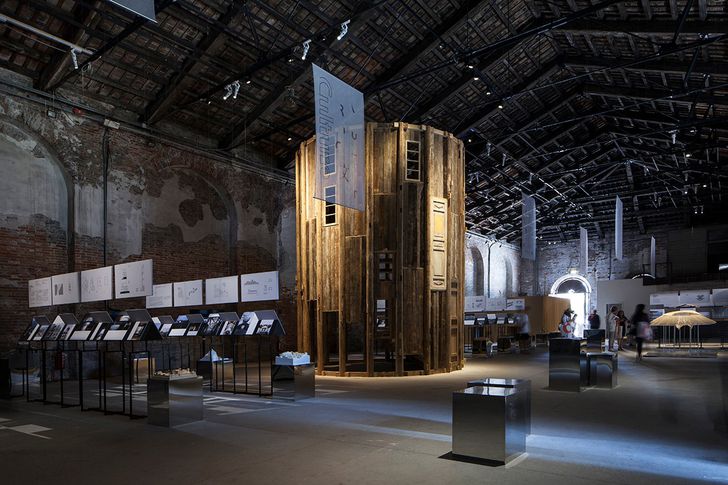 In a Biennale heaving with miniature buildings, Rural Urban Frameworks' tiny cylindrical tower is the quiet standout. The tower recycles the timbers from a traditional house, one of many such houses abandoned by villagers in favour of concrete apartment buildings that are unsuited to local earthquake conditions. Constructed as a communal space and temporarily relocated from the countryside, the tower has been built without nails or glue and contains a spiraling wooden staircase that creaks and trembles as you ascend. The tower's fragility provides a perfect metaphor for the tenuous existence of traditional rural life in the face of China's rapid urbanization.
8. Best Australian exhibition: Australia Pavilion: Repair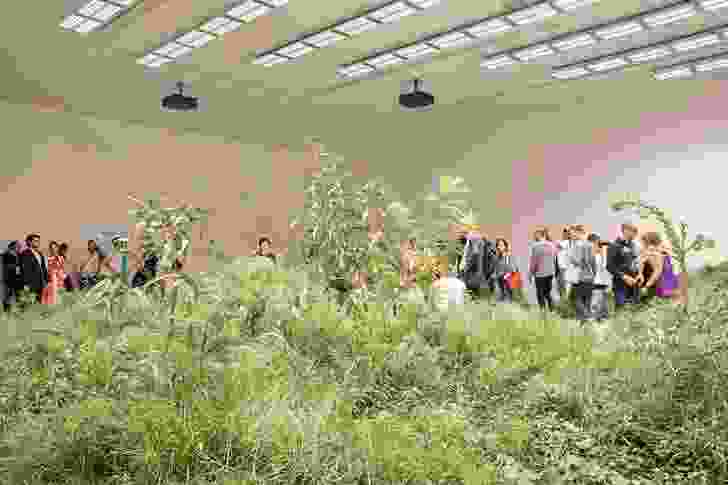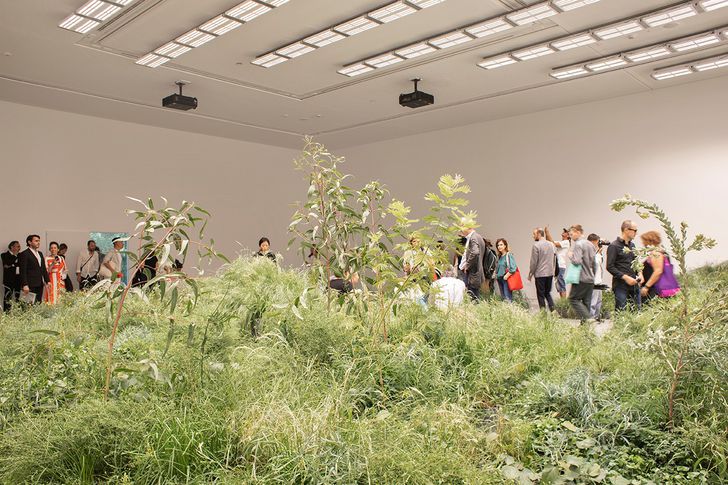 When we say that this year's Australian curators have introduced a large number of potentially invasive life forms into the Biennale's gardens, we're not talking about the record number of Australian architects who attended this year's exhibition opening. Taking advantage of the absence of an Italian version of Border Control, architects Baracco and Wright and artist Linda Tegg smuggled 65 endangered grasslands species into Italy as seedlings, raised them to maturity in a San Remo greenhouse, and installed them inside and around the Australian Pavilion. Indeed, the exhibition could have been subtitled "Nature versus The Box," as the delicate grassland plants are pitted in a fight to survive under bright lights and within the nearly windowless, hermetically-sealed container that is our national pavilion. Repair is an effective set piece, communicates a clear message about land-clearing and restitution, and incorporates the work of a number of leading contemporary Australian architects, and by doing all of these things at once, improves upon the best attributes of all previous Australian exhibitions.
9. Least reliant on metaphors: Lacaton and Vassal – Freedom of Use (exhibited at the Arsenale)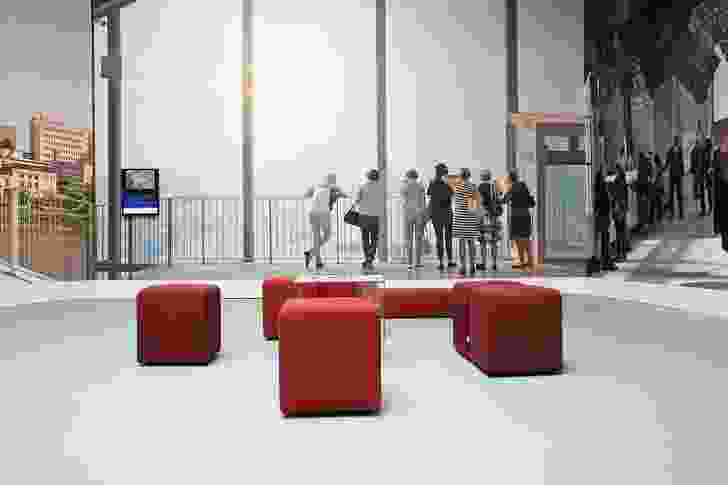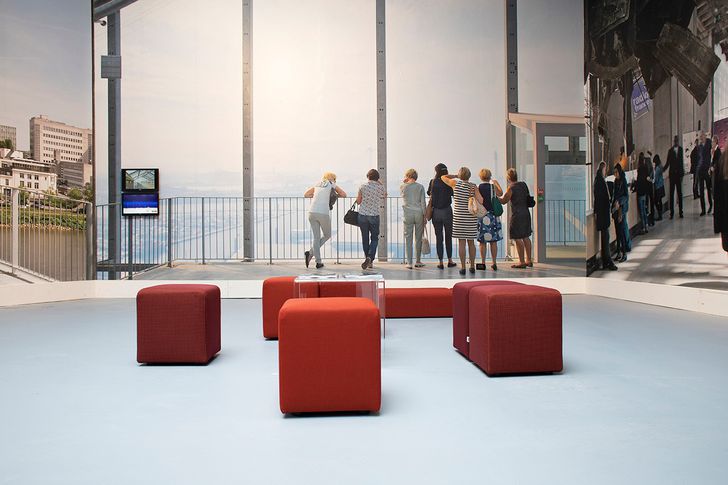 What exactly is "Freespace"? Despite having coined the term, Farrell and McNamara never offer an explicit definition, and many Biennale participants have simply attempted to cram the word "free" into their project statements as free-quently as possible. Not so the ever-precise Lacaton and Vassal. In their exhibit Freedom of Use, the Parisian architects have created a book comprising blueprints of all of their past projects with the allocated areas of literal, free and un-programmed space quantified, measured and annotated. It's an incredible testament to their ability to deliver more space with fewer means. The book was published in-house, is not currently for sale, and was securely chained to a bench (we checked). We want that book. By god, we want that book.
10. Best engagement with reality: United States of America Pavilion: Dimensions of Citizenship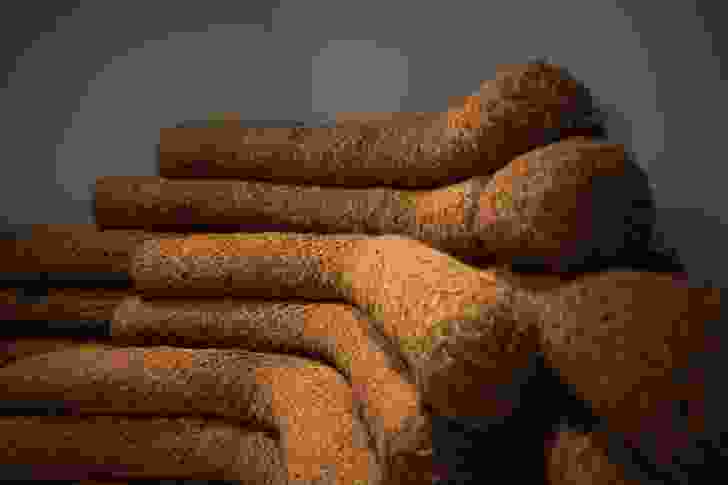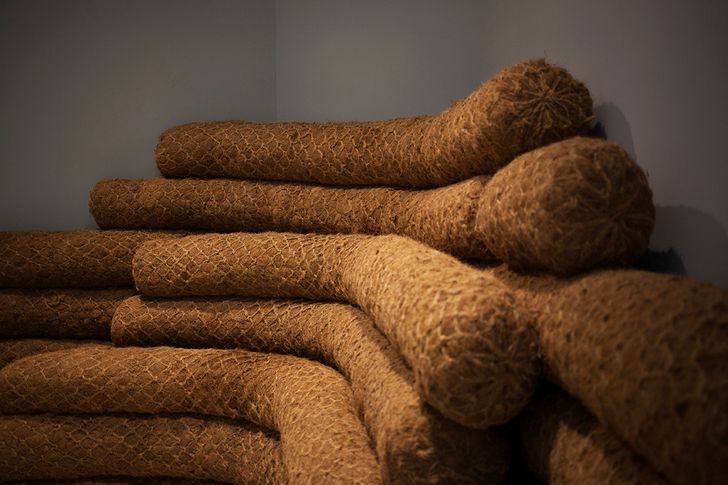 The 2016 U.S. Pavilion was an astonishingly tone-deaf assembly of whacky and improbable architectural propositions for the embattled city of Detroit, designed by predominantly white and academic architects. It would have been enough for this year's offering to just not be that. But the brilliant curatorial team responsible for Dimensions of Citizenship has gone much, much further, to the point of confronting Trump's America head on. The Border Wall was always going to be the exhibition's main foil, but curators Niall Atkinson, Ann Lui and Mimi Zeiger have interwoven a story that ranges from the individual to the interplanetary, with a veritable host of projects and contributors. The result is sometimes thrilling, often engaging, and at times uneven. But oh to have more uneven exhibitions like that!
Not ranked
And now for our favourite section. Here follows an incomplete list of some other things that we noticed this year:
Recycled ideas
We're looking at you, Belgium and Indonesia! Before you fall in love with this year's most minimal pavilions, we suggest you google 2016's Serbian and Baltic Pavilions.
Double ups
Belgium and Greece housed amphitheatres, Hungary and Great Britain built platforms, Japan and Brazil presented incredibly intricate drawings that you needed comically large magnifying devices to properly inspect.
Instagram pavilion
I guess we'll never know whether the Swiss Pavilion was on track for a Gold Lion before Iwan Baan Instagrammed it.
Vatican gold
A mere 38 years after the first edition, those trend-setting Roman cardinals have decided to jump on the Biennale bandwagon. We imagine the conversation went something like this: "Architects like buildings, right? Let's give them, say, eleven new chapels on San Giorgio Maggiore." "Sounds good, but how will we move between these chapels in a dignified manner?" "Why, we'll get Vatican-brand buggies, of course." We've watched Young Pope. We know how these things work.
Biennale bingo/drinking game
ambience, atmosphere, authenticity, considered, context, crafted, essential, generosity, Genius Loci, legibility, materiality, meditative, permanence, permeable, precision, presence, simplicity, slowness, temporal, threshold, vernacular
Most incomprehensible jury decision
"…for the precision of the pairing of two aerial photographs, which reveals the essential relationship between architecture, time and place. Freespace appears without being announced, plain and simple."
Hang on, did publishing actually kill the exhibition?
This year's Australian, Bahraini, British, Belgian, Dutch, Israeli, Japanese and Swiss catalogues are so good, they might actually be better than the exhibitions themselves.
The best Biennale
As many other reviews will inform you, the best exhibitions this year are actually located well outside of the main venues, from Estonia's Weak Monument exhibition to the unofficial Unfolding and Cruising Pavilions. Sadly, we didn't make it to any of these. The best Biennale is always the one that you didn't see.
Related topics