It may be a part of the Olympics the world forgot, but from 1912 to 1948, the International Olympic Committee (IOC) handed out medals across five creative arts categories including architecture, painting, sculpture, literature and music.
For the father of the modern Olympics Pierre de Coubertin, who founded the IOC, art competitions had always been part of his original intentions for the modern Olympics as they were in the ancient Olympics, which had competitions for music, singing and public speaking.
De Coubertin wrote at the time, "In the high times of Olympia, the fine arts were combined harmoniously with the Olympic Games to create their glory. This is to become reality once again."
At the Olympic Congress in Paris, 1906, in front of a crowd of famous architects, writers, sculptors and even actors, de Coubertin made the most significant recommendation, which was to introduce the art competition.
The first architecture competition was held in 1912 at the Stockholm Games. All entries in all categories of the art competitions were required to draw links between art and sport. The architecture competition allowed both built work and speculative designs to enter as well as designs for town planning. The first ever Olympic gold medal in architecture was won by Eugène-Edouard Monod and Alphonse Laverriére of Switzerland for their town planning project Building Plan of a Modern Stadium.
No gold medals were awarded in 1920 (Antwerp) or 1924 (Paris). In the 1928 Amsterdam games, Dutch architect Jan Wils won the gold medal for the Olympic Stadium in Amsterdam, the very stadium that played host to many of the Olympic sports.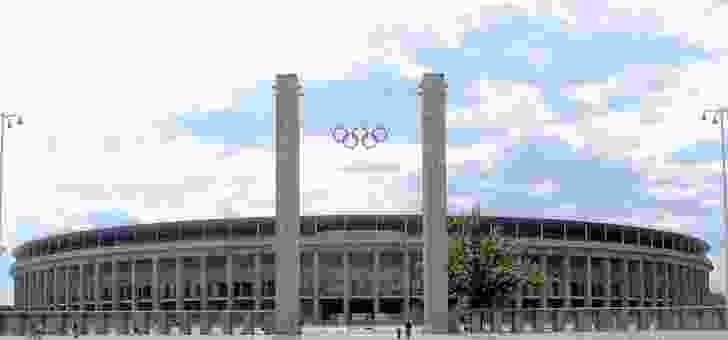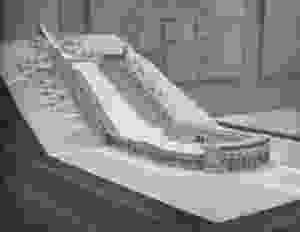 In the 1936 Berlin games, Austria's Hermann Kutschera won the gold medal for his Skiing Stadium design that was never built. In the same year, art, sport and politics became entangled with the Reich Stadium by Werner March and Walter March taking out the gold medal in town planning for the Reich Stadium. The massive scale of the stadium was intended to show off the rising power of Nazi Germany.
The last-ever gold medal in architecture was won by Austrian Adolf Hoch for Ski Jumping Hill on the Kobenzl at the 1948 London games. Following the 1948 games, the IOC abandoned the Olympic art competition due to the significantly high number of professionals entering, which went against the spirit of the games being an amateur competition.
In 2004, IOC revived the idea of art competition with the introduction of the Olympic Art Sport Contest. But this too was short-lived, and was no where to be seen in the 2016 Rio games.
Related topics