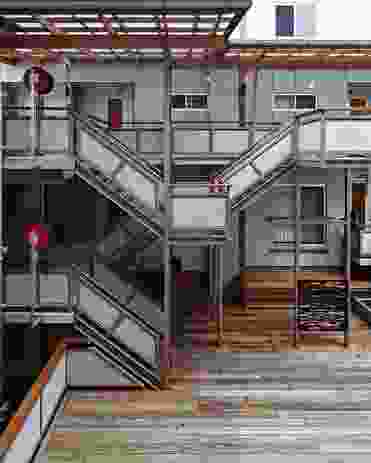 Within the Cité de l'architecture et du patrimoine, Paris's somewhat unknown architecture museum, is a full-size model of an apartment from Le Corbusier's 1952 Unité d'Habitation. Walking through this convincing recreation of one of the seminal works of twentieth-century architecture, one is struck by the contradiction between the volumetric and formal sophistication of the space and the utilitarian, almost raw craft of the materials and detailing – the brushstrokes evident in the paintwork, the modest timber cover strips and simple mechanics of window and cupboard operations. I was reminded of this contrast when visiting the recently completed Whitmore Square Affordable Eco-Housing project by Troppo Architects. Providing twenty-four two-bedroom apartments, a couple of one-bedroom access apartments and a cafe of a similar adaptable footprint, this complex is not even a tenth the size of Unité, and the architectural languages couldn't be further apart; there are, nevertheless, similarities between these idealistically motivated architectural endeavours.
Both of these works, built more than sixty years apart, are intentional models for medium-density urban housing. Troppo's design won the 2005 Adelaide Affordable Eco-Housing national competition (reviewed in Architecture Australia January/February 2005), and though various public-private partnership arrangements were initially mooted, the project was eventually implemented as a joint venture between the Adelaide City Council and the state government. And despite stringent conditions for "user-wins green initiatives" and a commendable final build rate of around $3000 per square metre, the Eco-Housing project has delivered commercial returns competitive with privately funded developments, several of which sit alongside in a telling demonstration of the blandness of mainstream real estate solutions. Six of the units sold promptly on the open market, with the remainder to be rented through the National Rental Affordability Scheme.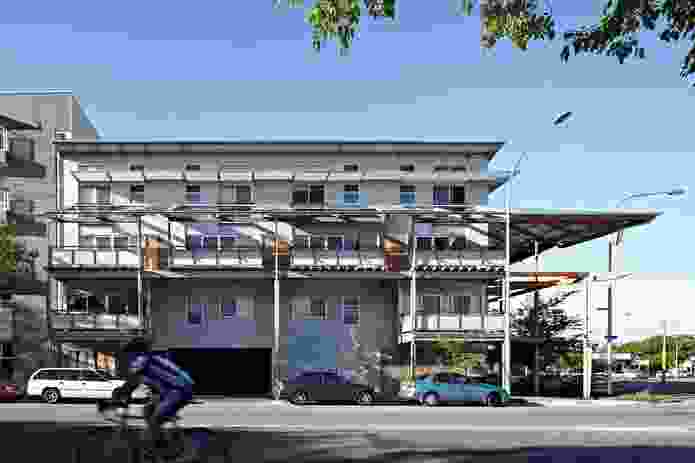 While Le Corbusier's singular Marseilles housing block departed radically from the evolved typology of French medium-density housing, Troppo's design reinterprets that hardworking eighteenth-century pattern with appropriate regional and twenty-first-century sensitivities. The site defines one corner of the greenest yet most culturally contested of Adelaide's five squares, as Invaritji (Whitmore Square) is unofficial home to the city's Indigenous urban population. Three north-facing wings of four and a half storeys across the site are contained by a longer, slightly lower building facing west onto the square. A vigorously articulated three-storey verandah, with "grand order" entry portals and a patchwork of balconies, softens the mass of the building to the gentle containment of this typically Adelaide-scaled square. Within the blocks, three quaintly named "mews" suggest the precedents of European urbanism. The tight vertical volumes of these communal outdoor rooms give protected access to the majority of the apartments and accommodate the utilities of daily life. Most importantly, they allow the sun to penetrate each apartment and recreational space. This project is like a solar access diagram made solid, a celebration of the architect's ability to predict, capture and control light and heat, and a reminder of the potency of that professional skill. Le Corbusier warned, somewhat melodramatically, that we ignore this expertise at society's peril: "Doling out cosmic energy, the sun's effects are both physical and moral, and they have been too much neglected in recent times. The results of that can be seen in the cemetery and sanatorium."1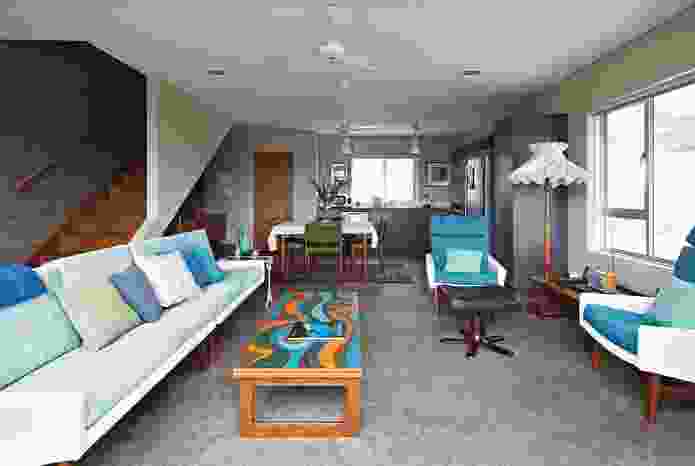 Troppo's scheme could never be accused of neglect in other areas of passive environmental control either. As anticipated from the clarity of their winning entry, with its lucid diagrams for sun paths and cross-ventilation, the project does its climatic job like a textbook explanation. Solar panels double as eaves, while operable sunshades give dynamic character to the facade. Apart from a system of digital energy monitoring for each apartment, the strategies are generally not technically sophisticated, but demonstrate Troppo's well-developed language of responding prudently to climate and everyday use. Similarly, access and circulation have been rigorously considered to avoid the predictable compromises of privacy common in medium-density developments. Stairs are appealingly open and varied, and carefully placed so as not to pass apartments too closely. Occasional expansive landings read like theatre boxes from which to view the activity in the courtyards below. The project would probably give Unité a run for its money on these critical aspects of medium-density design – penetration of natural light, breeze and pleasant shared circulation spaces. (There are, one might suggest, good reasons why you never see photos of the internal "street", bathrooms and service areas of Le Corbusier's scheme.)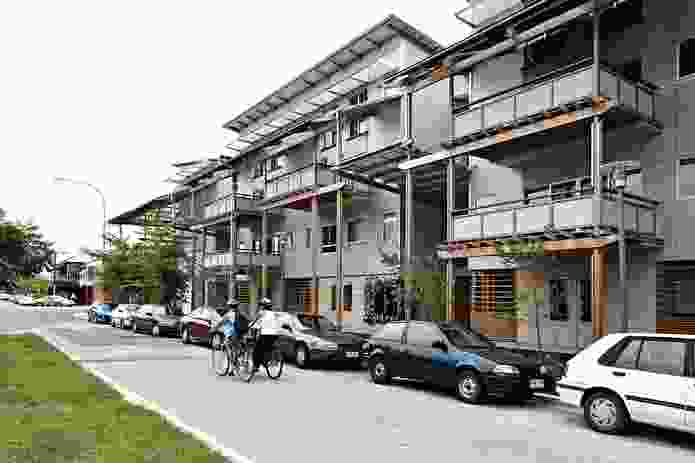 Internally the apartments have a practical robustness and generosity of space, principally because of the handling of light. Windows, often on two sides of rooms, are astutely positioned to give direct view and illumination, or controlled glimpses of sky or street. More surprising is the deft handling of light and openness in the basement car park. Naturally ventilated and with edge gardens through the slatted mews decks, these may not be the sculptural tour-de-force of Corb's spectacular pilotied and arcaded ground plane, but they provide a surprisingly atmospheric utilitarian space for the comings and goings of the residents, as well as a community workshop. It might seem anachronistic to have individual car parks for each unit in such a prime urban location and in a scheme touted as affordable and green, but the architects argue that the space yielded quite naturally in the geometry of the site, and at a time when Adelaide public transport remains shamefully inadequate it would penalize prospective tenants to exclude them. Elsewhere the complex visibly declares its cycling-friendly credentials with secure, street-level storage, and there are further nuances of ecological responsibility in the integration of a best practice waste management system as part of natural circulation.
In contrast to Le Corbusier's earlier, mostly private designs of pristine white render and slim steel sections, Unité consolidated the rugged sculptural materiality of his later, more public works. The material palette Troppo employs is similarly informed by the demanding performance criteria of social housing, and Troppo is justly proud of its cost-effective selection of low-embodied-energy materials, intelligently placed for maximum economic, ecological and aesthetic effect. Helped by a solid sense of workmanship, the effect is reminiscent of economical postwar building when material, but not ingenuity, was in short supply. The more "luxurious" materials, like rammed earth and cypress pine, are deployed where they contribute to public spaces, while everyday materials of concrete block and compressed fibre cement have been detailed conscientiously with respect to weathering, scope for personalization and visual interest. Left substantially in their raw state, these surfaces are already weathering to a soft French grey, an attractive backdrop for the green of the square.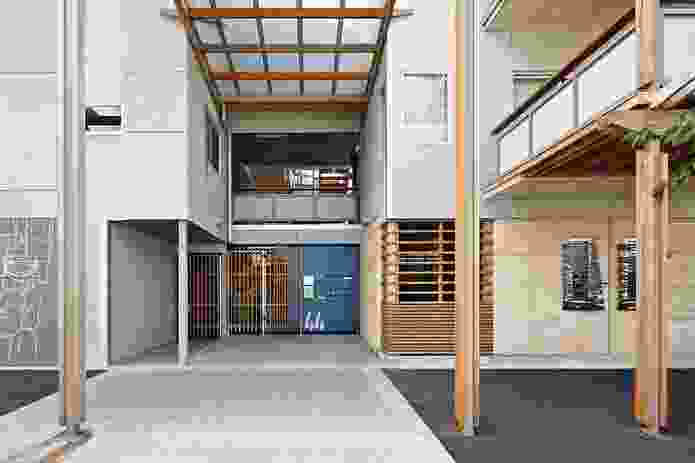 As plenty of current discourse emphasizes, sustainability extends well beyond physical solutions to operational and human ecologies. Against a strong field, Troppo won the Affordable Eco-Housing competition on the strength of its embedded communal gestures, most of which are developing as the actual community of residents moves in. More than casually unprogrammed spaces, the planned facilities aim to build economic determination into the complex, with potential synergies between such things as corner cafe, communal garden and shared workshop. Despite the parsimonious provision for anything "extra" in the brief, there are laudable attempts to enrich the place with integrated artworks and a sense of civic commodity. Albeit at a much smaller scale than Le Corbusier's vibrant incorporation of collective amenities into Unité – everything from shopping arcade and kindergarten to running track and gymnasium to permanent art pieces – there is a comparable philanthropy here, based on the notion of housing as a social condenser. Kenneth Frampton attributes this in Le Corbusier's case to the nineteenth-century model of the phalanstery, devised by influential reformist Charles Fourier – a self-contained and self-sufficient community housing complex based on the idea that there are 810 different, complementary human psychological types, each of which is required, from each gender, to sustain this small society. Nothing so challengingly utopian is in operation in Troppo's interpretation of contemporary residential density, although there are familiar New Age motifs of Water, Earth, Air and Fire in the graphics that colour-code each of the entrances and in the proverbs engraved on nearby columns. And unlike both those precedents, Fourier's ideal and Le Corbusier's beautifully brutal, uncompromisingly real version, the Whitmore Square project does not sit in isolation, either from its immediate environment or from its socio-cultural context, resembling as it does the iconic nineteenth-century corner pub hotels of every Australian city. Extending Frampton's comparison to include Whitmore Square, however, there is a similar tenet at work in all: "to house the ordinary man in a princely domain … restoring the dignity of architecture to the simplest private dwelling."2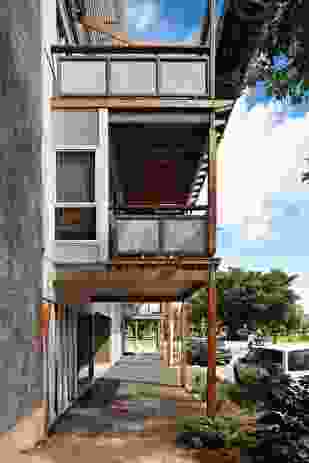 Troppo has a longstanding reputation for extracting the most from simple means and furthering the expression of regional architectural responses; indeed its work is almost synonymous – as is its name – with an Australian idiom of tropical architecture. How that would translate to this important urban site and the impetus to make a civic statement was always going to be interesting, particularly with the added pressures of affordability and greenness. Troppo's signature permeability has clearly been put to good use, not only climatically but in urban design terms as well. Notwithstanding the vernacular evocations of the approach, there is also a lot more visible architecture with a capital A for the money than equivalently priced and scaled private developments. Yet there is a slightly lost opportunity here, perhaps inherent in the earnest framing of the brief. At its best architecture moves further than satisfying an immediate problem, further even than augmenting the solution with unanticipated bonuses, but beyond, into another interpretation of society, as did the outlandish provocations of Fourier or the unpopular innovations of Le Corbusier and his "monumentalisation of the vernacular" at Unité.3 Troppo's Whitmore Square project is not only an impressive resolution of a persistently difficult architectural challenge, it is genuinely likeable, and with its diligent attention to light, air and space, will commit no-one to the cemetery or the sanatorium. Can we ask more?
1. Le Corbusier, The Marseilles Block, trans. Geoffrey Sainsbury (London: The Harvill Press, 1953), p.21.
2. Frampton Kenneth, Modern Architecture: A Critical History (Oxford: Oxford University Press, 1980), p.227.
3. Frampton, Modern Architecture, p.227.
Source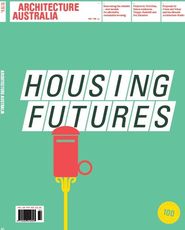 Issue
Architecture Australia, May 2011
Related topics