The terms "community consultation" and "citizen participation" are frequently used within the planning profession and government sector as part of the decision making process to shape our cities. Yet, it is widely recognised that these processes have become disingenuous in the development of Australia's urban environment.
The first forum of the new UNSW in the City series examined this topic, particularly the role of people in city governance and the impacts of devolution in the UK and Australia. These discussions aim to build engagement between research and practice on the economics, governance and design of cities.
Guest speaker and professor of town planning at University of Newcastle in the UK, Mark Tewdwr-Jones, examined the UK Government's radical 2011 Localism Act that devolves decision making powers from a centralised government to communities. Tewdwr-Jones believes that there is an increasing demand by communities for a more bottom-up and meaningful form of participation in decisions that affect the built environment.
While dressed in the language of democratic participation, in practice the Localism Act takes form as neighbourhood-run forums accessible by anyone, but limited only to the first 21 people present. As you can imagine, this process presents some challenges for urban areas, which Tewdwr-Jones elaborated on.
Beyond the delicate issue of 21 unelected representatives deliberating on the fate of an entire community, the government has also reserved the final say in any decision as a means of preventing zealous activists from opposing development. "Namely, if communities decide to reject development proposals in their backyard, they're not allowed to," Tewdwr-Jones said.
As a result, "localism" in the UK and its participatory planning process has been rendered meaningless. It is why citizens have lost interest and trust in traditional forms of democracy and so called "consultation."
In response, the newly elected NSW Planning Minister, Rob Stokes, commented that a balance between a bottom-up and top-down approach was required in Australia. He agreed that genuine community participation was important but stated that the government needs to decide the structure and content for discussion so that development is realistic and can be delivered.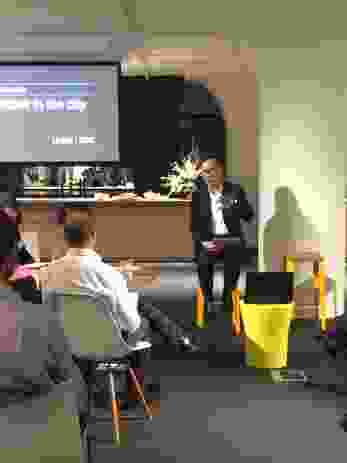 However, Marcus Spiller, the founder of SGS Economics questioned whether state governments are or should be responsible for cities. He suggested a new governance model, particularly at a metropolitan level, that responds to city needs. Spiller believes it will help solve the currently dysfunctional planning system caused by the conflict between local, state and federal government responsibilities.
Philip Graus, chair of Cox Architecture and conjoint professor at UNSW Built Environment, drew on his recent visit to the UK Centre for Cities and Bartlett School of Planning. In his view, there is a groundswell desire in the UK, US and Australia for more collaborative and integrated metropolitan governance, with the state focussed on economic growth and local authorities focussed on physical improvement. "The link between the two is infrastructure, which is not adequately funded at either level," Graus said.
There are lessons to be learnt from the problems in the UK. Community consultation and citizen participation in planning cannot be tokenistic or else people lose trust in the process and their elected representatives. Delegating responsibilities to a new metropolitan tier of government could refocus decision making at a city-wide scale but could also be hindered by the added layer of bureaucracy.On how infrastructure is funded, Spiller provided a powerful insight that when the government rezones or improves land through infrastructure, none of the value is invested back into urban improvement. In this Australia is out of step with most other countries that place great importance on the development of their metropolitan cities.
The most innovative idea from the evening was from Luca Belgiorno-Nettis, founder of New Democracy, who believes people should decide their own fate. He argued that citizens should be given the power to decide on planning issues. He suggested a new approach of using a citizen jury akin to a criminal jury to make informed decisions on behalf of the community. Similar to a complex criminal trial, experts present arguments and evidence to the citizens for judgement.
The City of Melbourne recently trialled a citizen jury in the drafting of a proposal document for the city's 10-year financial plan. Councillors unanimously accepted its findings, but to what extent and how the recommendations will be adopted and applied is still to be determined following an economic analysis.
As the presentations at this year's UNSW in the City roundtable demonstrated, listening to the people and letting them make decisions on the development of their cities isn't easy. Successfully implementing a community's ideas, though, will a far greater challenge. Only then will community participation become meaningful.
Watch the full roundtable discussions via the UNSW Built Environment Youtube channel.
UNSW in the City roundtables are a new initiative to bring built environment industry and researchers closer together through conversation. The 2015's roundtable was hosted by the Australian Graduate School of Urbanism and Cox Richardson Architects & Planners.
Related topics