The Victorian government has approved a proposed 90-storey tower in Melbourne's Southbank designed by UK-based Wilkinson Eyre.
The tower, which will be located on Queensbridge Street, opposite Crown casino, is a joint venture between Crown Resorts and Schiavello Group. It will comprise 388 hotel rooms and 708 residential apartments.
The approved tower will stand at 323 metres tall, which, when completed, will be Australia's tallest building. However, it could lose its title to a proposed twin-tower complex on the Gold Coast designed by Woods Bagot, which is currently awaiting planning approval.
The proponents of the tower also plan to construct a pedestrian bridge over Queensbridge Street that will link the tower to a new lobby in Crown's casino complex.
As previously reported, the tower is 10 metres taller than the original proposal unveiled in 2015. The 323-metre tower will have a a plot ratio of 57:1, which is more than double the maximum plot ratio of 24:1 under the interim planning controls introduced in September 2015, and more than triple the new proposed maximum plot ratio of 18:1, announced in April 2016.
Under the proposed central city planning provisions, "a floor area uplift bonus" is allowable if "an appropriate public benefit is provided to share the added value." Public benefit is defined as public open space, public space within the building, social housing in the building or office use.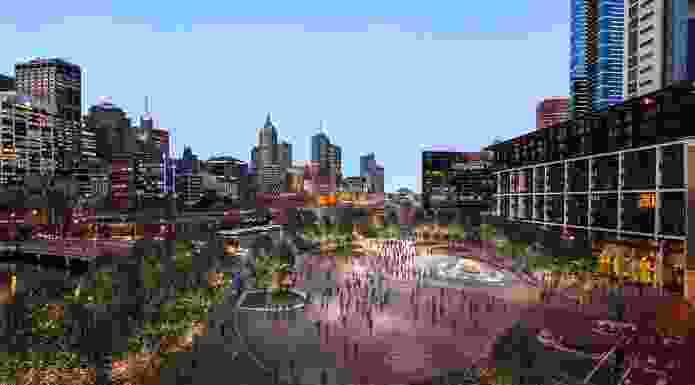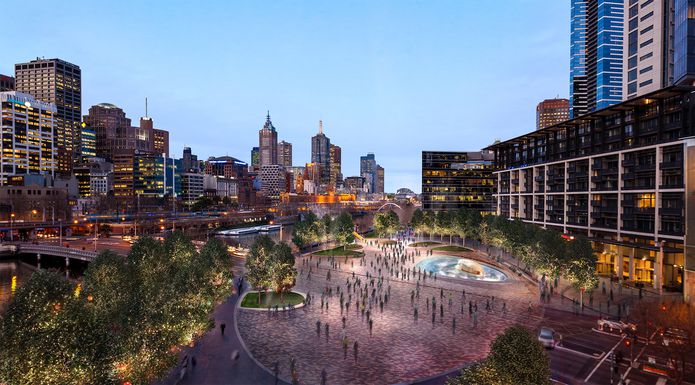 As a condition of the approval, the Victorian government required the proponents of the building, reported worth $1.75-2 billion, to deliver a $100-million community benefits package, which includes a new bike path, landscaping and public realm improvements to Southbank Boulevard, street furniture and trees along Queensbridge Street, a $25-million revamp of Queensbridge Square with landscaping and two new cafes, and a $15-million upgrade to the historic Sandridge Bridge.
Victorian premier Daniel Andrews said the bridge could be reimagined to be like the New York High Line. The former rail bridge was part of Australia's first railway line. It was redeveloped in 2006 as a pedestrian bridge linking Queensbridge Square and Flinders Street railway station and features large steel sculptures by artist Nadim Karam that celebrate immigration and multiculturalism.
In June 2015, the City of Melbourne unveiled a proposal to transform the 178-metre bridge into a tree-lined "aerial park."
Construction of the tower, to be known as One Queensbridge, is reportedly expected to begin in 2018. In a statement, Crown Resorts said the project remains subject to financing and long-form agreements between Crown and Schiavello.
In October 2015, Wilkinson Eyre won an international competition for the design of the tower, beating Bates Smart, Hassell, Fosters and Partners and Ateliers Jean Nouvel. One Queensbridge is Wilkinson Eyre's second project for Crown Resorts following the casino tower in Sydney's Barangaroo.
Wilkinson Eyre's other projects in Australia include the Advanced Manufacturing and Design Centre at Swinburne University, designed in partnership with Jacobs Australia, which was completed in 2015.
Related topics