Crown Resorts has appointed UK-practice Wilkinson Eyre to design a new 90-storey hotel and apartment tower in Southbank, Melbourne.
The proposed 313-metre tower, just four metres shy of the Australia 108 tower currently under construction, will be subject to the new planning controls of the Victorian government.
The site, located on Queensbridge Street adjacent to the existing Queensbridge Square, was originally owned by Schiavello Group. In 2011, Schiavello proposed a hotel and apartment tower designed by Bates Smart and in 2014, Crown Resorts entered into a joint venture with Schiavello to amalgamate four parcels of land and develop the site.
The planning application is yet to be seen by the Victorian Planning Minister Richard Wynne, however he told The Age in March 2015 he was inclined to not allow the earlier, shorter version of the tower development (82 storeys) to go ahead because it would overshadow the Shrine of Remembrance.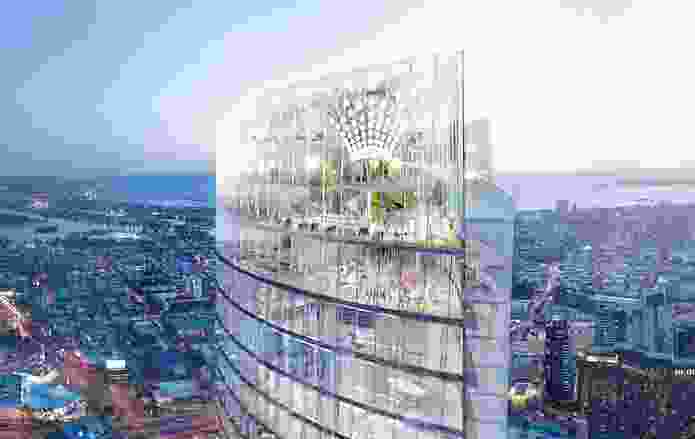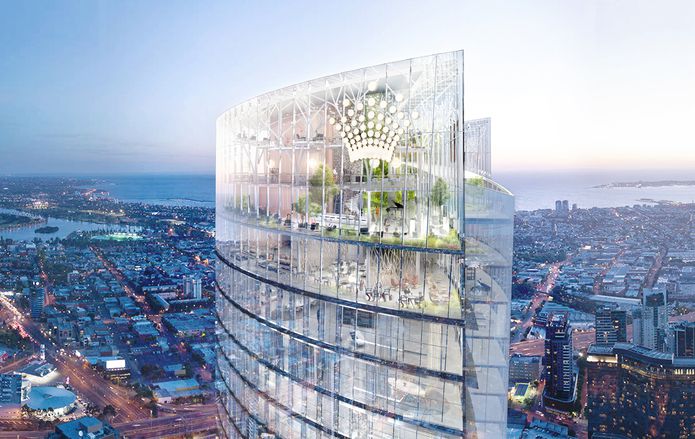 City of Melbourne councillor Stephen Mayne also pointed out the development would be subject to federal government restrictions relating to building heights permitted under flight paths.
"The general message that has gone out is that you shouldn't be building above 250m because of the flight path restrictions," he told ABC radio.
"So obviously something above 300m and taller than the Eureka tower would be an interesting one for the Turnbull government and the aviation regulators, as well as the other issues associated with the size of the proposal that the state government and council will need to consider."
Planning expert Michael Buxton of RMIT University is also skeptical that the development will be granted approval. He told 3AW, "There have been periodic attempts to get this kind of huge tower approved in Melbourne - they've all failed. The recent height controls in Melbourne are designed to prevent this kind of huge construction and they should be adhered to."
The tower development will also include a pedestrian bridge over Queensbridge Street that will connect the proposed hotel and apartment tower directly to the casino floor of the Crown Complex.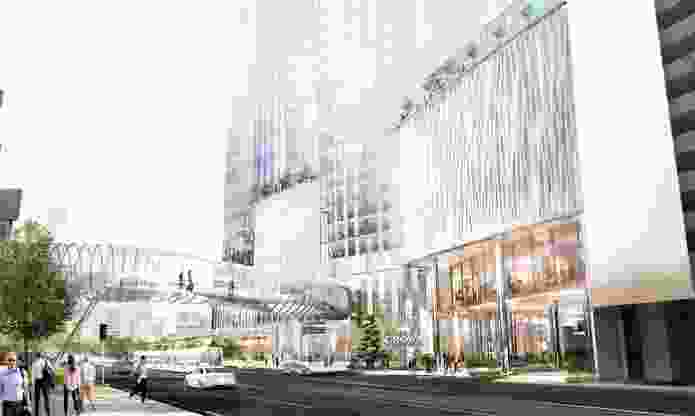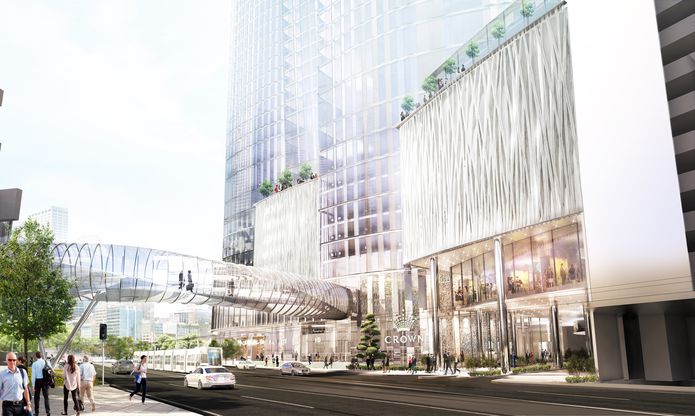 This bridge was also part of the earlier proposal for the tower, designed by Bates Smart, which drew strong opposition from local residents and the City of Melbourne.
Councillor Stephen Mayne told the Herald Sun in July 2014 the council was opposed to more bridges over streets.
"Melbourne's amenity is impacted if you start blocking views," Mayne said. "With the aero bridge proposal linking this enormous hotel and apartment tower proposal to Crown, it becomes a de facto expansion of Melbourne's casino precinct which is already one of the 20 largest building complexes in the world."
Crown and developer Schiavello also propose to revamp Queensbridge Square with a new public forecourt, retail and restaurants at the ground level.
Wilkinson Eyre, which is also designing Crown Resorts' Barangaroo tower in Sydney, trumped local Australian architecture practices Bates Smart and Hassell, as well as international practices Foster and Parters and Ateliers Jean Nouvel.
"We approached this project with the ambition to create an elegant and timeless building that will become a new, world-class landmark against the Melbourne skyline." said Paul Baker, director of Wilkinson Eyre. "All across the world we are seeing cities embrace iconic developments as they vie for their share of international tourists."
The tower, reportedly worth $1.5 billion, will have 388 hotel rooms and 680 apartments.
Related topics