The L'Oréal Melbourne Fashion Festival introduced a new initiative in 2012 titled Windows By Design. The project invited twelve stores, including David Jones, Scanlan & Theodore, Zambesi, Bettina Liano and Dedece, to team together with Australian artists to create one-of-a-kind window displays in Melbourne's CBD for the month of March.
To some, these might have just been window dressings. But for Windows By Design curator Alex Zabotto-Bentley, this project was so much more. "On a retail level, a successful window needs to draw people into the store," he explains. "But it also needs to be iconic, it needs to speak about the brand, it needs to inspire and excite. It's not just about putting ten mannequins up to sell a product. It's about a dialogue, a narrative."
The sixteen narratives in these ephemeral galleries were rich, engaging and even surprising. In the windows of Scanlan & Theodore, Bernadette Trela's cloud paintings took centre stage, suspended from above with cobalt blue and fuchsia ropes and layered in distance from the windows. While heels and handbags were also displayed, they played second fiddle to the heavenly exhibit.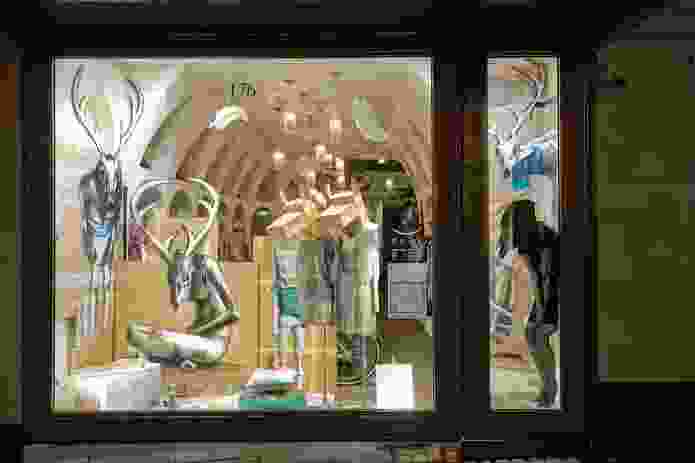 A block away in Husk's front window, street artist Kaff-eine installed her whimsical animals made from cardboard, masking tape and painted with aerosol. The store's mannequins sported horse heads made from paper bags. And down the road, artist Lucas Grogan provided his blue-and-white pieces as backdrops to the modern suits of Harrolds.
In the Russell Street-facing windows of Dedece, the ultra-rare and valuable Missoni dress collection of Mary Lipshut floated towards the sky, providing a playful addition to the furniture that was also on display. "That was the whole point of the design," Zabotto-Bentley says, "the store was not the protagonist."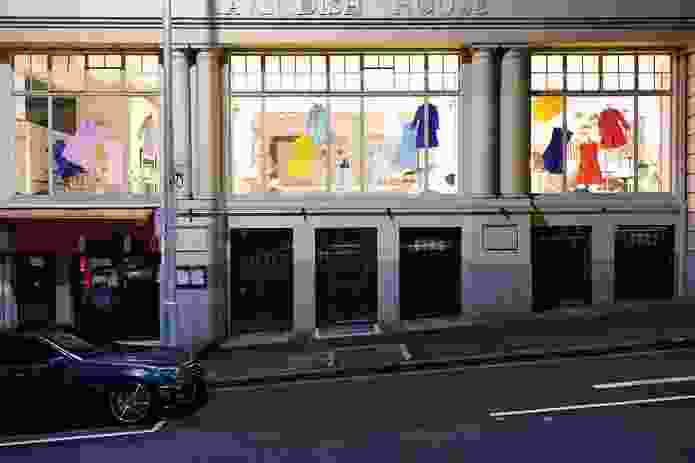 Another standout was Zambesi's store in Flinders Lane. Jeweller Marcos Davidson created sculptural totem poles made from gold, silver, glass and metal items. The sculptures were dark and edgy, and hinted at Zambesi's identity.
While each of the windows was designed and curated by Zabotto-Bentley and his AZB Creative team using the artist's wares, it was in the windows of David Jones that his imagination really ran wild. Five David Jones windows were designed, each different to the last. One featured knotted ropes suspended from the ceiling, rusted hooked pulleys and old books. Another featured a triangle of fallen French chairs, with macramé rope pieces by artist Sarah Parkes leading from the chairs to a fluorescent yellow mannequin. On the menswear side, busts of Michelangelo's David (not related to David Jones, I believe) tumbled from the furniture down to the floor. Incidentally, David's red suede loafers, part of the display, sold out within days.
Zabotto-Bentley's favourite window, however, was something of a musical Rorschach inkblot. Five cellos hung from different heights surrounded by violins and plaster-dipped fern leaves, the complex arrangement laid out in perfect symmetry. A green mannequin dressed in a Lisa Ho ensemble stood guard.
"The narrative here speaks a million words about the store. It's about bravery, attention to detail and it's culturally understanding what Melbourne is saying," Zabotto-Bentley says. And what Melbourne said in March was something along the lines of: "Look at me."
Stores and collaborators
Alice Euphemia + Blue Bottle, Bettina Liano + Mark Denver, David Jones + AZB Creative, Dedece + Mary Lipshut Vintage, Euroluce + Emma Coulter, Gorman + Dion Horstman, Harrolds + Lucas Grogan, Honor Among Thieves + Aaron Kinnane, Husk + Kaff-eine, Scanlan & Theodore + Bernadette Trela, Swensk + Mark Douglass, Zambesi + Marcos Davidson.
Credits
Design practice

AZB Creative
Surry Hills, NSW, Australia
Project Team

Alex Zabotto-Bentley, Chantel Covey, Jenni Munster, Peter Harley, Hayley Callander, Anna Patterson
Site details

Location Various locations, Melbourne, Vic, Australia
Category Interiors
Type Retail

Project Details

Status Built

Source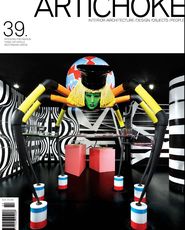 Issue
Artichoke, June 2012
Related topics