The City of Ryde has announced the winner of an international ideas competition for the design of a new civic precinct at the gateway to the municipality north-west of Sydney's CBD.
Ryde Hub by Beijing Institute of Architectural Design (China) emerged victorious from a shortlist of four contenders and an entry pool of 175 submissions from 47 countries.
The competition sought an iconic architectural vision that will encapsulate the urban identity of the area. The 16,500-square-metre site, 12 kilometres west of Sydney's CBD, sits on the crest of a ridgeline and has a 260-metre street frontage along a six-lane road. The competition called for proposals that accommodated civil and administrative offices, a public plaza/open space, commercial activities and housing.
The Beijing Institute of Architectural Design's proposal is a building that traces the perimeter of the site and creates an acoustically insulated public courtyard in the centre. The form of the building slopes to create a transition between the residential and commercial typologies surrounding the site. Housing elements of the brief are integrated along the southern edge of the building and the proposal also includes a theatre, a cafeteria, retail and office spaces. The design creates a continuous green roof of publicly accessible outdoor space.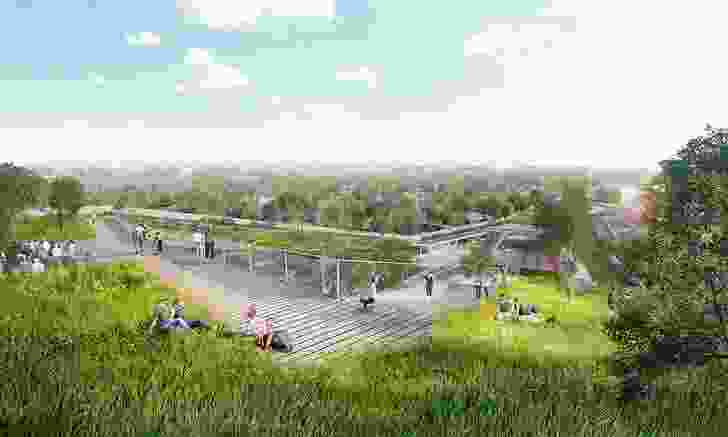 "The design is a realistic and well-considered concept that demonstrates a comprehensive understanding of the urban context," said the jury. "It represents an opportunity for positive change and enhances and nourishes the notion of the garden suburb and has a character that is uniquely Ryde."
"It provides excellent connectivity and high quality sustainability features such as positive building orientation, maximising natural ventilation, use of rainwater collection, green roofs and green walls and the proposition of low-e glass.
"Its singular form is a unique plan to create a new place for Ryde in a way that is different from other areas in Sydney. It is a place for people and will make a significant contribution to the liveability of the surrounding neighbourhood."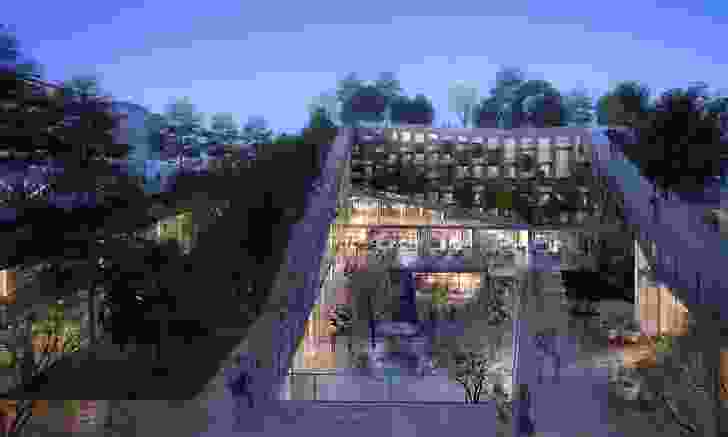 The City of Ryde Mayor Jerome Laxale said, "The winning entry from Beijing Institute of Architectural Design has responded with a design that will ensure that this site will remain iconic in our city."
The Beijing Institute of Architectural Design was awarded $150,000 for first prize. The other shortlisted contenders – Architensions (USA), MORQ (Australia, Italy), and Team2 in collaboration with Arcadia Landscape Architecture (Australia) – each received $50,000.
On the jury were: Peter Poulet (NSW Government Architect), Shaun Carter (president of the Australian Institute of Architects NSW Chapter) and Maria Atkinson (sustainability strategist).
Related topics