Kengo Kuma Associates and Singapore and Melbourne-based practice K2LD Architects have won an international design competition for the landmark Singapore Founders' Memorial.
The design was chosen from a second-stage shortlist of five proposals, which was whittled down from 193 submissions. Other shortlisted entries included submissions from Australian practices Cox Architecture and Johnson Pilton Walker.
First proposed in 2015, the memorial is intended to honour the values created by the late Lee Kuan Yew, Singapore's first Prime Minister, as well as the country's first generation of leaders who played key roles in the city-state's path to independence. The memorial will also feature and exemplify the values of Singapore's national pledge – multiracialism, boldness, adaptability, integrity and resilience.
The Kengo Kuma and K2LD design imagines a "living memorial," comprising multiple garden paths and undulating slopes that invite all citizens to "take a journey of reflective learning and sharing." All paths will lead to a memorial amphitheatre.
"Our design concept for the Founders' Memorial originates from the idea of a path – a journey tracing the legacy of Singapore's founding leaders," said Kengo Kuma.
K2LD director Ko Shiou Hee added, "The design also features multiple paths carved out of the architecture and landscape, representing Singapore's multiculturalism. These paths merge together in the centre of the memorial, celebrating the shared values and ideals that we stand for as a nation."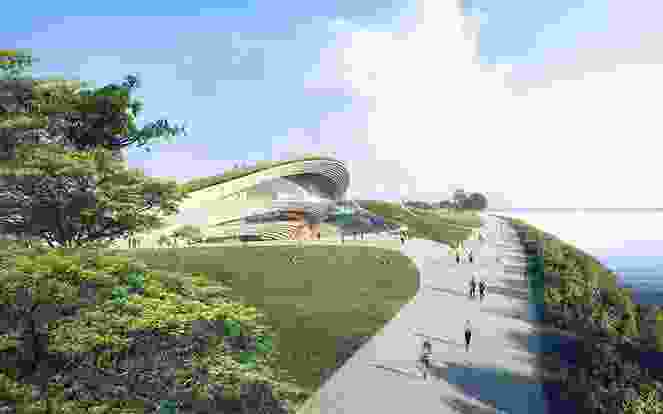 The jury chose the design because in its estimation it "best captures the intent and objectives of the design brief," and that it responded "creatively to the brief and the site," with "distinctive architectural, landscaping and place-making characteristics."
"Conceptually different from the other shortlisted designs, it emphasises Singapore as a 'City in a Garden' and allows for future growth," said the jury in a statement. "More than a singular building, it is a sustainable, environmentally progressive reflection of the ideals of Singapore."
To be located on a five-hectare site Bay East Garden, the memorial will sit across Marina Bay from the popular tourism hotspot of Gardens by the Bay by Grant Associates and Wilkinson Eyre and the Marina Bay Sands hotel resort by Safdie Architects.
"Its organic form creates a welcome counterpoint to the domes of Gardens by the Bay. It represents a bold and imaginative new type of memorial which rises out of the landscape," the jury panel said.
Kengo Kuma and Associates and K2LD will be commissioned to develop the design further with the National Heritage Board and Gardens by the Bay. Construction is expected to begin in 2022 with completion anticipated by 2027.
Related topics