A design centred on a lighthouse tower clad in charred timber has won the Guggenheim Helsinki design competition.
Designed by Paris-based Moreau Kusunoki Architectes, the scheme, called Art in the City, comprises a cluster of independent volumes that allows both indoor and outdoor exhibition spaces. The defining lighthouse feature is intended to offer a different perspective of Helsinki.
The proposed buildings will be clad in charred timber facades, a Japanese building technique, which in this instance is intended to represent the process of forest regeneration through burning.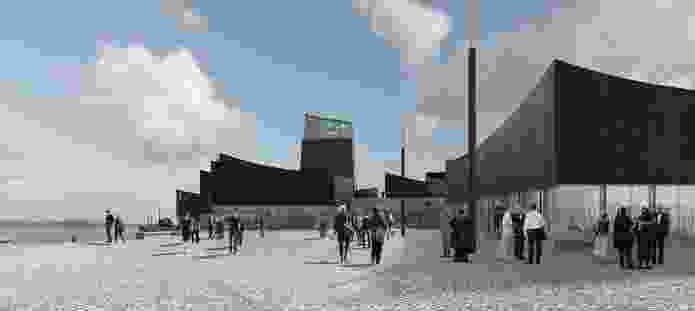 "The design [is] deeply respectful of the site and setting, creating a fragmented, non-hierarchical, horizontal campus of linked pavilions where art and society could meet and inter-mingle," said the jury.
The architects, French duo Nicolas Moreau and Hiroko Kusunoki, may be relatively unknown internationally, but they come from a distinguished pedigree of museum and gallery architects. Prior to establishing their studio in 2011, the pair practiced in Tokyo. Hiroko Kusunoki worked for Shigeru Ban and Nicolas Moreau practised with SANAA and Kengo Kuma.
As first prize winner, Moreau Kusunoki Architectes was awarded €100,000 (AUD$144,834).

The competition for Guggenheim Helsinki solicited 1,715 submissions from around the world. The designs were all anonymously assessed and six finalists were chosen in December 2014. The finalists further developed their designs in response to feedback from the jury, and then presented their stage two designs in April 2015.
Two of the finalist teams had Australian connections: SMAR Architecture Studio and Fake Industries Architectural Agonism (Cristina Goberna, Urtzi Grau), Jorge Lopez Conde, Carmen Blanco, Alvaro Carrillo.
The other finalists were:
AGPS Architecture (Zurich, Switzerland and Los Angeles, USA)
Quiet Animal by Asif Khan (London, United Kingdom)
Helsinki Five by Haas Cook Zemmrich STUDIO2050 (Stuttgart, Germany)
Each runner-up received €55,000 (AUD$79,658). See all the finalists designs here.
Related topics