The Great Ocean Road Coast Committee (GORCC) has announced the winning design team for a project to redevelop the Point Grey foreshore precinct in Lorne on Victoria's Surf Coast.
Entitled "The Waterline," the proposal by Searle x Waldron Architecture, Edwards Moore and Bush Projects was chosen by a jury for its "deep and thorough understanding of, and response to, the local histories, peoples and environments within which the site is located."
The competition sought designs for two new structures that will replace the existing buildings for a cafe, restaurant and public amenities, and the Lorne Aquatic and Angling Club.
The winning team's proposal is connected to both the Aboriginal and European histories of the site and will create "a shared place of family, community, celebrations, of traditions, of telling stories and listening around the oven/campfire," said artist Vicki Couzens, who is a Gunditjmara Keerray Woorroong woman from the Western Districts of Victoria.
The design is characterized by a sculptural roof, which will provide shelter over a group of small structures designed accommodate specific activities.
The angular roof will rise and fall to create a series of low-ceilinged intimate spaces within a larger overall structure.
At the entrance to the cafe and restaurant building, a large, communal wood fired oven will provide warmth and a smoking chimney.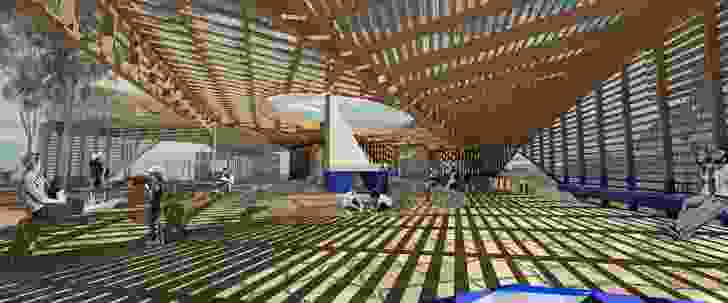 The new building for the angling club will be an independent structure, visually connected to the public building through its materiality.
"The submission deftly navigates the intimacies of scale and geometry, which together create a design response that is cohesive, responsive and adaptable," said the jury who also praised the winning team for their "compelling design strategy for the site."
"This expression of place ties the future development of the site to its ancient occupation as a place of gathering."
Chairman of GORCC Ken Northwood said, "We heard that the community wanted something with a 'wow factor' that encouraged the millions of tourists visiting every year to 'stop, spend and stay' in Lorne. We also heard that the history of the site needed to be celebrated, and there must be strong connections to the town and the hinterland.
"This is a once-in-a-lifetime opportunity to create something truly unique and distinctive at one of the most outstanding sites on the Great Ocean Road."
The will $6.9 million project is due to start construction in 2019, pending funding. The GORCC will provide $1.5 million towards the project.
The jury for the design competition comprised John Wardle (John Wardle Architects) and Kristin Green (Kristin Green Architecture), Bronwen Hamilton (Office of the Victorian Government Architect), Jocelyn Chiew (Monash University manager of campus design) and Richard Davies (former CEO of GORCC).
Related topics