The National Gallery of Victoria (NGV) has announced the winner of its 2016 Architecture Commission.
The annual competition invites Australian architects and designers to develop a temporary architectural work for the Grollo Equiset Garden at NGV International.
Melbourne practice M@Studio Architects has pipped four other shortlisted local and interstate practices to take out this year's commission with its entry Haven't you always wanted to run through all that foam at the car lovers?
The competition's jury described the winning entry as "a fun palace in the heart of the city."
The installation will playfully recreate a suburban car wash. Its dimensions are based on a carwash in Blackburn, in Melbourne's east.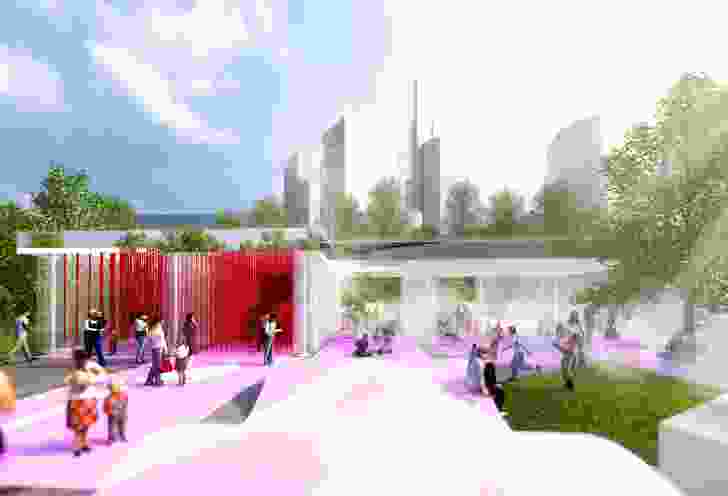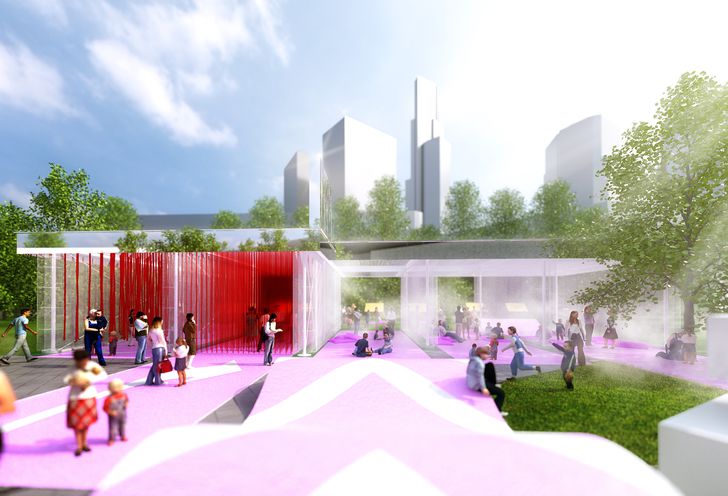 The design comprises five bays each featuring pink astro turf, rubberized humps and road markings. Two of the bays will be enclosed with red plastic curtains and another will spray mist, to recreate the experience of being at a car wash. The bays will also be used throughout spring and summer for public events, talks, live music and other activities.
The structure will be made from light-weight steel with layered cricket netting used for the walls and will have a polycarbonate roof. A car wash sign will illuminate the structure at night.
The installation hopes to turn the everyday familiar archetype of the suburban car wash on its head by placing it in a gallery setting.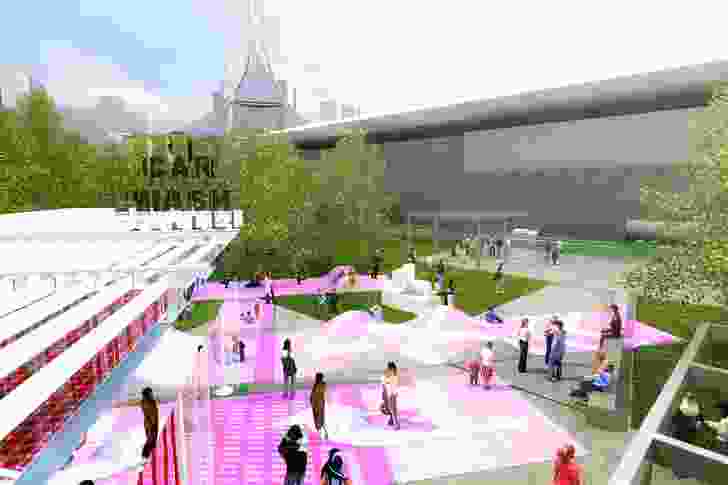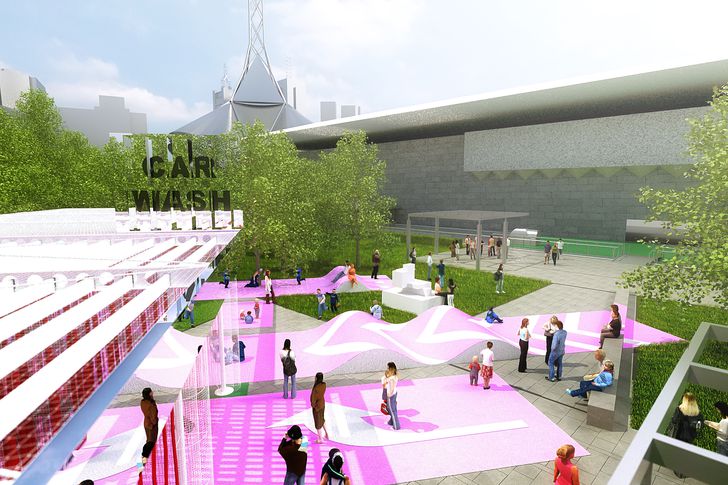 The jury commended the winning entry for its "clarity of vision, in reinventing a suburban thematic" and "its highly considered structure and materiality transforms a large and imposing carwash into a lean and economic structure with lightweight, unexpected cladding materials that makes it not only compelling as an idea, but viable as a temporary structure."
The jury also awarded a high commendation to Sydney-based practice Other Architects/Otherothers, which proposed "a platform for public sleeping" in the form of a communal daybed or oversized park bench made of an raised undulating deck that encourages people to lie down.
"Temporary architectural installations should instigate activities that would be otherwise unthinkable," the architects said. "Our proposal is a behavioural oasis, a test-bed for social interactions that are normally discouraged."
The design competition for the 2016 NGV Architecture Commission was announced in December 2015. From 93 entries, the jury shortlisted five practices comprising M@Studio (Melbourne), March Studio (Melbourne), Nervegna Reed Architecture (Melbourne), Other Architects/Otherothers (Sydney) and Thomas Winwood Architecture (Melbourne).
This year's competition follows on from the inaugural 2015 Architecture Commission by John Wardle Architects, which saw an arching steel grid shell lined with recycled plastic "petals" built in the garden.
The John Wardle Architects-designed temporary structure is on exhibition at the NGV until 1 May 2016.
M@Studio Architects' installation will be on display from October 2016.
The 2016 jury is comprised of Corbett Lyon (Lyons Architects and NGV Trustee, chair) Rachel Neeson (Neeson Murcutt Architects), Emma Williamson (CODA), and Fleur Watson (RMIT Design Hub).
Related topics