The Korea Racing Authority has named a consortium that includes Grimshaw Architects, Now Architects and landscape architects Grouphan Associates as the winners of an international competition to design a horse park in the city of Yeongcheon. The development concept for the park put forward in the design brief was for an "unplugged horse utopia."
The park, called Lets Run Park Yeongcheon, will be constructed on a 1.47 square kilometre site and will include a racetrack. According to the Korea Racing Authority, the purpose of the park is to promote the image of horse racing and also to serve as an "exemplary model for theme park development" to attract tourists.
According to the development concept, which entrants were encouraged to incorporate into their design, they should create "a theme park which makes horses happy and in which people can experience relaxation and healing by spending time with these horses," and "a theme park in which horse culture merges with Yeongcheon's local culture to captivate people from all over the world."
Grimshaw Architects entered the competition with the concept "EverYoung" along with Now Architects, landscape architects Grouphan Associates, Dohwa Engineering and DE Partners. As the winners of the competition, the consortium has been awarded a 15-month design contract for the park worth just over KRW 11.03 billion (AU$12 million).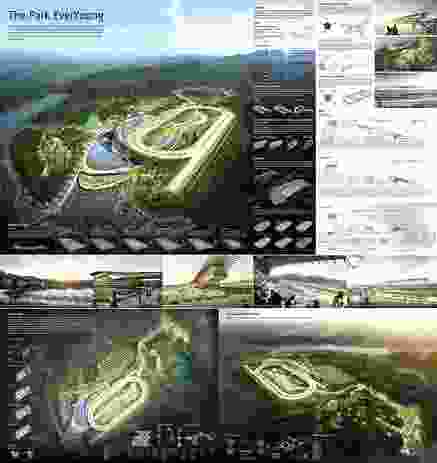 The runner-up prize was worth KRW 40 million (AU$45,000) and it was won by Dongsimwon Landscape Design, Wilmotte & Associés SAS d'Architecture, PRAUD and Supermass Studio with the "Journey of a Horse" submission. The third prize was worth KRW 20 million (AU$22,500), and it was won by the "Tracing Nature" submission by a team including Designcamp MoonPark dmp, Studio m.o.b Architect, Korea Engineering Consultants, Studio L and NOW & HERE.
Eight honourable mentions each received KRW 5 million (AU$5,000) and the estimated construction cost for the park is KRW 260 billion (AU$292 million).
An initial ideas competition was held last year to decide on a development concept for the international design competition. "Unplugged horse utopia" won the competition, with "Dream funnyland" coming second and "Gulliver's travels" in third place.
Related topics