An international design team comprising Hassell, New York's Rex and Brisbane firms Richards and Spence and Arcadia Landscape Architecture have taken out a design competition for a 37-storey office tower at 205 North Quay on the Brisbane river.
The development is being touted as a catalyst for the regeneration of the CBD's North Quarter. The winning team's design is intended to take advantage of Brisbane's subtropical climate, with deep building overhangs, multi-level cross-ventilation and shady planting throughout.
The design is distinctive for its cleverly conceived shading system. On the south-east and north-west facades, elliptical shading elements in a light copper colour offer protection from the harsh morning and afternoon sun; and on the south-west and north-east sides bold vertical elements, that run the height of the building, protect from the high, oblique midday sun angles.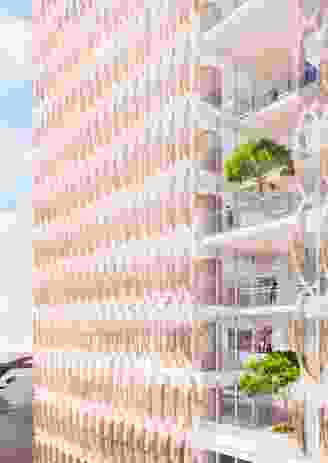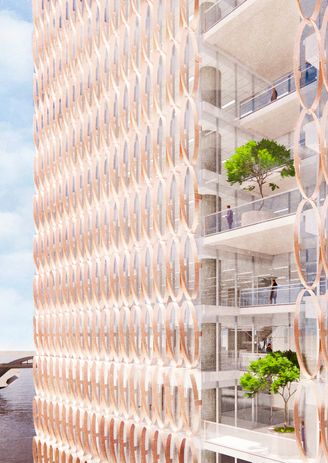 Triple-height terraces open the office levels up to the outdoors at intervals along up to the top of the tower, with vertical landscaping offering organic articulation and reinforcing the subtropical aesthetic.
In addition to the office floor plates, the scheme includes a child-care centre and "wellness" floor, along with an open public plaza at the base of the tower.
"Conceived as an outdoor room, the public plaza is immense," planning documents before Brisbane council state.
"The space is designed as three 'ground planes' – all publicly accessible, all providing multiple diverse experiences."
The central space of the plaza is framed by a colonnade and activated by various programs on three sides across three levels.
On the ground floor hospitality and retail tenancies address external courtyards, activating the entry to the plaza and extending the perceived public realm.
To the south-west a wide staircase links to a significant restaurant overlooking the river with views through to Mt Coot-tha, the Brisbane River, Southbank and the streets below. And on the second level – accessible by lifts and elevators – a "sky lobby" takes advantage of the climate, with a sliding glass doors facilitating an ambiguous indoor–outdoor environment.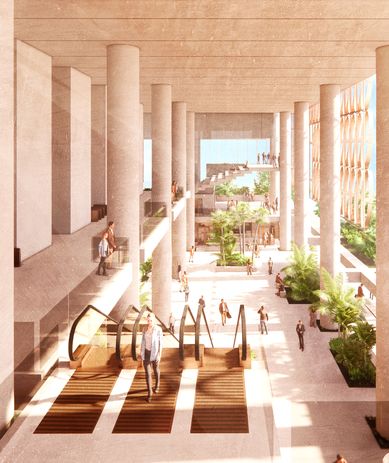 At the top of the tower, another outdoor space offers a flexible multi-purpose environment including meeting spaces along with indoor and outdoor collaboration spaces.
"205 North Quay will set an unparalleled benchmark for building and public realm outcomes in this developing precinct of Brisbane CBD [that provides] a wide range of environments for work, play and leisure," state the proponents.
205 North Quay Street is a project of developers Cbus Property and Nielson Properties.
The design competition for the project included three other shortlisted international teams: Cox Architecture, SOM (Chicago) and Rapt Studio; BVN and Shop Architects (New York); and Architectus and Woha (Singapore).