A team of architects, landscape architects and interior designers has won an invited competition for the design for a $700 million residential development on a former industrial site surrounded by the 44-hectare Sydney Park in the Sydney suburb of Alexandria.
The complex will be designed by MHN Design Union and Silvester Fuller, landscape architects Sue Barnsley Design and UK-headquartered Make Architects will design the interiors. The architects will now complete stage one designs for the One Sydney Park development. Make Architects have joined the winning group after originally partnering with landscape architects Aspect Studios in this competition.
In a joint statement, MHN Design Union, Silvester Fuller and Sue Barnsley Design said, "Our concept vision for One Sydney Park imagines the creation of a new park-side community. A place [that] will extend the ecology of the parkland and support a culture of creative enterprises and local business.
"The park is invited into the site as a folded, layered and diverse landscape with a new public plaza, connected to the park and complementary in its amenity. Recognition of the contextual diversity of this place has informed the architectural language, resulting in park-side buildings which feather at its edges, dissolving the boundary between building and landscape.
"A rare opportunity to rethink subterranean spaces has created an arrival level suffused with natural light, fresh air and a rich materiality. The volume of this space allowing for diverse uses and future flexibility."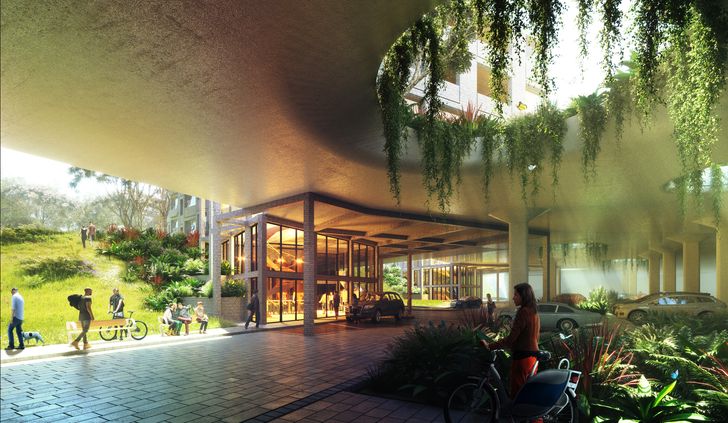 Make Architects head of interiors Tracey Wiles explained that the interior architecture is intended to relate to the park that surrounds the site. "When designing the interiors the primary driver was without question that the design had to complement the beauty of the surroundings, thus informing the design detail and specification of materials. The use of natural timbers, marble and stone express the natural materiality of the park."
Property developer Hailian Property Group (HPG) Australia assembled the competition earlier this year after securing approval for a stage one masterplan that proposed 400 apartments across eight six-storey buildings on a privately owned site enveloped on three sides by Sydney Park.
Other proposals were submitted by teams comprising Architectus and Turf Design Studio, Make Architects and Aspect Studios, and Woods Bagot and McGregor Coxall.
"To be honest, we would have gladly worked with any of the four competing architects," said HPG Australia managing director Adrian Liu. "They represent the cream of Australian design talent."
Representatives of the City of Sydney, one representative from the developer, and a "panel of industry stakeholders" selected the winning concept.
The site of Sydney Park has a significant industrial history of pottery, brick and tile making, which dated back to the early 19th century. It has also been used as a major municipal waste depot until 1976. In 1991, ownership of the site was transferred to South City Council (now City of Sydney after the merger in 2004). The park is now the city's third-largest public park).
Related topics