The Victorian government has released the final designs for the Latrobe Valley GovHub, designed by WMK Architecture.
The $30 million project, to be located on the corner of Church and Fleming Streets in Morwell, will include office spaces, shared meeting rooms, a community hub, business incubator zones, an exhibition space and a locally-run cafe.
The design of the three-storey building incorporates the industrial history of the Latrobe Valley with a roof form that takes its cues from the the bucket wheel dredges (used in mining) found throughout the region.
Latrobe Govhub will be home to 300 workers from government agencies including Earth Resources Regulation, Parks Victoria and Solar Victoria.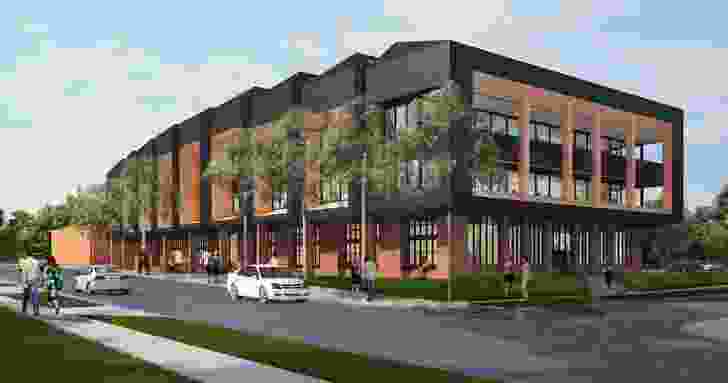 The building is designed to achieve a minimum 4.5-star energy rating which will make it one of the most energy efficient buildings in the Latrobe Valley. The building will be constructed using 75 percent local materials and services sourced from Morwell and the Latrobe Valley.
In May 2018 developer Castlerock Property was appointed to deliver the project. It will own and manage the building once completed. WMK Architecture was appointed by Castlerock Property to design the building, which is due for completition in late 2020.
Latrobe Valley Govhub is one of three buildings of its type to be built in the state by the Victorian government. John Wardle Architects' $100 million Ballarat Govhub is under construction and is due to be completed at the end of 2020. The $90 million Bendigo Govhub will be designed by Lyons. Concept designs were presented to the community on 27 July.
Related topics