Woods Bagot is behind the design for two separate proposals for developments currently before planning authorities that would bring three skyscrapers to the Parramatta CBD.
The first of these, a two-tower development, to be known as Charles and George, will be located on a site at the corner of Charles and George streets and will rise to 186 and 211 metres respectively. The proposal is currently before the City of Parramatta for assessment.
Woods Bagot won a design competition for the site in November 2017. The towers will contain apartments and a hotel, to sit atop a podium containing shops and commercial spaces. Landscaped spaces would occupy the top of podium and the roofs of the towers.
The proposal estimates the construction cost of the towers at $229 million, with completion in 2021.
In a design statement, Woods Bagot associate principal Jason Fraser said, "The layered design approach of the podium engages with the immediate public domain at street level, and the elegant tower forms present as urban markers of arrival to Parramatta."
"The podium design is articulated by a rational grid facade that extends from the city grid and counterposes the landscape context. The podium has an increase in solidity compared to the tower, which grounds the podium, enhances privacy, and relates to the context.
"The facade combines a series of masonry columns and beams in a grid like composition with glass facade that speaks to the city grid and communicates a clear rationality."
Elsewhere, the practice is behind the concept design for a tower over the Parramatta Westfield shopping centre.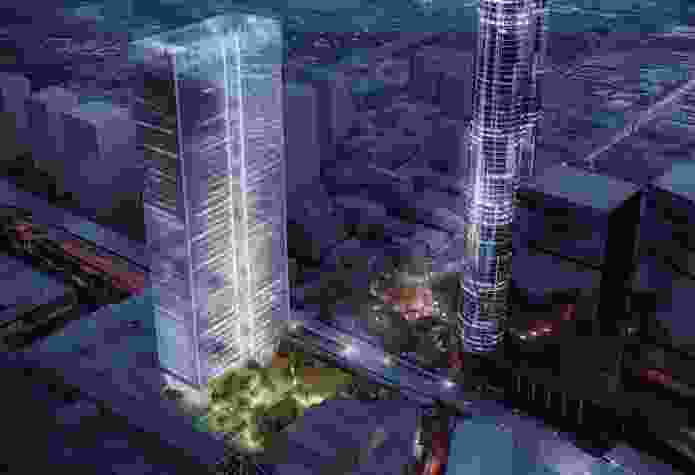 The indicative concept plans have been produced as part of a proposal by Westfield owner Scentre Group to modify an existing approved development application for a commercial tower on the grounds of the shopping mall, which would increase the height of the approved building envelope from 120 to 210 metres above ground level.
Relative to the approved concept in 2014, the modified proposal seeks to move the proposed tower 80 metres to the west, away from the corner of Church and Argyle Streets, with a redeveloped commercial offering on the ground plane.
The tower would largely comprise "campus"-style offices. The architects stated in an urban design report that the tower would offer a "multi-use space capable of accommodating many overlapping activities and patterns of use within a highly configurable environment."
The urban design report says that the eventual architectural design should "creatively respond to the required efficiencies of the commercial floorplate,"and "create an iconic building form that fits the city scale visually and formally engaging."
Related topics