The University of Melbourne's proposed "innovation precinct," masterplanned and designed by Woods Bagot, has been approved by Victoria's Department of Environment, Land, Water and Planning.
The precinct will be located on the site of the former Royal Women's Hospital on the corner of Grattan and Swanston Streets.
In November 2017, University of Melbourne appointed a consortium led by Lend Lease for the project. The design team also includes Hayball for the student accommodation and Aspect Studios for the landscape architecture.
The 74,000 square metre "Carlton Connect" precinct will comprise a series of five connected buildings with a central "oculus" and a publicly accessible open space. It will include accommodation for more than 500 students and visiting academics, shops, cafes, public spaces and a childcare centre, as well as co-working spaces and commercial office spaces.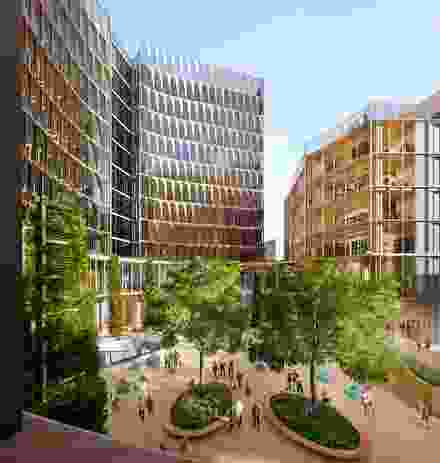 A flagship project for the precinct is Science Gallery Melbourne, which is being mooted as a "living lab" for young adults, industry partners, scientists and academics. The gallery will host exhibitions and experience to encourage young people's career aspirations in science, technology, engineering and mathematics (STEM) and the creative industries.
It will also include a fabrication laboratory (or "Fablab") prototyping facility to test and manufacture products and a "super floor" dedicated to "fostering the exchange of ideas."
Due to the "unprecedented" nature of the precinct, Woods Bagot principal and project design leader Hazel Porter said, "we needed to completely re-think what the project could offer back to both the university and to Melbourne's urban innovation.
"What we've generated are new forms and, importantly, opportunities for exceptional circulation through the site and a great diversity of spaces at ground level, as well as maximizing sunlight for wellbeing and sustainability."
The precinct will allow researchers, companies, government bodies and community members to be co-located, creating a ecosystem that foster the emergence of start ups and innovative solutions to society's challenges. It will be hub for a "vast program of events such as hackathons, workshops, exhibitions and social events."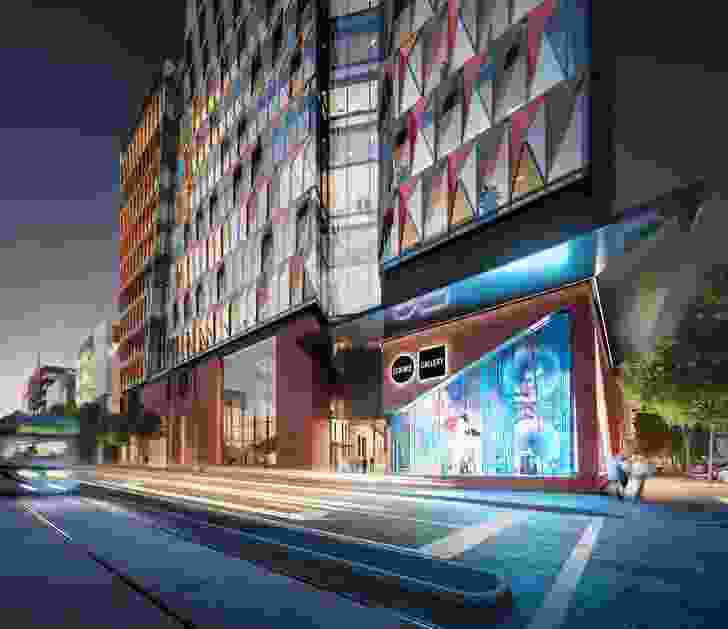 The student accommodation, which will make up one-third of the precinct, will be designed by Hayball. "What's exciting about this precinct is that it's not just offering a post-graduate living quarter – it's a completely integrated, mixed-use offering that combines spaces for industry, research and development, academics, public showcase and community facilities like childcare and retail all in one," said Hayball principal Thomas Gilbert.
"One of the biggest design considerations was ensuring the 527 beds and communal spaces cater to the post-graduate market and visiting academics, while bringing the enthused and active academic culture into the common spaces."
The precinct will also complement the Melbourne Biomedical Precinct, located at the nearby intersection of Grattan Street, Royal Parade and Flemington Road, home to the Victorian Comprehensive Cancer Centre by Silver Thomas Hanley, DesignInc and McBride Charles Ryan (2016), the Peter Doherty Institute for Infection and Immunity by Grimshaw and Billard Leece Partnership (2014) and the Royal Children's Hospital by Billard Leece Partnership and Bates Smart (2012).
The Carlton Connect precinct will also be part of the Melbourne Innovation Districts, an partnership between the City of Melbourne, University of Melbourne and RMIT University to create "a smart city initiative that is set to drive investment in the knowledge economy."
In 2018, the University of Melbourne also announced the development of a new $229 million student precinct opposite the proposed Carlton Connect precinct, to be designed by a team led by Lyons Architecture.
"Providing an exceptional educational and professional experience to attract the best and brightest demands the setting of a new global benchmark to stay competitive on the world stage of higher education," said Sarah Ball, Woods Bagot principal and the practice's global education sector leader.
Construction is expected to commence in mid-2018 and completion is due in 2020.