How much time do you spend in the office? Chances are that the hours you put in at work far exceed the eight hours of work, eight hours of rest and eight hours of play recommended for a balanced life. For Woods Bagot design director and principal Domenic Alvaro, the opportunity to define the next-generation studio surfaced when the practice negotiated a move to the GE Capital Real Estate building at 60 Carrington Street, Sydney, in return for improving the foyers and entrance experience of the building.
Centrally located atop Wynyard railway station, the second-floor, open-plan expanse offers floor-to-ceiling glazing along the entire length of the fitout, affording it a superior view of Wynyard Park. The westerly aspect provides ample natural light, and the leafy treetops are a welcome green respite from the urban density of midtown Sydney.
The firm's conception of the ideal workplace as a "24/7 agile design studio" might conjure images of a sweatshop environment, but in reality the central issue was how to make the workplace attractive and comfortable for all hours. Alvaro and his project colleagues Frankie Layson, Tonie Maclennan and Cathy Hayes were quick to acknowledge that the long, flexible hours of modern-day work life could be improved for everyone if the studio functioned more like a home, and they concentrated on making it warm, inviting and livable.
"Becoming a great workplace and a great practice goes hand in hand. That's been a really interesting idea for this space. We call it blended typology, in which we draw from multiple fields of expertise: residential, commercial, leisure and hospitality in particular," explains Alvaro.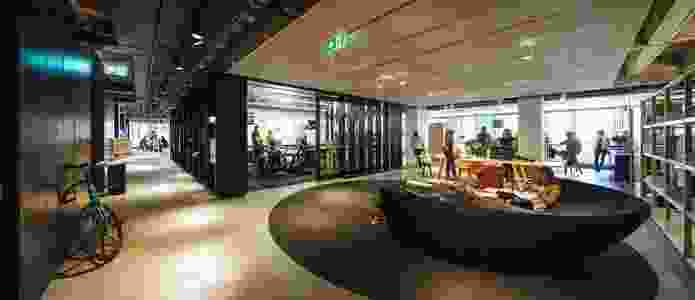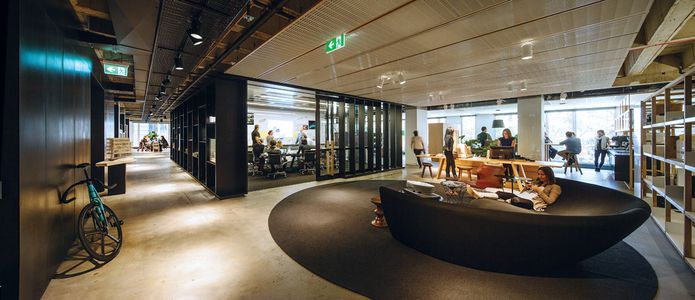 Many of the hallmarks of the traditional office are noticeably absent. There is no overt company branding at the point of arrival, just a large model illuminated with a pin light. First stop for visitors is the "forum," a multi-use meeting place where ideas and personalities come together. The forum is furnished with a statement Knoll chaise longue and morphs from reception into an exhibition zone replete with data projections into a lounge area for social gatherings. Further breaking the corporate mould, Woods Bagot's receptionist sits at a solid timber bench that resembles a dining setting. Behind that, an open-access kitchen overlooks the park and readily transforms into a bar on any given Friday night. The emphasis on sociability is something that Alvaro championed on the back of his extensive experience in hospitality projects, including Sydney's acclaimed Ivy hotel.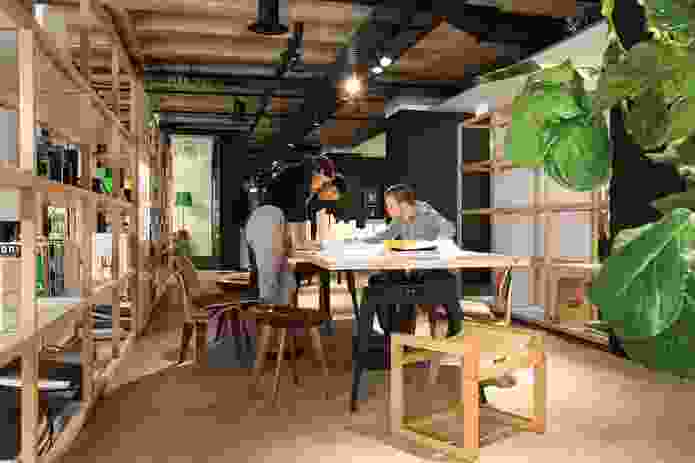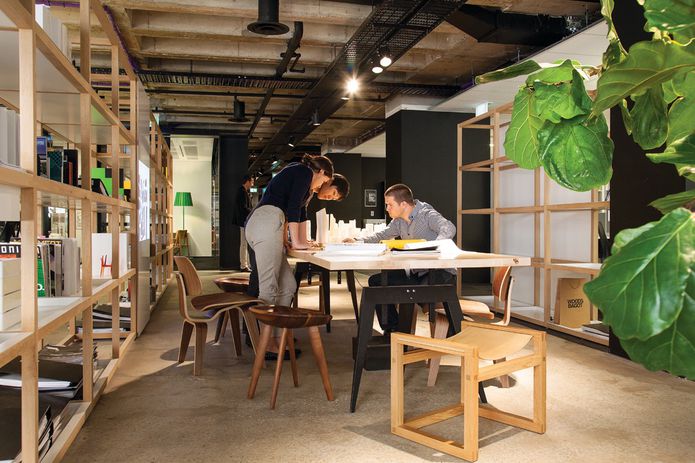 Immediately apparent is the level of transparency into meeting rooms and work areas; this creates a sense of instant immersion. Departments are arranged into studio pods and designers share communal tables. Team zones are expandable, flexible and movable to promote collaborative working. Bespoke oak shelving resolves the need for both partitioning and storage. It doubles as generous storage for each staff member and provides surface areas for exhibiting models, research and reference materials. The resultant modular component solution enabled a rather large floor to be zoned cost-effectively while also enabling the design vision to be realized.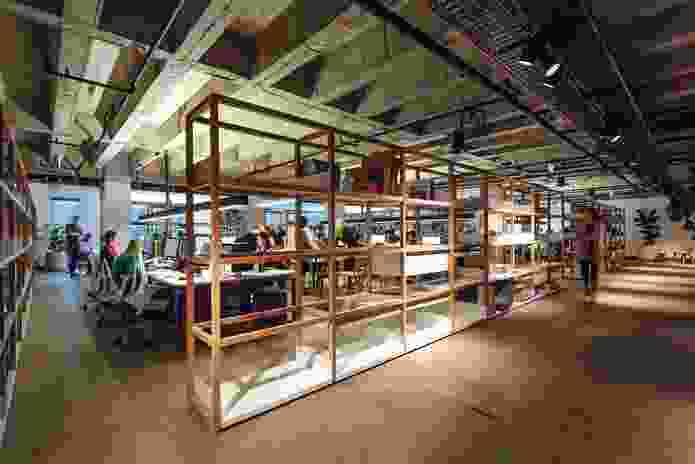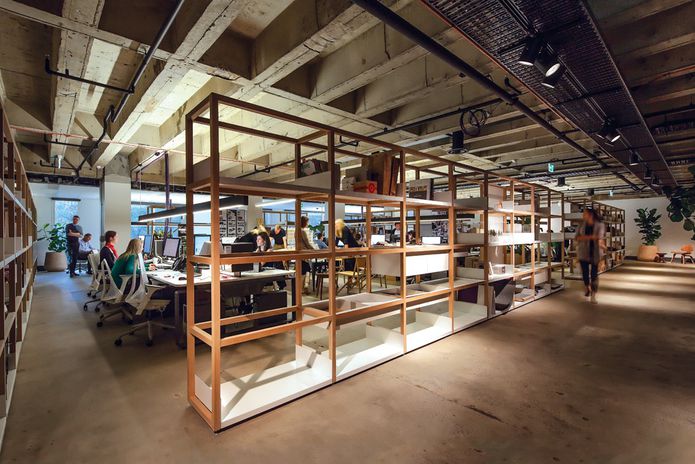 Throughout the office, employees are encouraged to pin up work in progress. This new culture of "display and discuss" prompts dialogue and understanding between different groups and clients. "Benchmarking new projects against previous legacies and surrounding ourselves with the artefacts that we create is a way of cataloguing ideas in physical form. It also enables our clients to engage both in the design process and in the materiality of our work," explains Alvaro. In this way the studio proposes a continual commentary on design, model-making, material research and the agile processes that underpin them.
Lighting, which can often be harsh in office environments, is soft to limit eye strain and fatigue. Pelmet lighting illuminates the workstations, meeting rooms and model-making area. T5 fluorescent lamps with long life and low energy consumption (fifteen thousand hours) are used throughout. Task lighting is available for those who require additional localized lighting levels. The entrance foyer, model display area and breakout areas are lit by LED lamps, which are currently the most efficient lighting source available. Spot lighting creates a supportive atmosphere in the reception and social zones. The lights remain dimmed to extend the lamp life, and utilize the C-Bus motion sensor system.
Large-scale indoor plants, chosen for visual impact, provide psychological, task-performance and productivity benefits. As current work practices demand longer hours, the lighting, neutral colour palette, quiet spaces and use of plants are all positive elements employed to rejuvenate and to enhance morale and creativity.
In another obvious departure from the design of many offices, Alvaro has freed the perimeter of executive offices and walled meeting rooms to ensure that everyone has access to natural light and park vistas. Many of the furnishings from Woods Bagot's previous offices have been given a new life. A deliberate effort to avoid any toxicity, eliminate waste and fabricate all elements locally has reduced the carbon footprint of the new fitout. Alvaro has also commissioned a number of large handmade meeting tables in solid timbers, finished simply with oil. His interest in authenticity and the revelation of making reinforces the symbiotic relationship between architects and artisans.
The Woods Bagot team worked collaboratively from the outset with builder and joiner Elan Construct. The team's considered design specifications and pre-finished off-site construction enabled Alvaro to deliver the entire project, from start to finish, within four months, at a budget of under one thousand dollars per square metre. The Sydney studio sets a new benchmark for all Woods Bagot offices. (Woods Bagot operates as a global studio, with practices in Europe, Asia, the Middle East and now North America.)
"We interact daily, we share, we collaborate. It's now becoming quite a seamless value proposition to projects," says Alvaro. Where many architects work in collaboration, bringing in talent from outside, Woods Bagot draws on talent from within its network and rewards cross-fertilization. The model that comes out of that collaboration is the idea of collective authorship.
"We're constantly defining who we are and what we want to be as a business and setting up the new archetype for the future. We are continually inspired by the optimism of youth and the studio is aimed at being a magnet for attracting and promoting the best people around the world … a culture of innovation across one global studio," says Alvaro.
Design Statement
The next-generation design studio is a 24/7 agile team. With this, and the long but flexible hours of modern-day work life in mind, the fitout of the Woods Bagot Sydney studio has been designed more like a home: it is warm and livable and aimed at improving the quality of daily life for all who work in and visit the space. The fitout blends typologies from exhibition design, a library, a model workshop, a private home and communal social space. Visitors enter via the "forum," which also serves as a meeting space and a reception, and allows visitors to see into the work zones and the history of projects via the open gallery.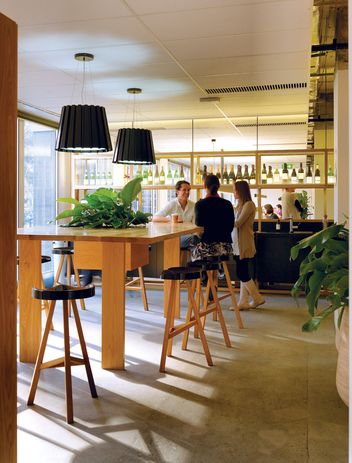 The concept of "display and discuss" is evident in the design and its inclusion of a gallery; this is about benchmarking projects against previous legacies, surrounding ourselves with the artefacts that we create and cataloguing ideas in a physical form – an exhibition of sorts. This also enables clients to engage in the design process and in the materiality of our work.
Elements of light, colour, sound, quiet space and plants have been designed to rejuvenate, support and enhance all aspects of life, spirit and creativity. As well as being visually striking, indoor plants are used to provide psychological, health and productivity benefits. Lighting is designed to minimize eye strain and fatigue, with the use of pelmet lighting to illuminate workstations, meeting rooms and model-making areas.
On-site building was limited to assembly only. All built components were designed as "pods" that were built using all-natural timber and oil finishes in an off-site factory. Existing timber tables were recycled and reused. We are continually inspired by the optimism of youth and the studio is aimed at being a magnet for attracting and promoting the best people around the world – a culture of innovation across one global studio.
Woods Bagot Sydney studio is shortlisted in the 2013 NSW Architecture Awards.
Products and materials
Walls and ceilings

Existing lift and services core clad with prefinished black MDF. Meeting pods use black/white polyurethane MDF and oak. Shelving/display units, reception desk and collaborative tables all custom made with solid oak, natural oil finish by Elan Construct.
Flooring

Exposed concrete.
Lighting

Space Lighting.
Furniture

Arras Systems workstations with Sayl task chairs by Herman Miller, all from Living Edge. Walter Knoll Circle lounge, Cuoio armchair, Eclipse side tables, FK bucket seat, Tadeo table and Lox chairs. Established and Sons Heidi stools, Hang coat rack, M5 table, Store storage jars, Frame chairs and Tank lighting.
Kitchen

Custom made by Elan Construct.
Credits
Design practice

Woods Bagot Sydney
Sydney, NSW, Australia
Project Team

Domenic Alvaro, Frankie Layson, Tonie Maclennan, Cathy Hayes
Consultants

Audiovisual Peace of MInd Technology
Builder Elan Construct
Engineer Cardno
Joiner Elan Construct
Landscaping 360 Degrees Landscape Architects
Lighting Light Practice
Project manager Integrated Project Services

Site details

Location Level 2, 60 Carrington Street, Sydney, NSW, Australia
Site type Urban
Category Interiors
Type Commercial, Workplace

Project Details

Status Built
Design, documentation 1 months
Construction 3 months

Source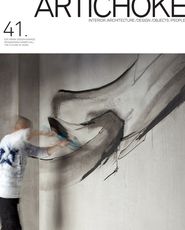 Issue
Artichoke, December 2012
Related topics